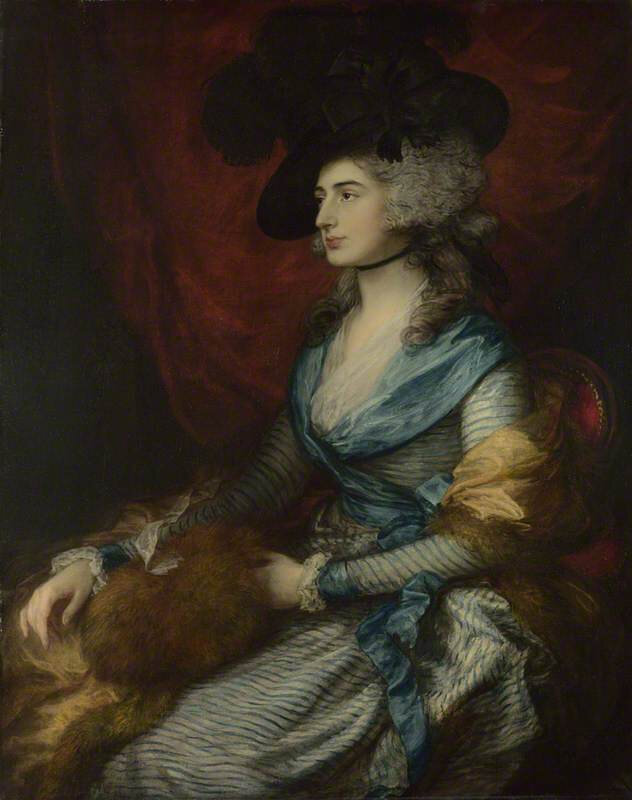 Thomas Gainsborough (1727-1788), Mrs Siddons, 1785, oil on canvas, 126 x 99.5 cm, NG683. Photo credit: The National Gallery, London.
BATH.- For theatre lovers, portraiture aficionados and fans of 18th century history, the Holburne Museum's new exhibition, Gainsborough and the Theatre (5 October 2018 to 20 January 2019) is essential viewing.

Bringing together some of Gainsborough's finest portraits of leading actors, managers, musicians, playwrights, designers, dancers and critics of the 1760s-80s, this exhibition explores themes of celebrity, naturalism, performance and friendship.

Gainsborough and the Theatre includes 37 objects, including 15 oil portraits by Gainsborough, works on paper (including satires, views of theatres and playbills) and ephemera from public and private collections across the UK.

Following the Restoration of the Monarchy in 1660, theatre became an increasingly popular pastime, with existing playhouses enlarged and others newly commissioned throughout London and the provinces - particularly in Bath, where the Holburne Museum is located.

In 1759, 32-year old Gainsborough arrived in Bath, accompanied by his wife and two daughters. Having already garnered a reputation as a skilled portraitist, he soon found a keen clientele among Bath's fashionable (and well-off) visitors.

Gainsborough's arrival in the West Country coincided with the rising wealth and social status of leading actors, such as James Quin and David Garrick, both of whom he painted. His friendship with the pair opened more doors for him, both in Bath and then later in London. The two actors also enabled Gainsborough to explore naturalism in portraiture, just as they and their contemporaries were turning to less artificial forms of performance in theatre, music and dance.

A significant aspect of the exhibition is devoted to the locations and theatres with which Gainsborough was linked, from Bath's own Orchard Street Theatre to the London theatre synonymous with Garrick, Drury Lane.

Portraits of many of the people most closely associated with these theatres are on display. Alongside actors David Garrick (c.1770, National Portrait Gallery) and Sarah Siddons (1785, National Gallery), we meet the Haymarket Theatre's manager George Colman (c.1778, National Portrait Gallery), the scenographer Philip James de Loutherbourg (1778, Dulwich Picture Gallery), the French ballet star Auguste Vestris (c.1781, Tate) and the castrato singer Giusto Ferdinando Tenducci (c.1777, Barber Institute). Thomas Linley (c.1771, Dulwich Picture Gallery) a music teacher, performer and composer, directed a series of concerts at the Assembly Rooms in Bath and went on to became part-owner and musical director of the Drury Lane Theatre.
Thomas Gainsborough (1727-1788), David Garrick, 1770, oil on canvas, 75.6 x 63.2 cm, 5054. Photo credit: The National Gallery, London
Thomas Gainsborough (1727-1788), George Colman The Elder, c.1778, oil on canvas, 72.4 x 59.1 cm, 59. Photo credit: The National Gallery, London.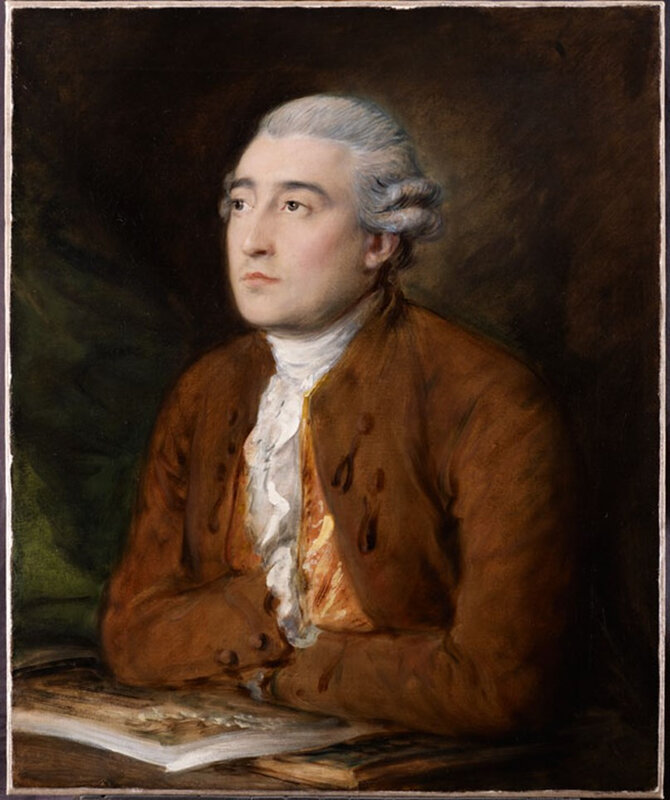 Thomas Gainsborough, Philippe Jacques de Loutherbourg, c.1777-8, oil on canvas, 76.5 x 63.2 cm, DPG66. By Permission of Dulwich Picture Gallery, London.
Thomas Gainsborough, formerly attributed to Gainsborough Dupont, Marie Jean Augustin Vestris, c.1781–2, Oil paint on canvas, N01271. Tate, London.
Thomas Gainsborough, Giusto Ferdinando Tenducci, c.1773-75, oil on canvas, 76.6 x 64 cm, 44.3. Photo credit: The Henry Barber Trust, The Barber Institute of Fine Arts, University of Birmingham.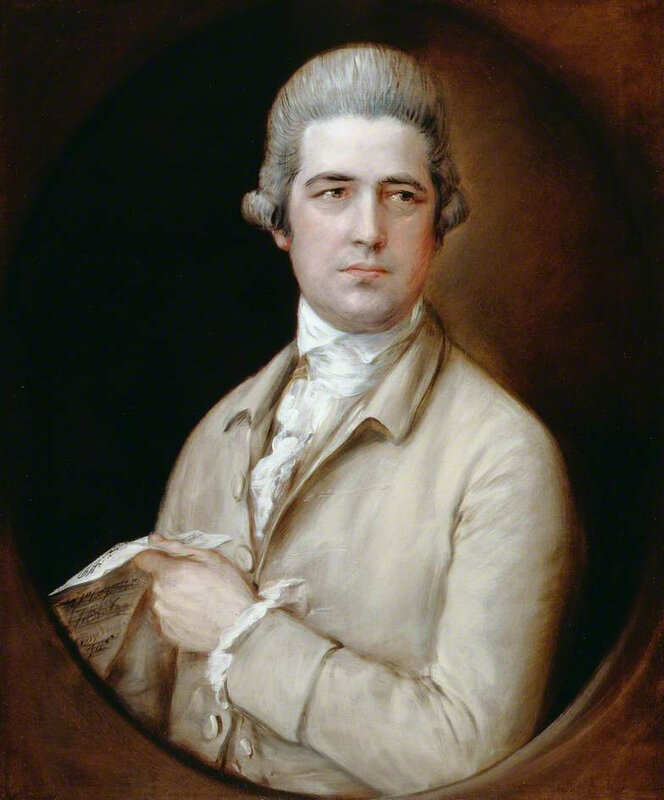 Thomas Gainsborough, Thomas Linley the elder, c. 1770, oil on canvas, 76.5 x 63.5, DPG140. By Permission of Dulwich Picture Gallery, London.
Perhaps most famously of all, Gainsborough captured the beauty of the actress known as Mrs William Siddons. Sarah Siddons had forged a reputation as a fine player in provincial theatre, prompting her appearance at Drury Lane in 1775. However, her performance was not well received by the critics; so much so that she quickly returned to performing in towns such as Bath. After a seven-year hiatus, she made a triumphant return to London.

Siddons was such an exceptionally hard worker that it is believed she gave just the one sitting to Gainsborough. It was from sketches of this single meeting that Gainsborough was able to paint the 1785 portrait which some consider to be the artist's masterpiece, and which today can be seen in The National Gallery, London (above).

Importantly, Siddons is not painted on stage or as an 'actress' but as a fashionable woman of status. Her blue-striped wrap-over gown (called a 'levite') is set against an apricot-coloured shawl and red fox fur, showing Gainsborough's immense skill as a colourist.
Gainsborough's striking portrait of Mrs Siddons and those of Mary 'Perdita' Robinson (c.1784, The Royal Collection) and dancer Giovanna Baccelli (seen through a 1784 print by John Jones after Gainsborough, Gainsborough's House) reveal an intriguing glimpse of femininity, fashion and theatricality in 18th century Britain. These women reveal how society was beguiled by female performers, many of whom led equally intriguing, notorious and dramatic lives off the stage as well as on it. They ranged from royal mistresses to admired writers and Gainsborough and the Theatre contributes a fresh understanding of how these women, and their male counterparts, used portraiture to enhance their standings and create both social and professional reputations.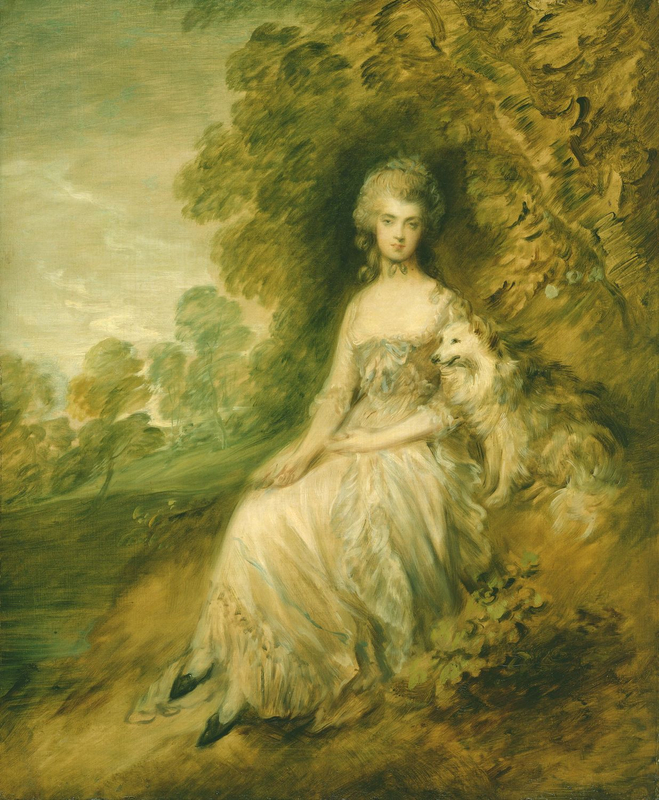 Thomas Gainsborough, Mrs. Mary 'Perdita' Robinson, c.1784. Oil on canvas, 76 x 63.2 cm, RCIN 400670. Royal Collection Trust / © Her Majesty Queen Elizabeth II 2018.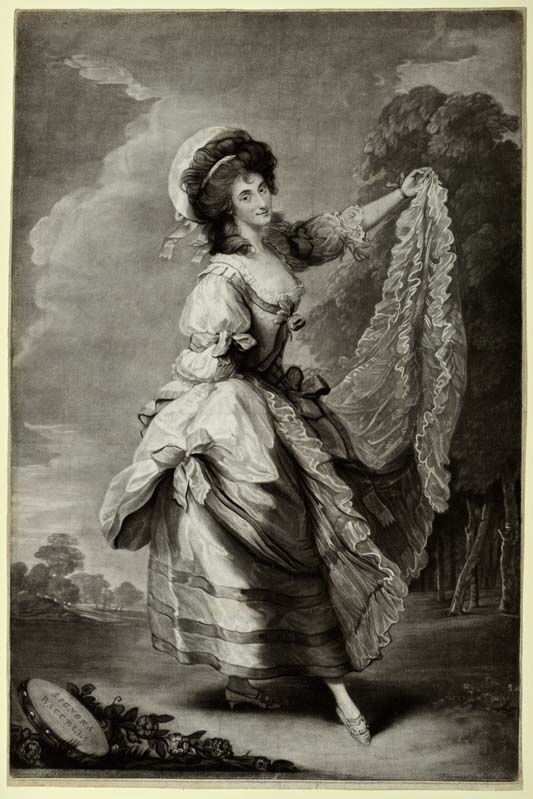 John Jones (c.1745-1797), after Thomas Gainsborough (1727-1788), Signora Baccelli, 1784. Print, Mezzotint, 53.8x35.5 cm, Inv. Nr. 1990.037. © Gainsborough's House.
There is a marked informality to the portraits, as they were often needed to serve different purposes than standard commissions. The portraits were often used for public exhibition, not only to promote the sitter but also the artist. It is significant that many of these works date from the 1770s when Gainsborough's studio was relatively quiet and the artist needed to find alternative ways to advertise his work.

The exhibition also reflects on the new, artistic naturalism championed by Garrick's performances on stage and by Gainsborough's brush, prompting the artist to be regarded as 'the most faithful disciple of Nature that ever painted'. While in his letters, Garrick deplored the affectations of provincial players: 'Strutting, bouncing & mouthing' in a style he considered a century out of date.

Amina Wright, Senior Curator at the Holburne says, "We are delighted to announce the latest in our series of loan exhibitions at the Holburne on eighteenth-century British art. This year's Gainsborough offering looks at the artist's work with actors, theatre managers, designers, musicians and dancers, which extended from Bath to London as theatre and the performing arts flourished. Gainsborough and the Theatre presents some of the artist's most intimate and immediate portraits of his many creative friends and celebrity colleagues, as well as taking us behind the scenes to explore the growth of the theatre and portrait business in Bath and the West End."

Guest curators for the exhibition are Hugh Belsey, author of the forthcoming catalogue raisonné of Gainsborough's portraits (Yale University Press, November 2018), and Dr Susan Sloman, author of Gainsborough in Bath (Yale University Press, 2002) and a forthcoming book on Gainsborough's years in London.