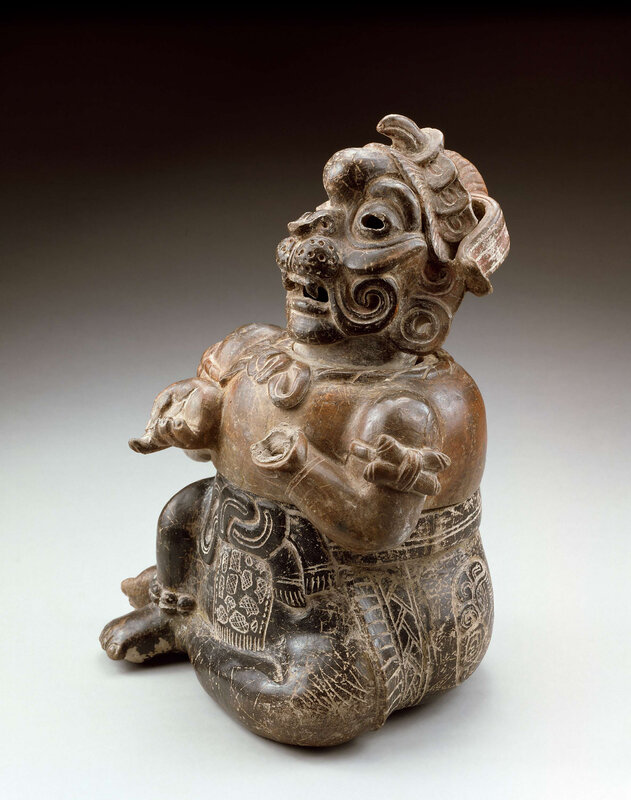 Jaguar effigy jar in three parts, Guatemala, Maya Lowlands, 350-550 AD. Burnished brownware ceramic. H 29 cm. © Deletaille Gallery at BRAFA 2019, Stand 40b.
Provenance: private European collection
Literature: 'Art de Mésoamérique-Meso-Amerikaanse Kunst', Société Générale de Banque, Brussels, November 1976, exhibtion catalogue, n° 173, ill; Rediscovered Masterpieces of Mesoamerica, Paris, 1985, n° 341, ill.; 'Trésors du Nouveau Monde, Musées Royaux d'Art et d'Histoire, Brussels, 1992, n° 172, ill.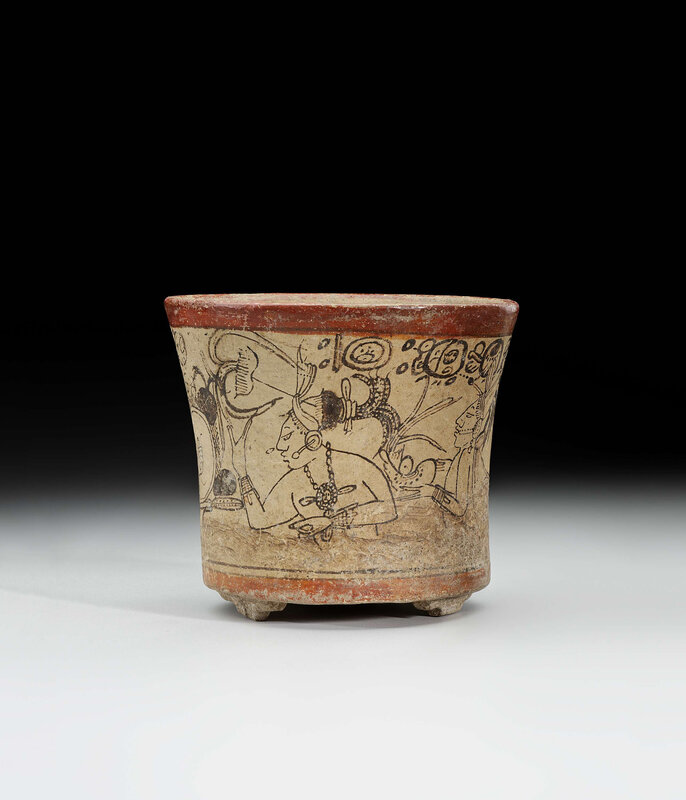 Codex Style vase with mythological scene, Mexico, Guatemala, Maya Lowlands, 600-900 AD. Ceramic. H 9.8 x Ø 11 cm. © Deletaille Gallery at BRAFA 2019, Stand 40b.
Provenance: Emile and Lin Deletaille, late 1970s; private European collection
Literature: F. Robicsek and D. Hales, The Maya book of the dead, the corpus of Codex Style ceramics of the late classic period, 1981, p. 71, vessel 95.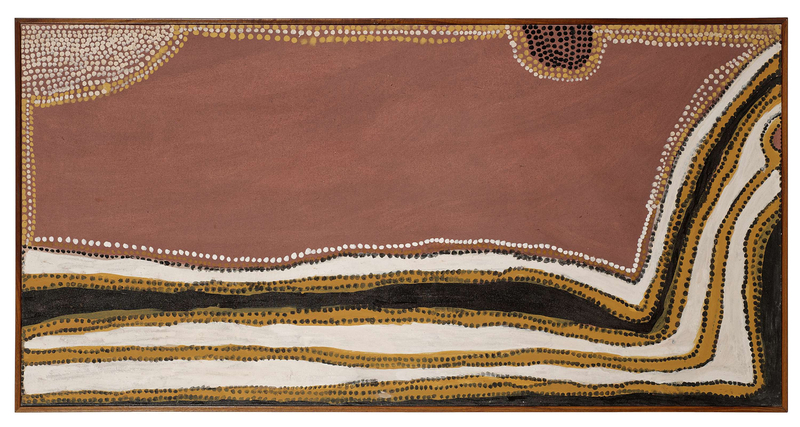 Rover Thomas (Australia, 1926-1998), Kangaroo Hill Dreaming, 1994. Natural pigments on canvas, 85 x 165 cm. © Deletaille Gallery at BRAFA 2019, Stand 40b.
Quote from the artists' certificate: this painting shows the Dreaming place of the Hill Kangaroo at a place called Ngarrayilme near Lake Argyle. There is a cave on the side of the hill and a creek with white sand and dry yellow spear grass at the edge.
Provenance: Waringarri Aboriginal Arts, Australia; private European collection.
Fondée en 1964 par Emile Deletaille, la galerie est spécialisée en art traditionnel des cultures africaines, indonésiennes, d'Océanie et précolombiennes. Sa préoccupation principale est de proposer à la vente des objets d'art de superbe qualité ainsi que des textiles de ces continents lointains. Ces objets sont montrés au public lors de foires internationales auxquelles elle participe depuis quarante ans et peuvent également être admirés à la galerie au coeur du Sablon. Grâce à sa longue expérience dans le domaine de l'art extra-européen elle continue à procurer aux musées du monde entier ainsi qu'aux institutions et collectionneurs privés, des oeuvres d'art de qualité. Depuis 2009, elle a décidé de promouvoir aussi les oeuvres d'artistes contemporains correspondant à ses critères de beauté en regroupant toutes les formes d'art y compris la photographie lors d'expositions qui ont lieu plusieurs fois par an.
Lin & Emile Deletaille, Rue aux Laines 32, BE-1000 Brussels - l.deletaille@gmail.com - www.deletaillegallery.com