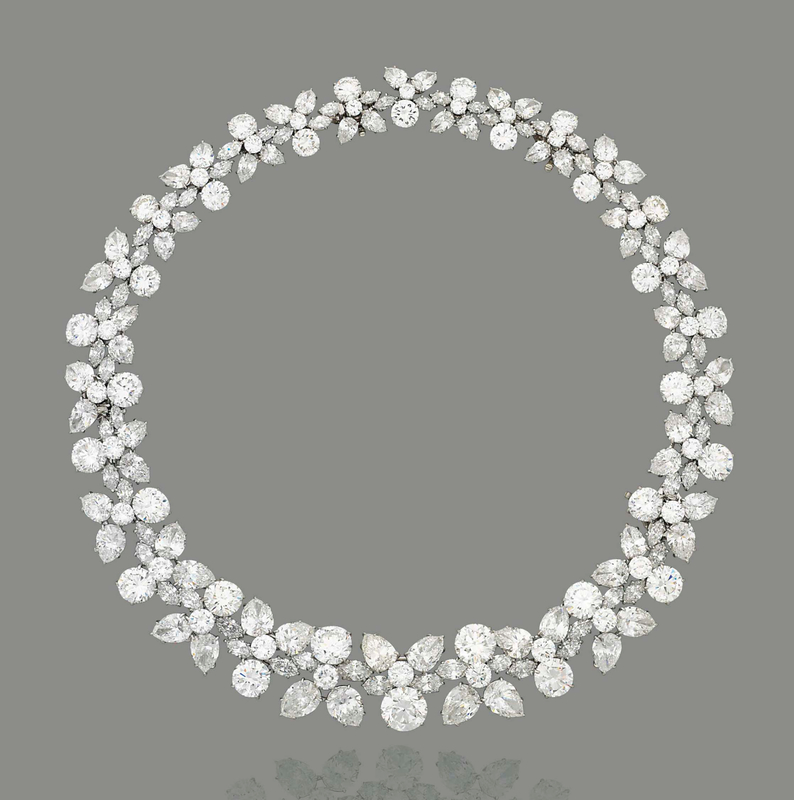 Lot 346. An important diamond 'Holly Wreath' necklace by Harry Winston, 1960s. Estimate CHF 1,500,000 - CHF 2,500,000. Price realised CHF 1,685,000. © Christie's Image Ltd 2015
The graduated collar composed of a continuous series of pear and brilliant-cut diamond trefoil clusters, joined by marquise-cut diamond connections, to a concealed clasp, can detach to form a pair of bracelets, 1960s, 41.6 cm. Signed Winston, no. 4984.
HOLLY WREATH

Proclaimed 'The King of Diamonds' in 1947, Harry Winston has handled the world's most famous diamonds including The Indore Pears, The Hope, The Porter Rhodes, The Idol's Eye and The Jonker. In the 50s, 60s and 70s, Harry Winston was the most prominent jeweler in the world: the destination of choice for royalty, Hollywood stars and business moguls. Harry Winston was a revolutionary visionary in business and in design. He encouraged his designers to find beauty and inspiration in nature. The concept of the Holly Wreath came to Harry Winston as he was returning to his Scardale estate on a frosty December night, in 1944, he became mesmerized by the majesty and simplicity of the holly wreath hanging on his door. Each leave creating a play of shapes and light, 'the crystalline holly leaves glistened like diamonds. Winston became enraptured with the way that the wreath's sculpted shape was framed, not by the branches, but by the individual intertwining leaves'(1). The drawing of the famous Holly Wreath was born, where one can only see the shimmering diamonds and not the supporting metal structure. Seemingly simple, it revolutionized design in that the metal structure merely acted as a framework and never overshadowed the gemstones from being the primary focus of the jewel.
This Holly Wreath necklace is an exceptional piece of jewellery capturing the essence of Harry Winston's vision and featuring the most exquisite selection of diamonds.

(1)A. L. Talley, HARRY WINSTON, Rizzoli, New York, 2012, pp. 12.