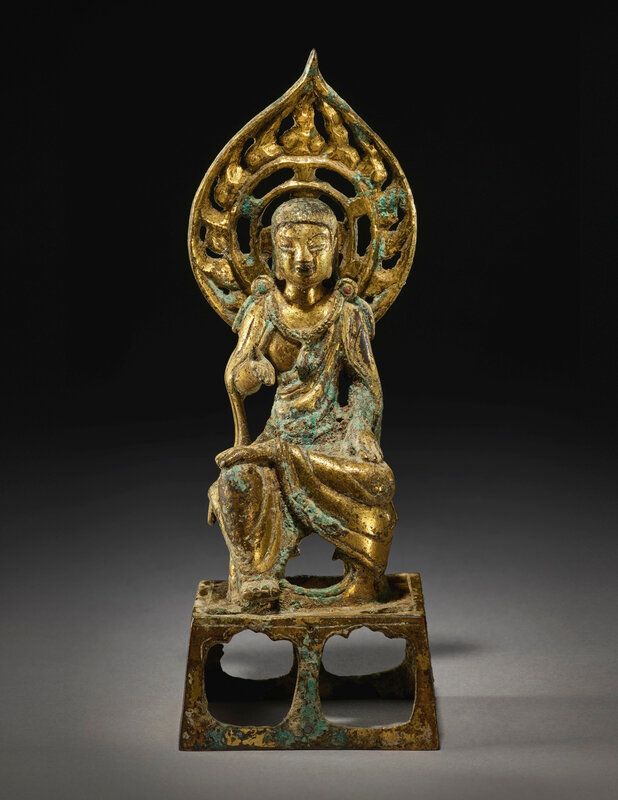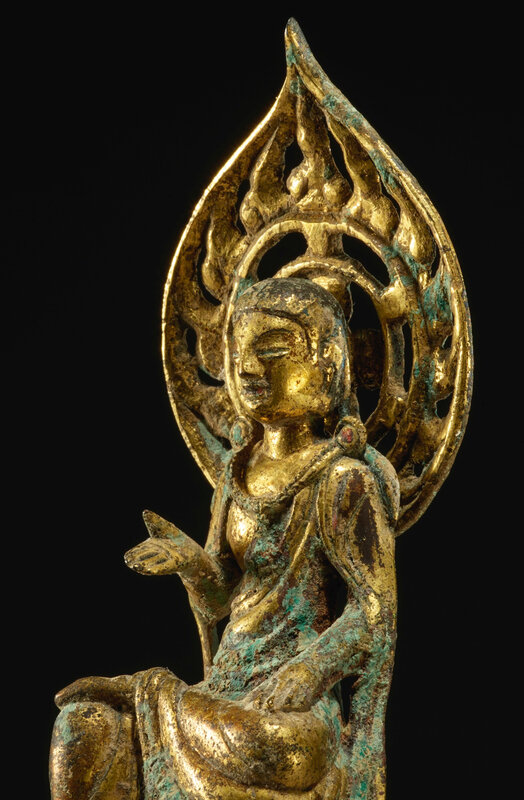 Lot 129. A gilt-bronze figure of a seated bodhisattva, Sui-Tang dynasty (581-906). Height 6 in., 15 cm. Estimate 80,000 — 120,000 USD. Courtesy Sotheby's.
the deity seated with a single leg crossed over a pendent leg, one hand raised up, the other resting on the knee, the dhoti and shawl draped over the shoulder and falling in natural folds around the contours of the body, adorned with an elaborate necklace and jeweled earrings, the face bearing a contemplative expression, the round face framed by long tresses falling across the shoulders, the figure seated on a round openwork stool further raised on a square openwork plinth, an openwork flame mandorla clasped to the back.
Provenance: Collection of Stephen Junkunc III (d. 1978).
Note: This finely cast figure exemplifies a crucial sculptural transition from the linear and more structured depiction of the deity in the Sui dynasty to the fully rounded, fleshy forms of the Tang. The figure's contemplative expression, swelling torso and its crisp casting, as seen in the modeling of the flaming mandorla, are remarkable. Small bronze figures of Buddha and bodhisattvas were made in China from as early as the 5th century AD, albeit in small numbers. These sculptures were intended for personal devotion, often placed in small altars and shrines in the homes of devotees, and played an essential role in the spread of Buddhism and its icons.
While no closely related example appears to have been published, this piece shares similarities with a number of bronze votive figures from the early Tang dynasty: a bronze figure of Buddha seated with crossed legs exhibiting similar facial and physical traits, in the National Palace Museum, Taipei, was included in the Museum's exhibition The Crucible of Compassion and Wisdom, Taipei, 1987, cat. no. 80, together with a related figure of a bodhisattva, cat. no. 79; a bronze seated bodhisattva that displays a similar rendering of the flames on the mandorla, is illustrated in Sen-Oku Hakuko Kan, Kondo Butsu [Gilt Bronze Sculptures], Tokyo, 2004, pl. 27. Compare also two figures attributed to the Sui dynasty, in the National Palace Museum, Taipei, included in the Museum's exhibition The Casting of Religion. A Special Exhibition of Mr Peng Kai-dong's Donation, Taipei, 2004, cat. nos 122 and 123, the latter cast with a similarly draped robe.
It is interesting to note that figures of this type are often depicted standing on rectangular platforms with shaped cartouches. These simulate raised wooden platforms that were commonly used in the period. A wooden go game board featuring similar cartouches and attributed to the Tang dynasty, was excavated in Turpan, Xinjiang, and illustrated Tianshan gudao dongxi feng [Ancient roads of Mount Tianshan. The meeting of East and West], Beijing, 2002, pl. 206.