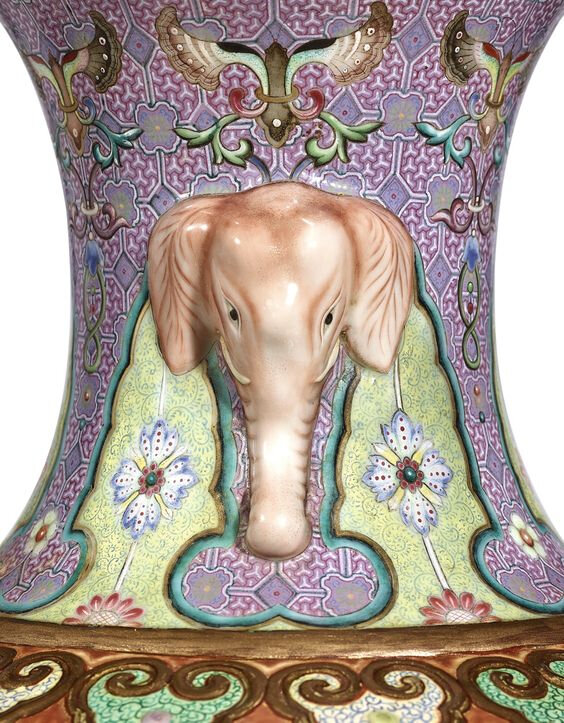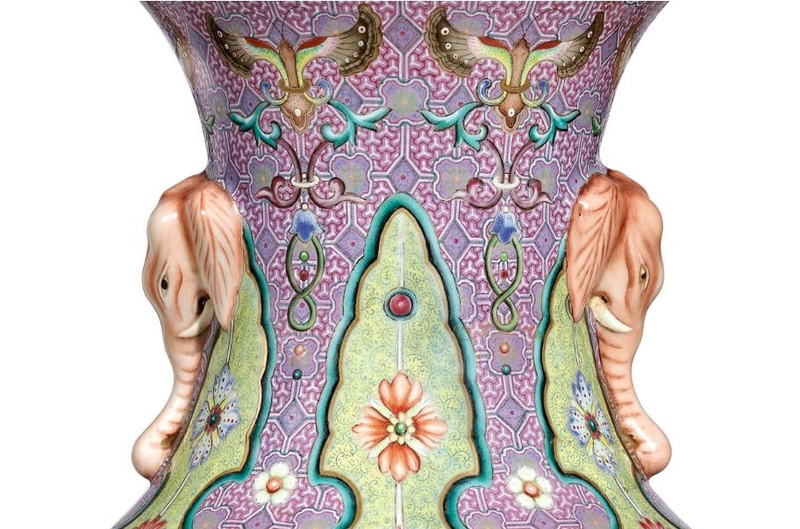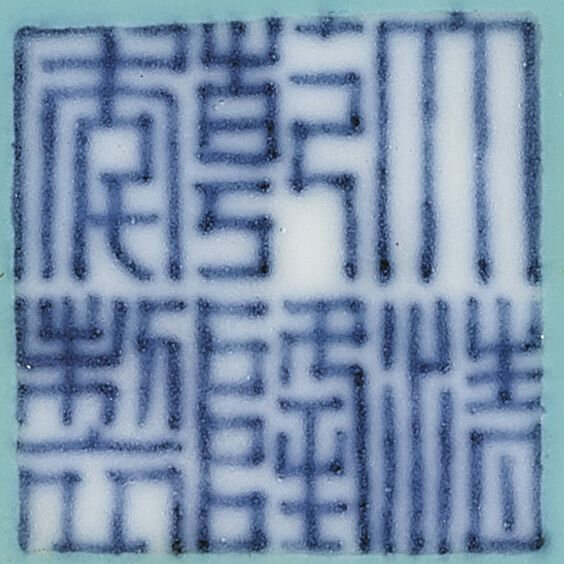 Lot 3622. A rare famille-rose and tea-dust glazed revolving vase, Seal mark and period of Qianlong (1736-1795); 40.2 cm, 15 3/4 in. Estimate 2,500,000 — 3,500,000 HKD. Lot sold 8,815,000 HKD (1,135,460 USD). Courtesy Sotheby's.
masterfully modelled from three separate pieces fitted together, the freely turning body of ovoid form covered allover in an even tea-dust glaze, set between a flared neck and splayed foot, the neck meticulously enamelled with stylised butterflies with outstretched wings suspending undulating foliage, all against a densely decorated ground diapered with twelve-sided polygons and interspersed with delicate strapwork, the neck further adorned with a border of upright plantain lappets, each enclosing a floret against meticulously rendered feathery scrollwork, all below a turquoise-ground border enclosing a lotus scroll issuing multi-coloured foliage, the neck flanked by a pair of high-relief elephant-head handles, above a pendent ruyi lappet collar accentuated with gilt highlights, the foot similarly decorated with echoing designs, including an upright ruyi lappet skirt with gilt highlights and a dense diaper ground, the base enamelled turquoise and centred with an underglaze-blue seal mark against a white cartouche.
Provenance: Christie's New York, 27th November 1991, lot 430.
Note: This vase is a true technical masterpiece that exemplifies the great advances made at the imperial kilns in Jingdezhen in response to the Qianlong Emperor's insatiable demand for novelties. Revolving vases were the last great innovation of Tang Ying (1682-1756), Superintendent of the Imperial kilns in Jingdezhen in the early years of the Qianlong reign, who applied his talent and skills with tremendous dedication to design and manufacture vessels for the personal enjoyment of the Emperor. Aware of the Qianlong Emperor's penchant for mechanical trinkets and toys, Tang created ever more ingenious wares.
Vases with movable parts are highly complex in both their construction and decoration and involved numerous techniques and production processes. They were an extraordinary challenge for the potters, as each element of their required the utmost mastery in designing, glazing and enamelling to ensure they perfectly fitted together. The present example is remarkably successful in its dramatic combination of an opaque tea-dust glaze with the luxurious palette at the neck and foot, and the detailed elephant-head handles.
A revolving vase of similar form and size, but with the main body covered in a robin's-egg glaze and the neck painted with flowers against a ruby ground, was sold in these rooms, 8th April 2011, lot 3072. A non-revolving vase of this form, perhaps a precursor to the present example, also with a robin's-egg glazed centre, is illustrated in S.W. Bushell, Oriental Ceramic Art, London, 1981 (1896), pl. 108; and another was sold in our New York rooms, 31st May 1989, lot 202.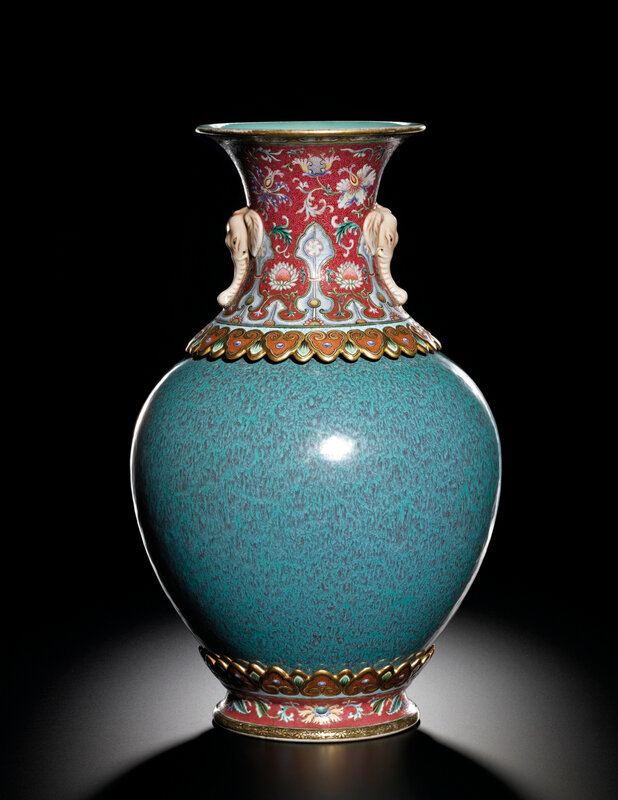 An Extremely Rare And Magnificent Robin's Egg And Famille-Rose Revolving Vase, Seal Mark And Period of Qianlong (1736-1795); 40 cm., 15 3/4 in. Sold for 70,100,000 HKD (8,987,1 79 USD) at Sotheby's Hong Kong, 8th April 2011, lot 3072. Photo Sotheby's
Cf.my post: An Extremely Rare And Magnificent Robin's Egg And Famille-Rose Revolving Vase, Seal Mark And Period of Qianlong
The possibilities presented by the revolving mechanism were also explored on bowls, such as one which rotates around a similarly shaped ruyi-moulded foot, in the National Palace Museum, Taipei, included in the Museum's exhibition Stunning Decorative Porcelains from the Ch'ien-lung Reign, Taipei, 2008, cat. no. 63.