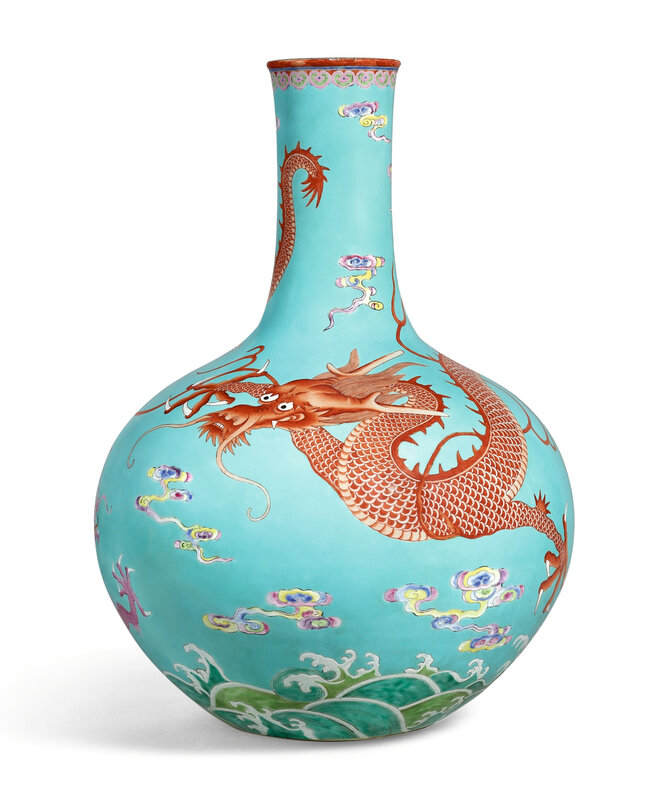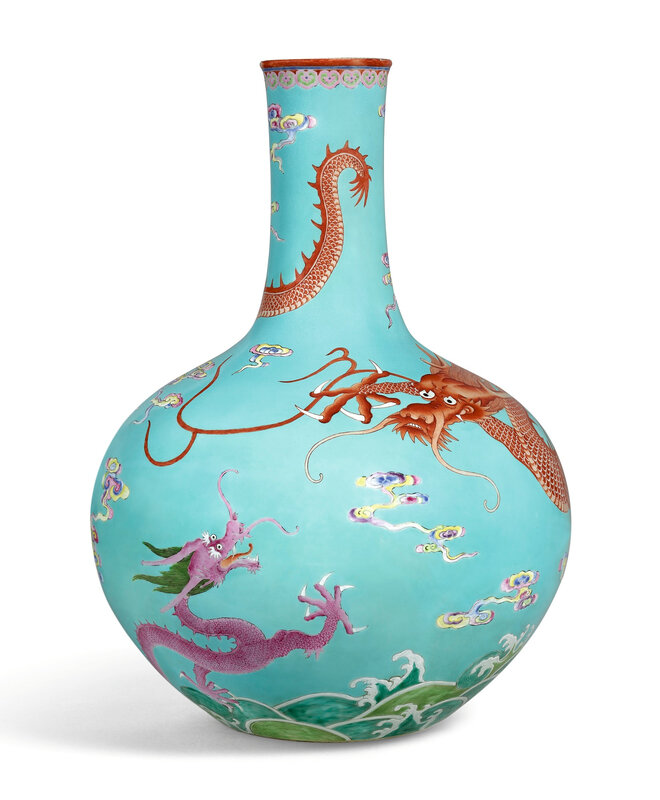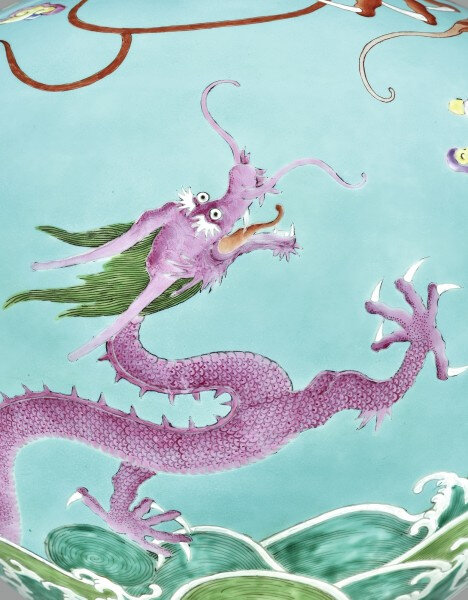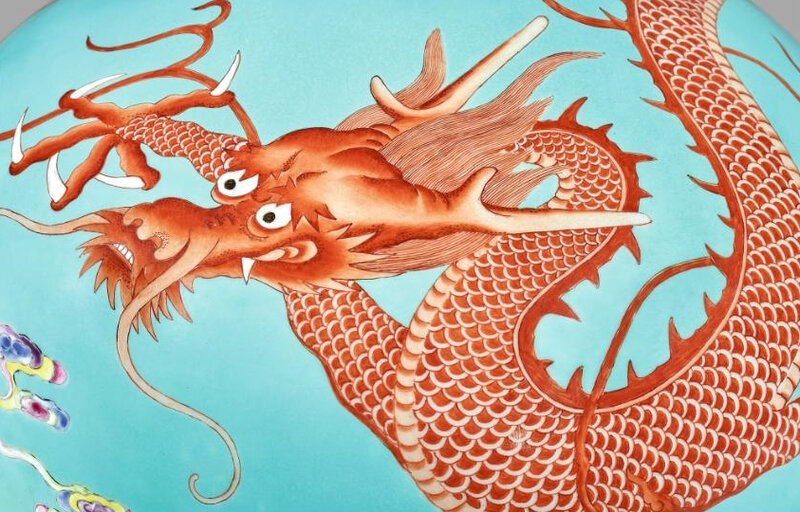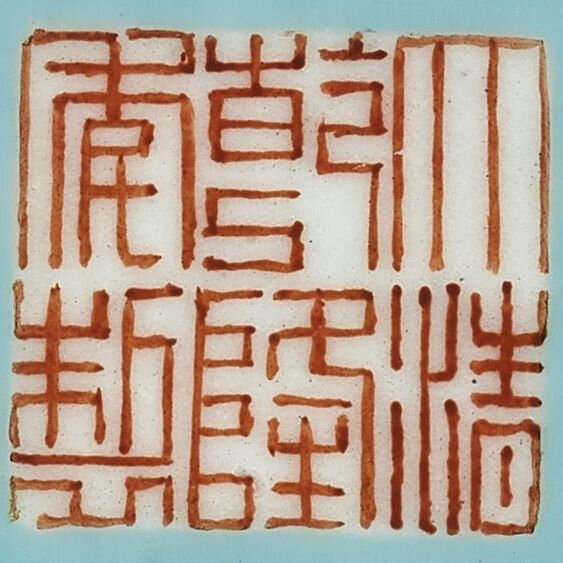 Lot 3614. An Extremely Rare Turquoise-Ground Yangcai 'Dragon' Vase, Tianqiuping, Seal Mark and Period Of Qianlong (1736-1795); 50.8 cm, 20 in. Estimate: 18,000,000 - 25,000,000 HKD. Lot sold 21,775,000 HKD (2,804,838 USD) Courtesy Sotheby's.
robustly potted with a globular body rising to a waisted cylindrical neck and rolled lip, the body superbly and richly painted in bright enamels, encircling the shoulder a mighty five-clawed dragon in iron red, its long curly whiskers issuing from either side of its flared snout, crowned by a pair of prominent long horns protruding from its mane formed from a mass of radiating red fur, sweeping back to its powerful coiling body covered in red scales, its forearm extended to reach for a flaming pearl, striding aggressively amidst multi-coloured swirling clouds and looking sternly downwards at younger subordinate dragon in puce and pink enamels, the younger creature leaping from tumultuous green waves cresting with white foams just above the base, below a band of pendent ruyi heads and an iron-red rim, all reserved against a rich turquoise ground saving for a six-character iron-red seal mark on the base.
Provenance: Collection of George H. Taber Jr (1859-1940), thence by descent within the family.
Christie's New York, 19th/20th September 2013, lot 1391.
From Father to Son': A Magnificent 'Dragon' Tianqiuping
Dr Hajni Elias
The present vase is impressive for its magnificent size and eye-catching famille-rose decoration of a large imperial five-clawed dragon in the company of a smaller younger dragon amidst ruyi-form clouds painted on a deep turquoise ground. The enamel colours are especially vibrant against the turquoise ground that provides a dramatic effect to the overall colour scheme. The use of deep iron-red for the large dragon adds boldness and power to the design when comparing it to the soft pink enamel employed for the smaller dragon. The clouds are spatially dispersed around the body giving the composition an air of lightness and the viewer the chance to focus on the main subject, the two dragons, without any clutter. The painting is also remarkable for its meticulous shading and the layering of the many different enamels, highlighted on the cloud motif, that create an impressive three-dimensional effect. Turquoise ground wares, such as the present vase, were especially sought after by the Qianlong Emperor (r. 1735-1796) who actively encouraged ceramic artists at the Imperial kiln site at Jingdezhen to be daring with their colours and palette combinations.
Depictions of an impressive and powerful dragon in the company of a younger dragon, usually facing each other, in the Chinese decorative repertoire, represent the message of 'the old teaching its young one'. The proverb 'canglong jiaozi' which translates as 'the old dragon teaches his son' is recorded in the Song dynasty (960-1279) Confucian reading primer, the Sanzi jing [Three Character Classics] generally attributed to Wang Yinglin (1223-1296), but also accepted by some as the work of Ou Shizi (1234-1324). The Sanzi jing is a traditional text for teaching children, and as its name suggests, it is written in rhymed couplets for easy reading and remembrance. Young children would recite it often accompanied by swaying of the body to give a proper rhythm. It covers a wide range of topics, such as literature, philosophy, geography and history and also introduces Confucian doctrines of importance on education, filial piety, proper family relations and correct moral behaviour. The Qianlong emperor would have used this primer as a textbook when he was a young learner, and thus the message conveyed on the vase would have been one that he would have recited as a young child.
The theme of succession and the handing down of knowledge from father to son is poignantly represented in a painting by the Jesuit missionary artist working in the Qing court, Giuseppe Castiglione (1688-1766), titled Springs's Peaceful Message(Ping'an chunxin tu) from Qianlong's painting collection. The painting depicts the young emperor receiving a sprig of plum blossom from his father, the Yongzheng Emperor. In 1782, many years after its completion, Qianlong wrote the following poem on the painting:
In portraiture Shining is masterful,
He painted me during my younger days;
The white-headed one who enters the rooms today,
Does not recognise who this is.1
The painting is rich in symbolism with the blossoming plum sprig representing the arrival of Spring, a new beginning and the moment when knowledge, and possibly power, was transmitted from father to son, the young prince. Father is depicted in a posture emphasising his authority whilst his son bends slightly forward showing reverence and obedience.2 Interestingly, Castiglione used a turquoise-blue shade for the background of the hanging scroll which may well have served as the inspiration for the use of turquoise as a ground for the present vase. The theme of succession of imperial power and handing down knowledge from father to son is in both the painting and the vase, the latter, this time around most likely representing the figures of Qianlong and his son, Prince Yongyan, the future Jiaqing Emperor. The treatment and positioning of the two dragons on the vase emphasise a hierarchical relationship, mirroring what we see in the painting, where one figure represents authority while the other respectful submission. However, whereas in the painting the prince appears to show a youthful maturity as if he is ready or conscious of the imperial patronage of his father, the portrayal of the younger dragon on the vase emphasises its youthful features and perhaps therefore this vase was made early in the life of the prince.
For comparable examples to the present vase see a tianqiuping of the same impressive size decorated in famille-rose with nine five-clawed dragons amidst fire scrolls on a turquoise wave ground sold in these rooms, 8th October 2010, lot 2700 (fig. 1). A Qianlong mark and period baluster vase enamelled with two twisting dragons amongst clouds on a turquoise ground, in the Tokyo National Museum, is included in the Illustrated Catalogue of Tokyo National Museum. Chinese Ceramics, Volume II, Tokyo, 1990, pl. 664, with its pair sold in these rooms, 2nd May 2005, lot 509 (fig. 2). For examples of turquoise ground vases of different forms and decoration, from the Qing court collection, see The Complete Collection of Treasures of the Palace Museum. Porcelains with Cloisonné Enamel Decoration and Famille Rose Decoration, Hong Kong, 1999, nos 115-119.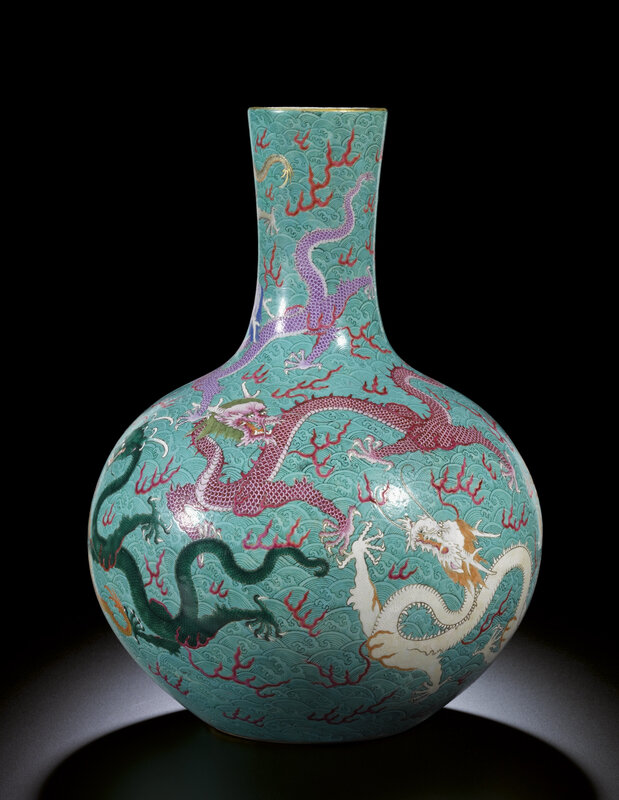 fig. 1. A large 'famille-rose' 'Nine dragon' vase, tianqiuping, seal mark and period of Qianlong, the enamels possibly later; 51cm., 20in. Sold for 6,620,000 HKD at Sotheby's Hong Kong, 8th October 2010, lot 2700. Courtesy Sotheby's
Cf. my post: A large 'famille-rose' 'Nine dragon' vase, tianqiuping, seal mark and period of Qianlong, the enamels possibly later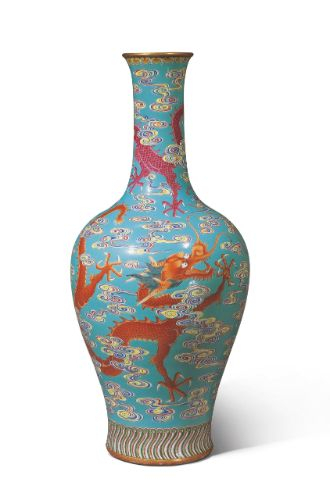 Famille-rose turquoise-ground 'dragon' vase, seal mark and period of Qianlong. Sotheby's Hong Kong, 2nd May 2005, lot 509.
The present vase was formerly in the collection of George Hathaway Taber Jr (1859-1940) and then handed down to his family members by descent. The Taber family, from Dartmouth and Fairhaven in Massachusetts, USA, were chiefly involved in local government and mercantile activities. Taber Jr was the son of Captain George Hathaway Taber (1808-1901), resident of Fairhaven, who served in various capacities in town government for about twenty years and was also the President of the Fairhaven Bank. Prior to his involvement in town government, he had been a ship's captain involved in the mercantile trade. Taber Jr made his mark as an oil executive, eventually rising to become board member with the Gulf Oil Company. He taught himself engineering and became known for his contribution towards the advancement of oil refinery techniques. It is said that his love for Chinese objects was ignited after one of his relatives brought back some beautiful objects from his travels in China. Taber Jr became an avid collector of Chinese ceramics and jades, building up an impressive collection with a discerning eye. He generously loaned and gifted many of his pieces to museums which include the Philbrook Museum of Art in Tulsa, Oklahoma, to form the core of its Chinese collection. He passed away in December 1940 at the age of 81, upon which his collection was split up between his descendants and part of it sold in our New York rooms, 7th/8th March 1946.
1 See Wu Hung, 'Emperor's Masquerade – "Costume Portraits" of Yongzheng and Qianlong,' Orientations, July/August 1995, p. 25.
2 Hajni Elias, 'Qianlong. The Imperial Collector,' Arts of Asia, 2006, 36.2, pp. 68-9.