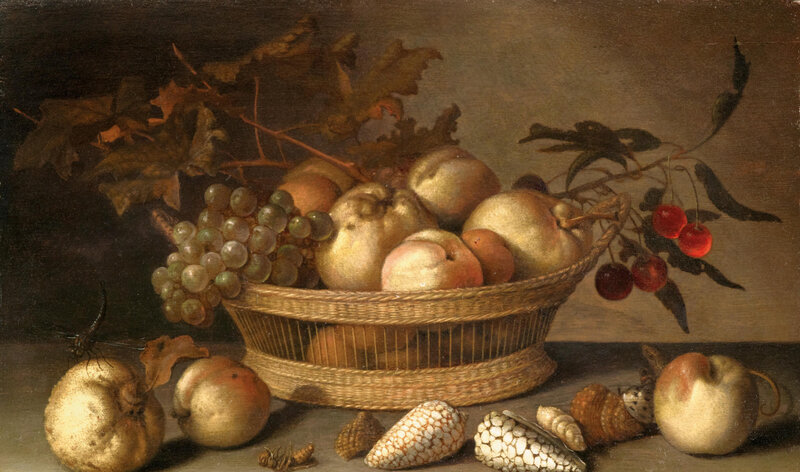 Lot 351. Balthasar van der Ast (Middelburg 1593/94–1657 Delft) A basket with cherries, apples, peaches and a bunch of grapes, surrounded by apples, peaches, shells, bees and a dragonfly, signed and dated lower right: B. van der Ast. fe.1647, oil on panel, 30 x 47.5 cm, framed. Estimate: EUR 60,000 - EUR 80,000 (USD 68,000 - USD 90,000 ). Unsold. © Dorotheum
Provenance: possibly collection P.L.C. Driessen, Leyden, 1894;
with Lasron Gallery, London, 1965;
Private collection;
sale, Christie's, New York, 11 January 1991, lot 40;
where acquired by the present owner.

Probably Exhibited: Utrecht, Oude Schilderkunst, 20 August – 1 October 1894, no. 2.
Literature: possibly L. J. Bol, The Bosschaert dynasty: painters of flowers and fruit, Leigh-on-Sea 1960, p. 79, no. 74.
Note; The present painting is registered in the RKD database under image no. 0000182791 (as Balthasar van der Ast).

Balthasar van der Ast is one of the most celebrated Dutch still life painters of the seventeenth century; he was a pupil of his brother-in-law Ambrosius Bosschaert in Middelburg. Both artists were specialised in painting flowers and fruit, and although in his first works van der Ast was significantly influenced by his brother-in-law's work, he soon developed his own particular 'modern' style of painting. Typical characteristics of Balthasar van der Ast's works are a pronounced realism, a careful balancing of the forms and colours in his compositions, and a predominant handling of chiaroscuro.

Van der Ast animates his still life compositions by the inclusion of small animals and insects that seemingly move through the pictorial space: butterflies, hornets, bees, wasps and dragonflies fly or land on various fruits or flowers. Likewise, grasshoppers and lizards move among the fruits and shells that rest on the shelf which serves as a picture plain in his works. His manner of representing the sinuously baroque movements of lizards might well derive from the Middelburg painter Roelandt Savery who, alongside van der Ast, entered the Guild of Saint Luke in Utrecht in 1619.

As a specialist in this genre of painting van der Ast deployed a richer figurative repertoire and generated more varied and less static compositions than those of his brother-in-law. The painter built his compositions gradually, displaying each individual item in great detail and usually arranging them around a triangular composition. Indeed, Balthasar van der Ast always begins his works from preliminary studies. The same flowers, similar animals and identical shells often appear in his works. The artist especially cherished shells as a subject: indeed, these characterise and at times are the protagonists of many of his works. Balthasar van der Ast was a trailblazer in the representation of the shell as a subject, reflecting the passionate interest for these exotic objects among collectors, and in some cases he portrayed very rare and expensive shells (see L.J. Bol, The Bosschaert dynasty: painters of flowers and fruit, Leigh-on-Sea 1960, pp. 36-40).