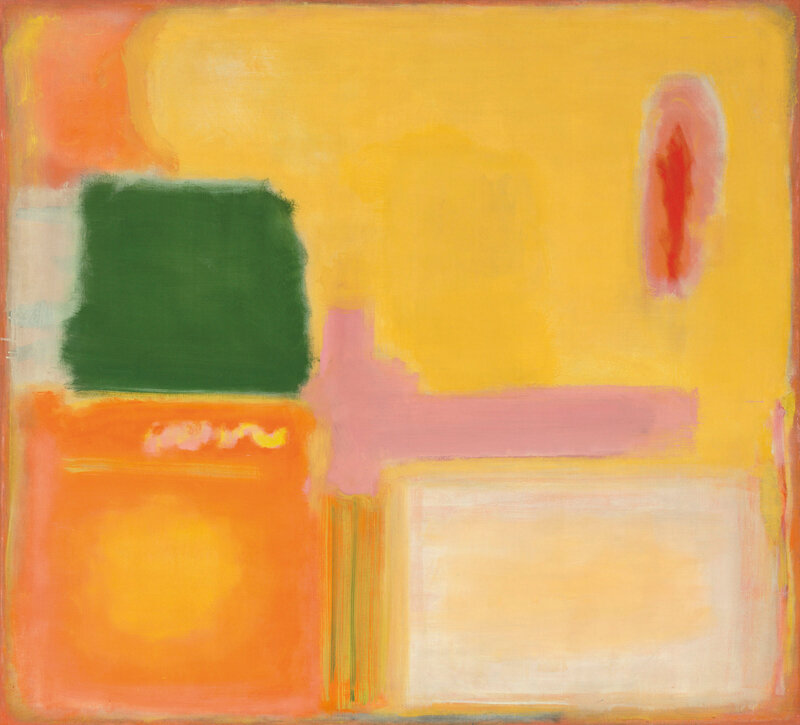 Lot 63. Mark Rothko (1903-1970), No. 16/No. 12 (Mauve Intersection), oil on canvas, 58 3/8 x 64 ¼ in. (135.6 x 163.2 cm.) Painted in 1949. Estimate USD 2,000,000 - USD 3,000,000. © Christie's Image Ltd 2019.
Provenance: Sidney Janis Gallery, New York.
The Phillips Collection, Washington, D.C. (acquired from the above, 1957); sale, Parke-Bernet Galleries Inc., New York, 17 November 1971, lot 8.
Cecil "Titi" Blaffer von Fürstenberg, Houston (acquired at the above sale).
By descent from the above to the present owners.
Literature: D. Ashton, "Art: Mark Rothko" in Arts & Architecture, August 1957. p. 8 (illustrated).
H.L. Jaffé, Le grandi epoche dell'arte: L'arte del XX secolo, Florence, 1970, p. 246, no. 374 (illustrated).
I. Sandler, The Triumph of American Painting: A History of Abstract Expressionism, New York, 1970. p. 180, no. 13-5 (illustrated; dated 1948).
M. Tuchman, The New York School: Abstract Expressionism in the 40s and 50s, London, 1970, p. 140, no. 110 (illustrated).
P. Richard, "Phillips Collection to Sell a Rothko" in The Washington Post, 15 November 1971, p. B1 (incorrectly illustrated; dated 1948).
T. Fujieda, "Special Feature: Mark Rothko" in Mizue 888, March 1979, p. 18 (illustrated).
D. Anfam, Mark Rothko: The Works on Canvas, Catalogue Raisonné, New Haven, 2001, p. 306, no. 400 (illustrated in color).
A. Cohen-Solal, Mark Rothko: Toward the Light in the Chapel (Jewish Lives), New Haven, 2016, pp. 173 and 274.
Exhibited: New York, Betty Parsons Gallery, Mark Rothko, January 1950.
Richmond, Virginia Museum of Fine Arts, American Painting 1950, April-June 1950.
Washington, D.C., The Phillips Gallery, Paintings by Rothko, Tomlin, Okada,January-February 1957.
Washington, D.C., The Phillips Collection, Paintings by Mark Rothko, May 1960.
New York, Museum of Modern Art, Mark Rothko, January-March 1961, p. 18, no. 12 (illustrated; dated 1948).
Philadelphia, University of Pennsylvania, Institute of Contemporary Art, 1943-1953: The Decisive Years, January-March 1965.
Los Angeles County Museum of Art, New York School: The First Generation, Paintings of the 1940s and 1950s, July-August 1965, p. 183, no. 102 (illustrated; dated 1948).
Washington, D.C., Corcoran Gallery of Art, Past and Present, April-September 1966.
Washington, D.C., National Collection of Fine Arts; Bucharest, Dalles Hall; Timi?oara, Museum of Banat; Cluj-Napoca, Galeria de Arta; Bratislava, Slovak National Gallery; Prague, Narodni Galerie, Wallenstein Palace and Brussels, Palais des Beaux-Arts, The Disappearance and Reappearance of the Image: Paintings in the United States since 1945, November 1968-November 1969, p. 25 (illustrated in color; dated 1948).
Richmond, Virginia Museum of Fine Arts, American Painting 1970, May-June 1970.
Barcelona, Fundació Joan Miró; Basel, Fondation Beyeler, Mark Rothko: A Consummated Experience Between Picture and Onlooker, November 2000-April 2001, p. 172, no. 14 (illustrated in color, p. 85)
Note: "…to understand Rothko—to see his artistic evolution, comprehend his goals and the means he used to realize them, to live his internal struggle to manifest the human soul and chart that manifestation—one need only study the 1940s"—Christopher Rothko
(C. Rothko, "The Decade," in B. Collins, Mark Rothko: The Decisive Decade 1940-1950, exh. cat., Columbia Museum of Art, 2012, p. 33).

Painted at a pivotal moment in the artist's career, Mark Rothko's No.16/No.12 (Mauve Intersection) is an early example of the enigmatic and colorful floating planes of color that would come to distinguish his entire oeuvre. One of the most accomplished of his Multiforms, this evocative painting marks the moment when Rothko finally began to relinquish the figurative paintings that had proliferated during the early part of career, and condense the enigmatic shapes into forms that would become Rothko's main artistic expression for the rest of his life. Like Jackson Pollock's "drips," they would come to be regarded among the purest forms of postwar abstraction, and these first acts of a painterly drama would ensure Rothko's place as one of the most important artists of the 20th century. An important example from a narrow window of creativity, this painting was part of the internationally important collection of Rothko's paintings at the Phillips Collection, Washington, D.C. for over a decade between 1957 and 1971, before being acquired by the family of the present owner, where it has remained ever since.
The scorching passages of yellows, golds, reds, pinks, purples and oranges that coalesce across the surface of No.16/No.12 (Mauve Intersection) offer up the visceral sense of the drama that Rothko felt was inherent to the surface of his paintings. This action plays itself out in the tussling, jostling, cajoling forms that are the result of the artist laying down multiple layers of pigment. A large passage of golden yellow occupies the upper right quadrant, within its confines floats a rich mix of many different tonal values. Darker hues seem to bubble up from beneath the surface, in some parts breaking through to reveal schisms of fiery red and dark oranges. In the lower right quadrant, a rectangle of warm hues appears to dissolve before our very eyes, its vestiges seen in the white-hot perimeter of the slowly disappearing form. Although, dominated by these large passages of color, the painting is distinguished by a multitude of areas where the passages of color collide, a quality particularly desired by the artist who always insisted that it was at the edges of these passages of color where he intended most of the painterly action to take place. It was here that the competing forces of his contrasting color fields came into direct contact with each other, and it was here that Rothko felt that his paintings truly reached the apex of their power, "…colors push outward in all directions," he said or "contract and rush inward. Between these two poles you can find everything I want to say" (Rothko in conversation with A. Jensen, 17 June 1953 in J.E.B. Breslin, Mark Rothko: A Biography, Chicago, 1993, p. 301).
Christopher Rothko maintains that his father's works from this decade "…[are] the keys to everything. Everything" (C. Rothko, "The Decade," in op.cit., exh. cat., p. 33). It was during the late 1940s that Rothko's work undergoes a significant shift from the Surrealist inspired organic forms that he painted mid-decade (exemplified by Slow Swirls at the Edge of the Sea, 1944, Museum of Modern Art, New York), to shifting planes of color that would dominate his compositions for the rest of his career. This change was influenced, in part, by his reading of the works of Friedrich Nietzsche, who believed that Greek tragedy was the ultimate form of artistic expression. The German philosopher understood that it held in tension the two fundamental and opposing facets of human existence—the terror of death and the will to life, which he called the Apollonian and the Dionysian. It was this eternal tussle that Rothko sought to capture in the surface of his canvases. "In the tension between the forms and formless in the later Mutliforms, Rothko found a way to express what Nietzsche had called the Apollonian and the Dionysian—terms it should be noted were a regular part of his vocabulary in the 1950s" (B. Collins, "Beyonf Pessimism: Rothko's Nietzschean Quest, 1940-1949 in ibid., p. 33).
Another significant influence on Rothko's work from this period are the paintings of his fellow artist, Clyfford Still. When Still moved to New York in 1945 he showed Rothko several of his paintings, including a striking canvas filled with colorful vertical forms called 1945-H (now in the collection of the San Francisco Museum of Modern Art). Rothko was so impressed that he implored Peggy Guggenheim to give Still an exhibition at her famed Art of This Century gallery. More importantly, Rothko took Still's soft-edged irregular forms and began to incorporate a similar language into his own work. In the introduction for Still's 1946 show at Art of This Century, Rothko wrote "Every shape becomes an organic entity, inviting the multiplicity of associations inherent in all living things. To me they form a theology of the most elementary consciousness, hardly aware of itself beyond the will to live—a profound and moving experience" (quoted in, ibid.).
Beginning with his Multiforms, Rothko sought to eradicate the conventional meaning of representation in order to arrive at something new. In his now famous 1947 essay "The Romantics Were Prompted," he started that the "familiar identity of things has to be pulverized in order to destroy the finite associations with which our society increasingly enshrouds every aspect of our environment" (Ibid). No.16/No.12 (Mauve Intersection) marks an important step in that process, and as a result is among the first of his truly abstract paintings. Here, he explored with greater freedom than ever before the expressive potential of color, light and form. He saw these compositional elements as having the ability to convey a sense of elemental human drama, which was, in his view, the center of gravity of his art. When speaking of his father's paintings from this period, his son Christopher claimed, "Rothko is looking for something, looking intently… Ultimately, he is trying to discover his artistic persona, not to tell us who he is, but in order to communicate with us directly about who we all are. He is mustering all of his resources to speak his philosophy more clearly, a very immediate and human philosophy" (ibid., p. 33).
Christie's. Impressionist and Modern Art Evening Sale, New York, 13 May 2019