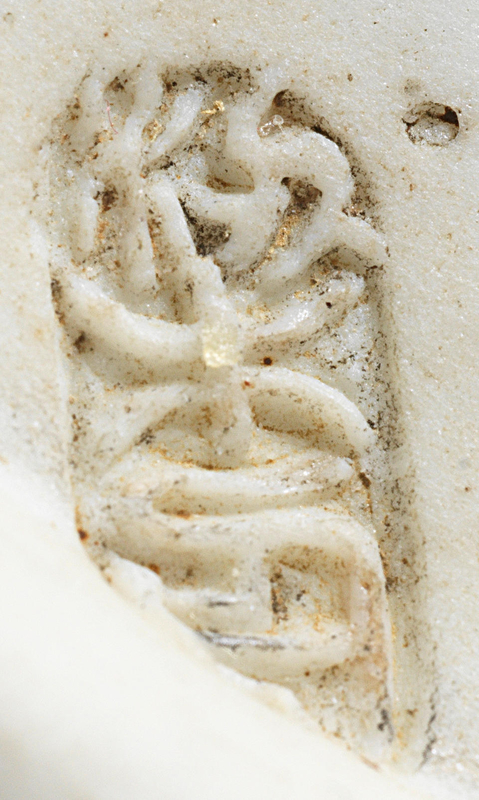 Lot 34. A very rare carved biscuit porcelain 'Eight Horses of Muwang' brushpot, bitong, Signed Liang, 19th century; 16cm (6 1/4in) high. Estimate £ 5,000 - 8,000 (€ 5,800 - 9,200). Sold for £ 37,562 (€ 42,882). © Bonhams 2001-2019
Of cylindrical form naturalistically modelled imitating bamboo with pin-prick marks on the rim, intricately and deftly carved around the body in various levels of relief with a continuous scene of eight horses and five grooms within a mountainous riverscape with rocky outcrops, pine trees and finely incised waterfalls, wood stand.
Provenance: Kaynes-Klitz collection, no.4 (label)
An English private collection.
Note: Michael J. Kaynes was an official in the Hong Kong government from 1962. He quickly formed a good collection of snuff bottles and Chinese porcelain of the early Republic period. With Hugh Moss, he established the Chinese Snuff Bottle Society in Hong Kong, which published a magazine. A group of his ceramics was selected by Anthony Evans for inclusion in an exhibition of 20th century porcelain in The Hague, Van Keizerrijk tot Volksrepubliek, 1986.

The elaborate yet delicate landscape carving style, as exemplified by the present brushpot, suggests it was carved by a contemporary of one of the great craftsmen of the time, such as Chen Guozhi 陳國治 (circa 1820-1860). Chen was a native of Qimen, Anhui province, and was renowned for his ability to carve designs on porcelain with the intricacy and elegance of those found on paintings.

Compare with a related biscuit porcelain relief-carved brushpot of similar style, Daoguang seal mark and of the period, which was sold at Bonhams London, 6 November 2014, lot 192. See also a related ivory brushpot, carved with a similar design, which was sold at Sotheby's Hong Kong, 29-30 November 2018, lot 522, indicating that like the present lot, it probably depicted a design after the same woodblock print.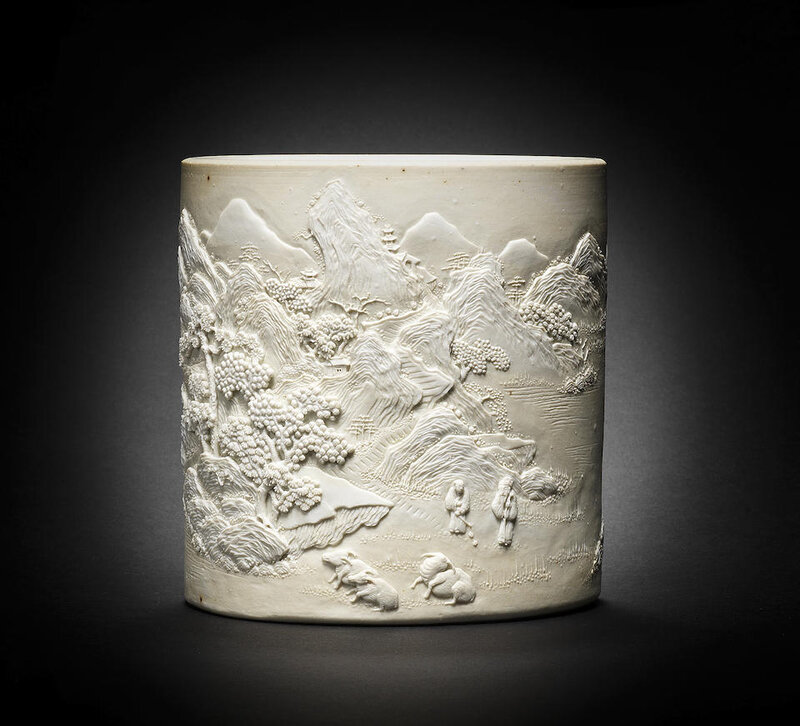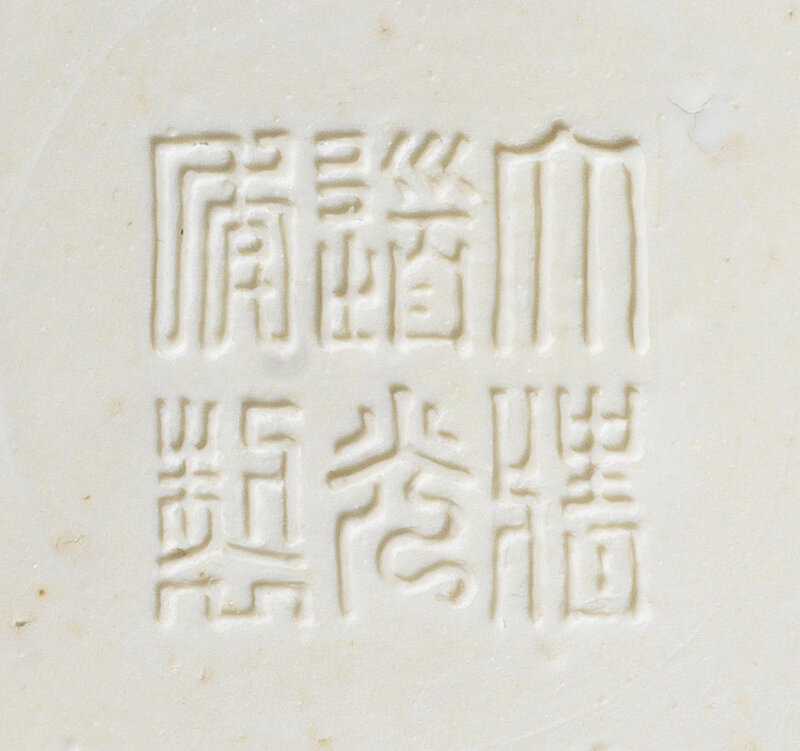 A very rare biscuit porcelain relief-carved brushpot, bitong, Daoguang seal mark and of the period (1821-1850); 13.3cm (5 1/4in) high. Estimate £ 40,000 - 60,000 (€ 46,000 - 69,000) at Bonhams London, 6 November 2014, lot 192.
Finely and meticulously modelled on the exterior with a small figure of a scholar holding a ruyi sceptre together with an attendant admiring a flock of three sheep, all within a continuous landscape formed of heaped mountains and lofty pine and wutong trees with a few dwellings scattered in the distance and path leading down to a broadly flowing river, an inscription above the river, the creamy biscuit left unglazed and the base slightly recessed, fitted box.
Provenance: purchased by Sydney L.Moss Ltd. from S.Marchant and Son, London 1964
An English private collection
Bonhams London, sold in these Rooms on 10 July 2006, lot 186.
Note: The poem reads:
'Shi zai zhongxia xie yu Changjiang Zhushan
ke ci xie wei Chi Shi Cheng Yang Tu'

時在仲夏寫於昌江珠山
客次書為叱石成羊圖

which may be translated as:
'Written in mid-summer while a guest at Changjiang Zhushan,
Inscribed for the painting entitled 'Chi shi cheng yang tu' (Turning the Stones into Goats by Shouting).'

The scene on the present lot refers to a Daoist legend recorded in the Shenxian zhuan or Biography of Immortals, by Ge Hong (284-363), which tells of a young shepherd called Huang Chuping from Danxi, Jinhua, who disappeared whilst herding his sheep. His elder brother Huang Chuqi searched all over for him, to no avail, until forty years later he heard from a Daoist priest about a shepherd on Jinhua Mountain, who was indeed his long-lost brother. When the two brothers met again, Chuping explained that he had followed an Immortal and become Immortal himself. Chuqi then asked about his flock, and Chuping said that they were in front of the cave. Chuping looked but saw only white rocks, until he happened to shout, at which the rocks suddenly became sheep. Chuqi realised that his brother was indeed an Immortal, and the phrase chi shi cheng yang (turning stones into goats by shouting) came to used to describe miraculous events.

In its carving style and subject matter, the present lot can be closely related to a group of carved porcelain brushpots attributed to the master Chen Guozhi, who worked at Jingdezhen during the early 19th century. Both in their style and attribution, the works of Chen Guozhi and other masters such as Wang Bingrong represent a blurring of the distinctions between artist and craftsman, and the signatures found on a number of such pieces serve to claim a position for the potter closer to that of a recognisable artist then an anonymous craftsman. Indeed it is perhaps possible to discern the hand of Chen Guozhi in the inscription on the present lot: the writing style is very similar to that on a snuff bottle in the James and Julie Li Collection, and which also records the artist sojourning at Zhushan: see H.Moss, V.Graham and K.B.Tsang, The Art of the Chinese Snuff Bottle: The J&J Collection, New York, 1993, pl.251.

It is extremely unusual to find a brushpot such as the present lot with an Imperial seal; one example with a brownish-yellow glaze, Daoguang seal mark and of the period, gifted by Mr A.K.W.Cheung and now in the Art Museum, Chinese University of Hong Kong, is illustrated by T.Miller and H.Hui, Elegance in Relief: Carved Porcelain from Jingdezhen of the 19th to Early 20th Centuries, Hong Kong, 2006, no.6; and a four-character Daoguang mark can be found on a related brownish-yellow-glazed brushpot imitating bamboo, illustrated in The Complete Collection of Treasures of the Palace Museum: Monochrome Porcelain, Shanghai, 1999, no.49. See also the brownish-yellow brushpot from the Baur Collection dated to AD 1848 illustrated by T.Miller and H.Hui, Elegance in Relief: Carved Porcelain from Jingdezhen of the 19th to Early 20th Centuries, Hong Kong, 2006, no.3., which shows a similarly exuberant yet detailed treatment of the incised mountains.

For two other examples from the Daoguang period, combining the Chen Guozhi signature and the Daoguang reign period, see a turquoise-glazed brushpot with the seal mark Da Qing Daoguang Chen Guozhi zhi in the Baur Collection and illustrated by J.Ayers, The Baur Collection, Geneva: Chinese Ceramics, Vol.Four, Painted and Polychrome Porcelains of the Ch'ing Dynasty, Geneva, 1974, no.A.658; and another by T.Miller and H.Hui, Elegance in Relief: Carved Porcelain from Jingdezhen of the 19th to Early 20th Centuries, Hong Kong, 2006, no.2 (from the Collection of the Shanghai Museum, dated to 1847).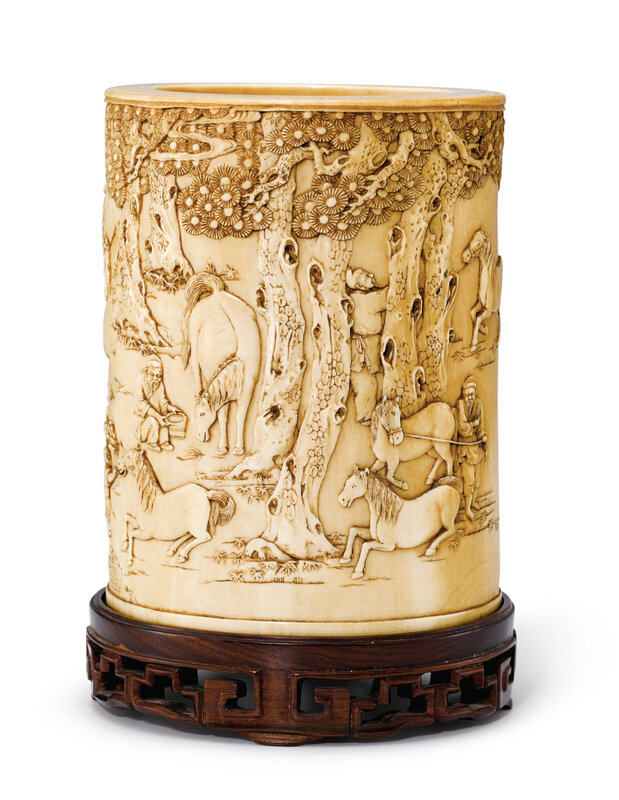 A finely carved ivory 'Horses of Mu Wang' brushpot, Qing dynasty, 18th – 19th century; 16.8 cm, 6 5/8 in. Sold for 437,500 HKD at Sotheby's Hong Kong, 29-30 November 2018, lot 522. Photo Sotheby's.
of cylindrical form, the exterior deftly carved in relief with eight horses and five groomsmen in a riverside landscape set with jagged rocks and knotted pine trees, four groomsmen hauling horses by the river while another holds a bucket feeding a horse, the ivory patinated to a warm honey tone, wood stand. Estimate 100,000 — 150,000 HKD.
Provenance: Hugh Moss, London, by repute.
An eminent English collection.
Note: In its outstanding use of three-dimensional modelling, the present brushpot bears testament to Qing-dynasty ivory carvers' aspiration to parallel the naturalistic artisanship developed by renowned bamboo carvers from the Jiading School in the early 18th century.
The scene depicts groomsmen attending to the legendary eight horses of Mu Wang. It is said that Mu Wang travelled around his kingdom in a chariot drawn by eight mighty horses in search of the heavenly paradise. The eight horses were all given a distinctive name and were eventually liberated from their harnesses and let out to graze after many years of faithful service to the king.
A bamboo brushpot depicting the same subject, dated to early Qing dynasty and now preserved in the Palace Museum, Beijing, illustrated in The Complete Collection of Treasures of the Palace Museum. Bamboo, Wood, Ivory and Rhinoceros Horn Carving, Hong Kong, 2002, pl. 33, could be a prototype or direct source of inspiration to the present ivory brushpot, as demonstrated by its close composition arrangement and similar treatment to the tree bark with characteristic deep swirling knots and a scaled surface.
The present ivory brushpot is fashioned with a sunken ground where figural and landscape sections are modelled in the round with undercutting, a technique noted by Wang Shixiang in Bamboo Carving in China, New York, 1983, p. 36, as originated from bamboo artisans transferring their skills to the carving of ivory. An ivory brushpot depicting a scene of rural life rendered in this technique, from the Irving collection, is included in Craig Clunas, Chinese Ivories from the Shang to the Qing, London, 1984, pl. 176.
Compare also two ivory examples from the Simon Kwan collection, attributed to the Qianlong – Jiaqing periods and sharing remarkable similarities in their figural modelling, illustrated in Simon Kwan, Chinese Ivories from the Kwan Collection, Hong Kong, 1990, pls 120 and 122.
Bonhams. Fine Chinese Art, London, 16 May 2019