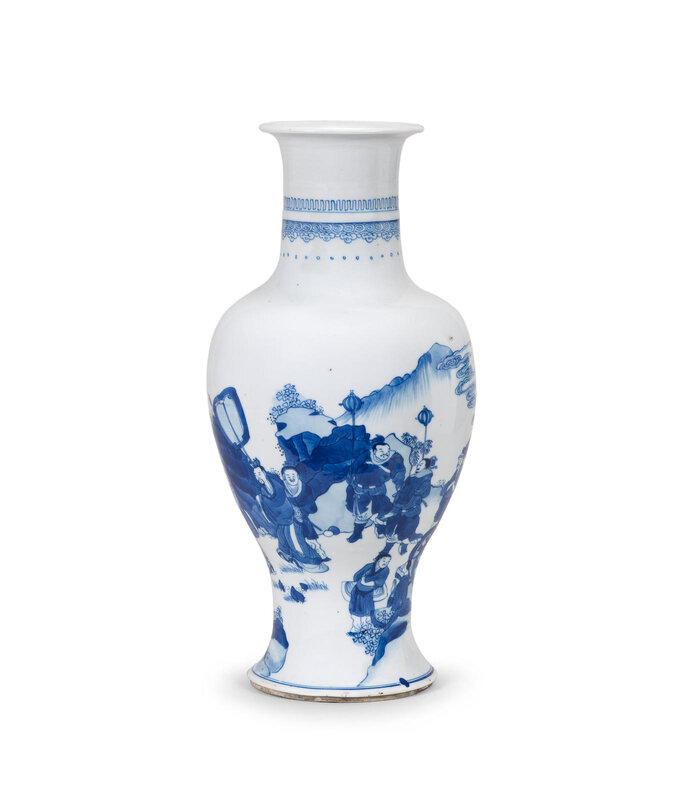 Lot 98. A blue and white 'King Wen and Jiang Taigong' baluster vase, Kangxi period (1662-1722); 43.5cm (17 1/8in) high. Estimate: £20,000 - £30,000. Sold for £ 25,062 (€ 28,447). © Bonhams 2001-2019
Exquisitely painted around the exterior in vivid shades of cobalt blue, depicting King Wen accompanied by guards and attendants holding banners and standards arriving at a lakeside terrace framed by rocks and trees, presenting offerings and greeted by the bearded sage Jiang Ziya, all beneath a band of pendent ruyi-heads and C-scrolls.
Provenance: a distinguished English institutional collection
Note: The vase depicts a story set in the 12th/11th century BC, in which King Wen of Zhou sought the advice of the hermit scholar Jiang Ziya, later known as Taigongwang.

According to traditional Chinese historiography, the last king of the Shang dynasty was corrupt and cruel. Jiang Ziya had once served him, but was disillusioned and retired to spend the rest of his days fishing, waiting to serve a new and moral king. It is said that he used no hook at all, believing that the fish would come to him on their own, echoing King Wen.

King Wen of Zhou wished to overthrow the Shang, and so sought talented scholars versed in the arts of war and administration. When King Wen met Jiang Ziya, he discovered that this white-haired fisherman was actually an astute political thinker and military strategist. He thus appointed Jiang Ziya to be his prime minister and gave him the title of 'Taigongwang' (Hope of the Duke of Zhou). With Jiang Taigong's help, the Shang was overthrown and the Zhou dynasty was firmly established.

Such legends from history, of scholars waiting to serve new more morally upright regimes, would have resonated with the literati class during the turbulent period of the late Ming to early Qing dynasties.

See also a sleeve vase decorated with a similar scene in the Rijksmuseum, Amsterdam, inv.no.AK-NM-6669.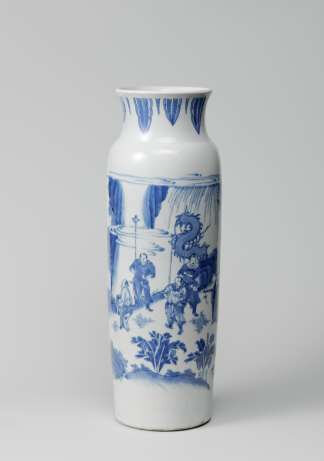 Vase (rolwagen) with a meeting between officials and a hermit in a landscape, c. 1620 - c. 1650, Ming dynasty, Chongzhen period (1628-1644) - Shunzhi-period (1644-1661); h 47.3cm × d 13.6cm, inv.no.AK-NM-6669. © Rijksmuseum, Amsterdam
Bonhams. Fine Chinese Art, London, 16 May 2019