NEW YORK - Fashion collecting was once described by Richard Martin, former Curator in Charge of The Costume Institute, as an "alien endeavor" for its perceived distance from the practice of collecting fine art and for the challenges of preservation and display posed by the medium. While fashion has now found a secure place within museums, it remains a relatively rare area of focus within private collections.
The remarkable archive of American collector Sandy Schreier stands as a pioneering example. Beginning in the mid-twentieth century, a time when few individuals or even museums considered modern fashion an art form, she amassed a group of objects that together represent the defining motifs of twentieth-century fashion and the signature achievements of the field's most innovative designers.
Schreier's interest in fashion began in childhood, and her collecting would become a lifelong, passionate endeavor. At first driven by an instinctive search for beauty, her efforts were later informed by an appreciation for the ways in which fashion can reflect and shape the social, cultural, and artistic history of an era. A desire to inspire broader recognition of the artistry and creativity in the field became further motivation to preserve and share the pieces within her collection.
Emphasizing French couture, American ready-to-wear, and early twentieth-century Italian design, this exhibition presents selections from Schreier's singular collection. Mainly promised gifts to The Met in honor of the museum's 150th anniversary in 2020, these exceptional works will profoundly enrich The Costume Institute's holdings, allowing the Museum to convey a more complete narrative of twentieth-century fashion history.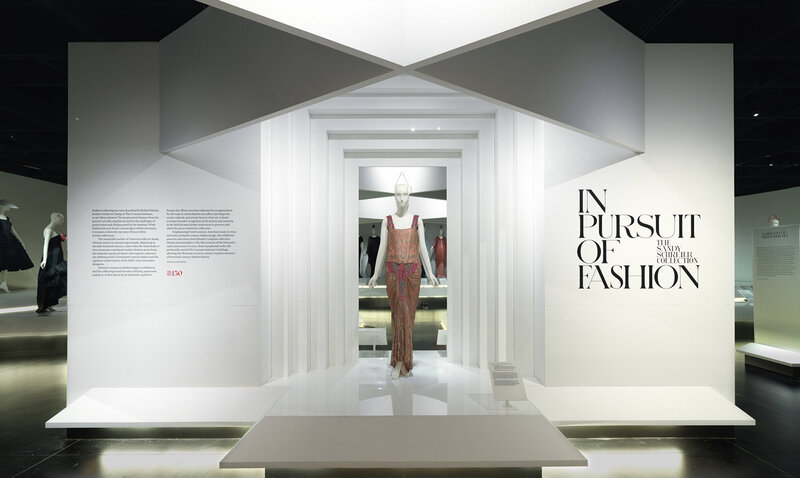 In Pursuit of Fashion: The Sandy Schreier Collection at The Met Fifth Avenue, November 27, 2019–May 17, 2020 © The Metropolitan Museum of Art.
Sandy Schreier has described her initial approach to collecting as simply seeking beauty. However, her instinctive response to the objects she encountered in these early years was influenced by sources of inspiration that would continue to shape her collecting, notably Hollywood film and her childhood introduction to fashion through the Detroit specialty store Russeks, where her father worked in the 1930s and 1940s.

At Russeks, she was exposed to leading periodicals such as Vogue and Harper's Bazaar, which guided her knowledge of fashion. Schreier also received her first "acquisitions" as gifts from clients of the elegant shop. As she developed her collection, she continued to seek out opportunities to acquire compelling pieces from the wardrobes of stylish women, such as Elizabeth Parke Firestone.

Simultaneously, film costume of Hollywood's so-called Golden Age stimulated a preference for glamour and drama that is especially evident in Schreier's outstanding collection of mid-century American and French fashions. The distinctively American glamour she admired in film costume is echoed in designs by Gilbert Adrian and other innovative American couturiers, while her taste for fashions that impart drama is similarly reflected in postwar French couture.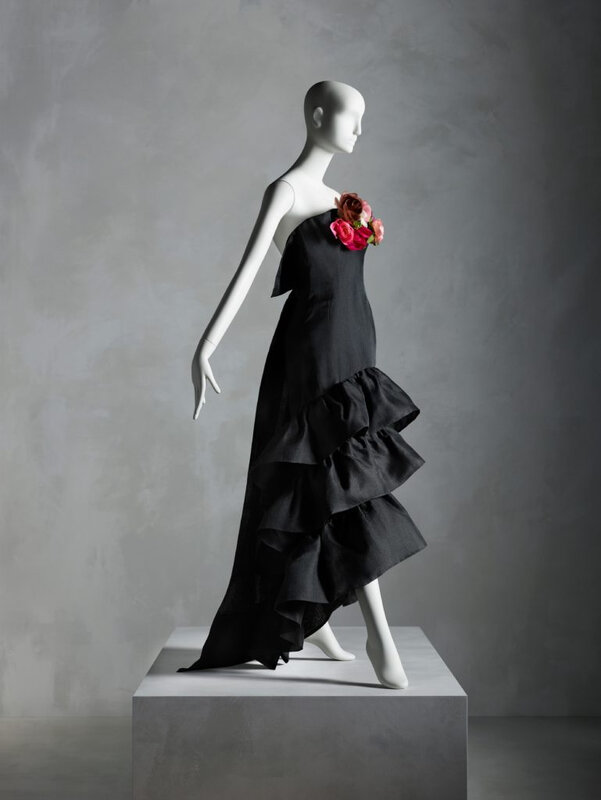 Evening Dress, Cristóbal Balenciaga (Spanish, 1895 – 1972) for House of Balenciaga (French, founded 1937), summer 1961; Promised gift of Sandy Schreier. Photo © Nicholas Alan Cope / Courtesy of the Metropolitan Museum of Art.