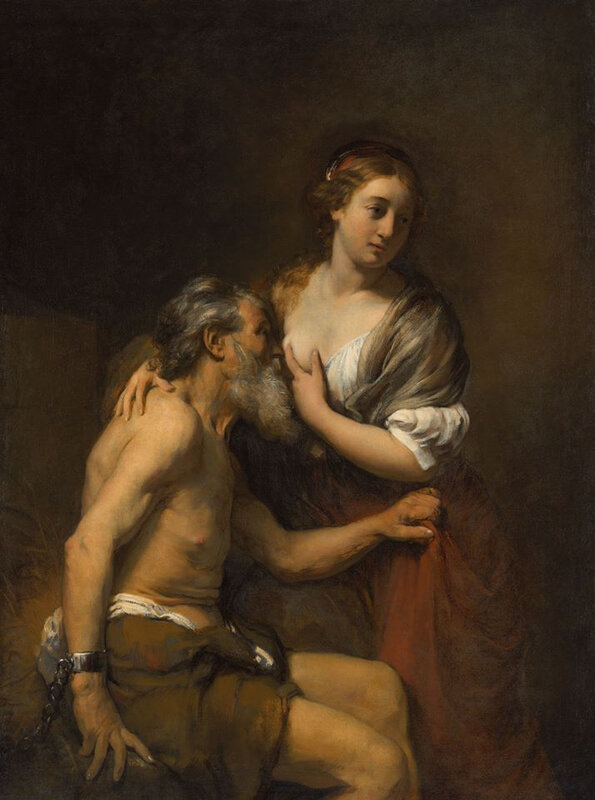 Willem Drost (1633-1659), Cimon and Pero, ca. 1655-1657. Oil on canvas. On loan from the Broere Charitable Foundation.
AMSTERDAM.- The Rijksmuseum has received on long-term loan a rare work by the artist Willem Drost, a pupil of Rembrandt. Painted around 1655, Cimon and Pero is owned by the Broere Charitable Foundation and the tenth object from its collection to be placed on long-term loan with the Rijksmuseum. Cimon and Pero is the largest known canvas by Drost, who died at an early age, and the first to be added to the Rijksmuseum collection. It now hangs in the museum's Gallery of Honour.

Taco Dibbits, Director of the Rijksmuseum: "It's fantastic that there are people who buy art in order to share it. Millions of people will now be able to enjoy this painting by Rembrandt's most important pupil thanks to the Broere Charitable Foundation."

Italian influence
There are 41 known works by Willem Drost (1633-1659), who was a pupil of Rembrandt in Amsterdam before leaving to work in Italy. Drost painted Cimon and Pero, his largest work, in Venice at the age about 22 – he was to die just a few years later. In Cimon and Pero Drost clearly incorporates Italian influences in a Dutch style of painting. The story of Cimon and Pero, which has its origins in Roman antiquity, centres on the subjects of ultimate sacrifice and charity: Cimon has been sentenced to death by starvation, and his daughter Pero who visits him in jail keeps him alive by secretly breastfeeding him.
The Broere Charitable Foundation
The Broere Charitable Foundation supports medical research and the fine arts. Its activities in the arts take the form of purchasing important works which it then makes accessible to the general public in European museums. The foundation's previous loans to the Rijksmuseum include the following masterpieces: Gerrit van Honthorst, Satyr and Nymph, 1623; Willem van de Velde de Jonge, Dutch Ships in a Calm Sea, ca. 1655; Orazio Borgianni, Christ among the Doctors, ca. 1609; Joachim Wtewael, Mars and Venus Surprised by Vulcan, 1610; Jacob Jordaens, The Meeting of Odysseus and Nausicaa, ca. 1630-40; and the bronze bust by Martin Desjardins, Portrait of Louis XIV (1638-1715); King of France and Navarre, ca. 1690-95.