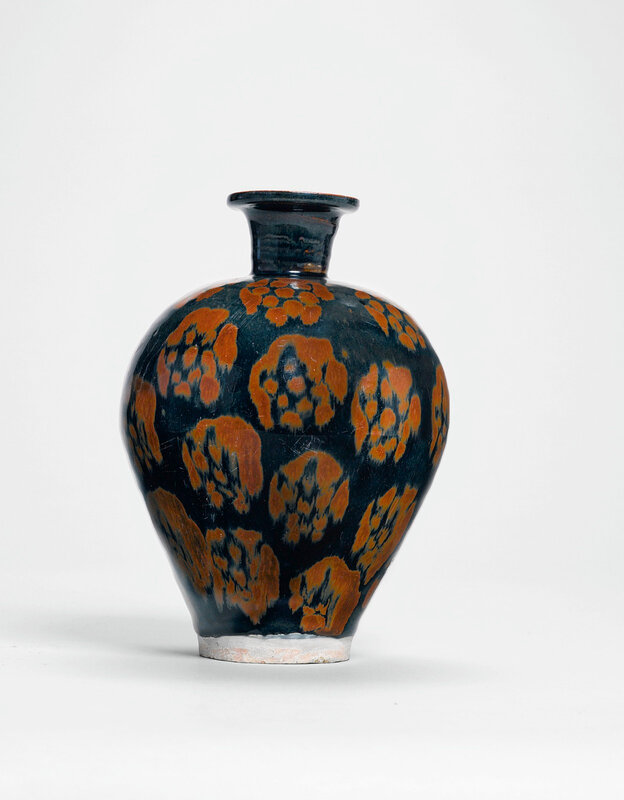 Lot 77. A rare black-glazed russet-splashed 'medallion' vase, Northern Song-Jin Dynasty (960-1234). Height 8 1/2 in., 21.5 cm. Estimate 100,000 — 150,000 USD. Lot sold 200,000 USD.Photo Sotheby's
of ovoid form with a sloping broad shoulder set with a waisted neck and an everted mouth rim, covered overall in a glossy black glaze profusely splashed with vivid russet floret medallions, the rim further dotted with russet, the glaze stopping neatly above the white-slip painted footring.
Note: The simple but effective use of applying clusters of russet brushstrokes to form a dramatic contrast with the lustrous dark brown glaze reflects the adventurous techniques and variety that define ceramic production of the period. The russet-colored splashes are thought to have evolved naturally from the experimental nature of competing Song dynasty kilns which produced black and brown-glazed wares for the thriving tea market. This vase is a particularly successful example of this glaze technique as the round floral motifs accentuate the swelling shoulders while providing an effective contrast with the narrow neck. As no two 'splashes' can be the same, the serendipitous nature of this decorative technique must have appealed to the Song literati.
The iron-rich glazes of black wares are described by Nigel Wood in Chinese Glazes, London, 1999, p. 137, as seeming to 'evoke the very earths of China' as their main raw materials were often sourced from the clays, river-muds and silts of both north and south China. From the Tang dynasty black-glazed stonewares began to make significant contributions to Chinese ceramics, with the best pieces produced at the kilns near the Yellow River. Minimalist forms that were often inspired by nature and covered with monochromatic glazes soon led to painted and splashed designs which were achieved by exploiting lighter overglazes on the dark ground or firing temperatures. Black wares were revived in the Song dynasty and the potters skillfully manipulated their materials to capture a likeness of other materials, such as oil-spot, 'hare's fur' and 'partridge feather' markings.
Vases of this form with floral medallions are rare and are more commonly known covered overall in irregular splashes. However, see a Jizhou vase, with related painted floral medallions on a black-glazed ground, illustrated in Chugoku no toji. Temmoku. Tokyo, 1999, pl. 80. Compare other vases covered in irregular russet-colored splashes from the Winifred Gray Whitman collection, sold in these rooms, 30th May 1973, lot 318; another sold at Christie's New York, 4th December 1982, lot 431; and a third example, but with a longer body, in the Art Institute of Chicago, illustrated in Robert D. Mowry, Hare's Fur, Tortoiseshell and Partridge Feathers, Chinese Brown- and Black-Glazed Ceramics, 400-600, Cambridge, 1995, pl. 35. Compare also a related bottle with splashed design, recovered at Julu xian, Hebei province, now in the British Museum, published in the British Museum Guide to Pottery and Porcelain of the Far East, London, 1924, fig. 32; and another from the Warren E. Cox collection, sold in our London rooms, 12th December 1977, lot 13.
Sotheby's. Song Tradition: Early Ceramics from the Yang De Tang Collection. New York, 17 march 2015