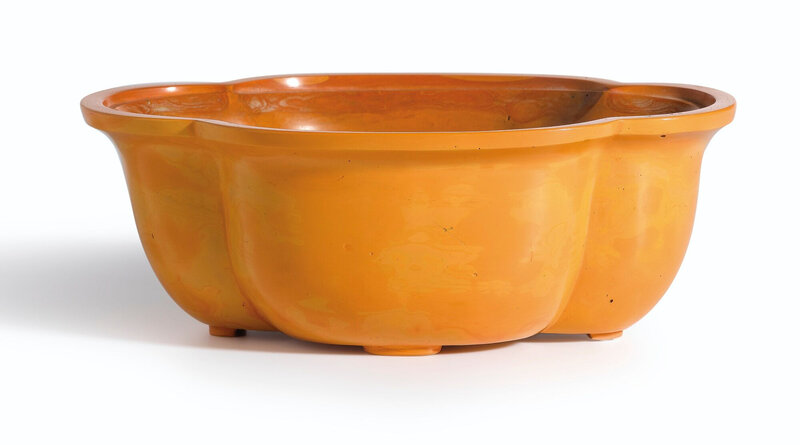 Lot 3033. A Rare 'Realgar' Glass Jardinière, Wheel-Cut Mark and Period of Qianlong (1736-1795); 21 cm., 8 1/4 in. Estimate 200,000 — 300,000 HKD. Lot sold 812,500 (76,490 EUR). Photo: Sotheby's
of quatrefoil section, the lobed sides rising from four bracket feet to an everted square-lipped rim, the vibrantly coloured glass of an orange suffused with yellow streaks and swirls, closely imitating the mineral, the base wheel-cut with a four-character reign mark within double squares.
Provenance: Collection of John Kenny, Melbourne.
A private Australian collection.
Exhibited: Radiant Reflections in Chinese Glass: An exhibition organised by the Ceramics and Glass Circle of Australia, Geelong Art Gallery, Geelong, 2002, cat. no. 27.
Literature: 20 Years in Hong Kong - Chinese Ceramics and Works of Art Highlights, Christie's, Hong Kong, 2006, p. 149.
Note: For other rare examples of Qianlong reign-marked 'realgar' glass of similar colour and texture to the current piece, see two mallet-shaped vases, one in the Palace Museum, Beijing, illustrated by Zhang Rong, Luster of Autumn Water. Glass of the Qing Imperial Workshop, Beijing, 2005, pl. 25; and another from the Water, Pine and Stone Retreat Collection, sold in these rooms, 8th October 2009, lot 1802. For another Qianlong reign-marked glass jardinière of identical size and form, see a turquoise example sold in these rooms, 4th April 2012, lot 3209.
The naturalistic pattern achieved on realgar glass makes vessels of this type particularly attractive and unique. In their discussion of the aforementioned mallet vase, Hugh Moss and Gerard Tsang note in Arts from the Scholar's Studio, Hong Kong, 1986, p. 126 that the 'swirling patterns visible at the surface of this vessel are full of possibilities for the imaginative mind. It may read as a landscape, drifting incense smoke or a variety of strange living creatures, but it also represents the endlessly changing patterns of energy from which all phenomena emanate in the Chinese view, particularly expressed by Daoism. To the Daoist scholar it would be a work of art of subtle complexity and endless fascination, to be enjoyed like incense smoke as a meditative aid.'
Realgar (xionghuang), found in the southern provinces of China, was believed to contain the essence of gold and, possibly for this reason, became a source of fascination despite its poisonous qualities. It is believed that it was mixed in drugs used by Daoists in their quest for the elixir of immortality. It is the Daoist alchemy that made realgar popular to the extent that despite the material's highly toxic nature and its soft crumbly texture, which does not lend itself to the artisans' tools without great difficulties, realgar was used for the carving of Daoist figures. For example, a realgar sculpture of the Immortal He Xian Gu, in the British Museum, London, is illustrated in R. Soame Jenyns, Chinese Art. The Minor Arts, vol. II, London, 1965, pl. 200.
Sotheby's. Fine Chinese Ceramics and Works of Art, Hong Kong, 08 April 2014