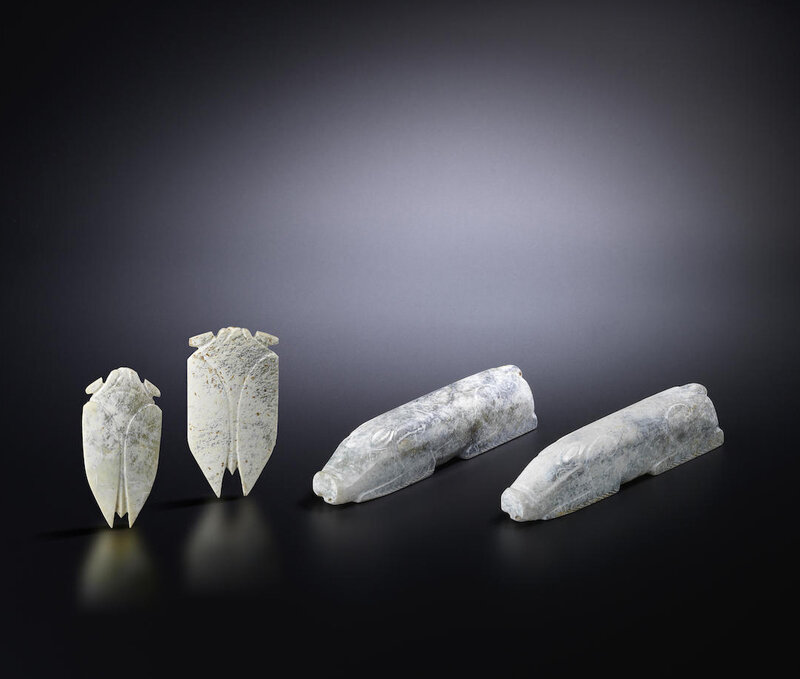 Lot 30. A pair of grey jade pigs and a pair of grey jade cicadas, Han Dynasty or later. Each pig 11.8cm (4 5/8in) long; each cicada 6.8cm (2 5/8in) high. Estimate HK$ 20,000-30,000. Sold for HK$ 350,000 (€ 41,518). Photo: Bonhams.
Each recumbent pig of long tubular form, with legs tucked at the sides, carved with a flat snout, incised eyes, and a small pierced tail, the stone of a grey tone with calcified chalky white areas; each cicada carved with protruding eyes and folded pointed wings, the calcified stone of a greenish-grey tone with opaque chalky white areas.
Note: Carvings of pigs and cicadas are among the most common shapes made in jade specifically for funerary purposes. Pairs of pigs were placed in the hands of the deceased and the cicada inside the mouth or on the eyes. Although the meaning of pigs are unclear in its burial context, it is believed that the cicada, with its unique life cycle, symbolises rebirth.

A white jade cicada of very similar form is in the Palace Museum, Beijing, illustrated in Compendium of Collections in the Palace Museum: Jade 4, Beijing, 2011, p.110, no.129. A jade pig, also realistically represented, dated Han dynasty, is illustrated by J.Watt, Chinese Jades from Han to Ch'ing, New York, 1980, p.45, no.15.
Bonhams. The Sze Yuan Tang Collection of Chinese Jades, Hong Kong, 5 April 2016