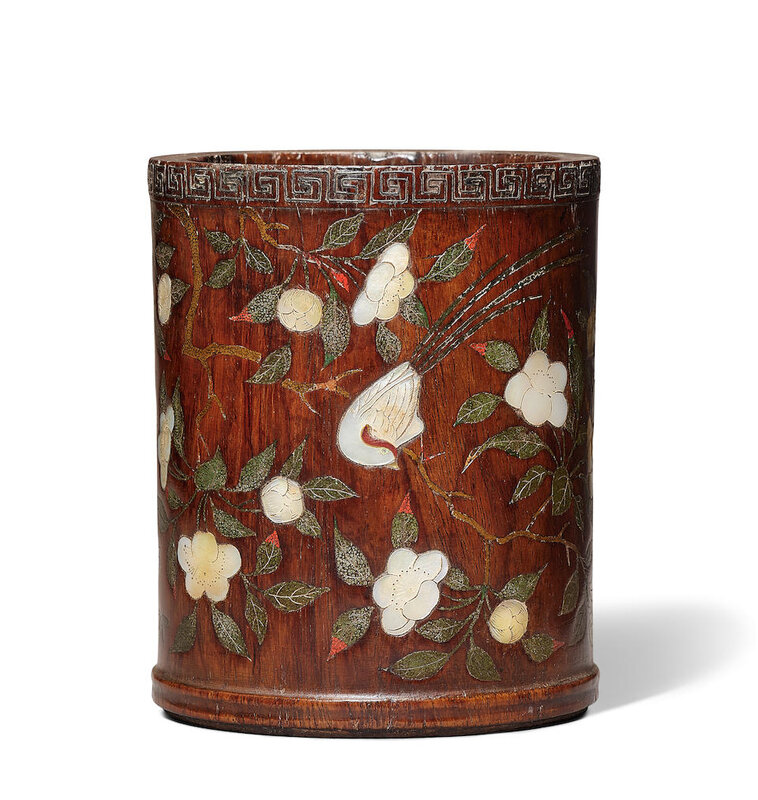 Lot 138. A rare zitan inlaid 'flowers and bird' brushpot, bitong, 17th century; 12.8cm (5in) high. Estimate HK$ 350,000-450,000. Sold for HK$ 602,500 (€ 64,414). Photo: Bonhams.
Of cylindrical form, the body finely carved, inlaid and lacquered with details depicting a long-tailed crested bird perched on a leafy prunus branch bearing mother-of-pearl-inlaid blossoms issuing from the rim, the reverse with further branches and blossoms surrounding rockwork outlined by gold wire, all below a band of key-fret pattern in silver-wire around the mouth rim, the top and base with beaded edges and supported on a low foot.
Note: The present brushpot is rare for its 'ping qian' (flush-inlay) technique of inlaying precious stones and other materials onto a flat surface of wood and lacquer, as opposed to inlay decoration in relief. This inlay technique is more often seen on Chinese furniture decorating the top panel of a table or the back-splat of a chair, as the flat surface is beautifully decorated while remaining safe for usage. For example, see an inlaid huanghuali low table, early Qing dynasty, illustrated by H.Desheng, Collections of the Palace Museum: Inlaid Furniture, Beijing, 2009, no.14, p.38. See also the inlay decoration around the rims of three brushpots, late Ming dynasty, in the Palace Museum, Beijing, illustrated in The Complete Collection of Treasures of the Palace Museum: Bamboo, Wood, Ivory and Rhinoceros Horn Carvings, Hong Kong, 2002, no.18 and Zhongguo meishu quanji, Gongyi meishu bian, vol.11, Beijing, 1996, pp.60 and 62.