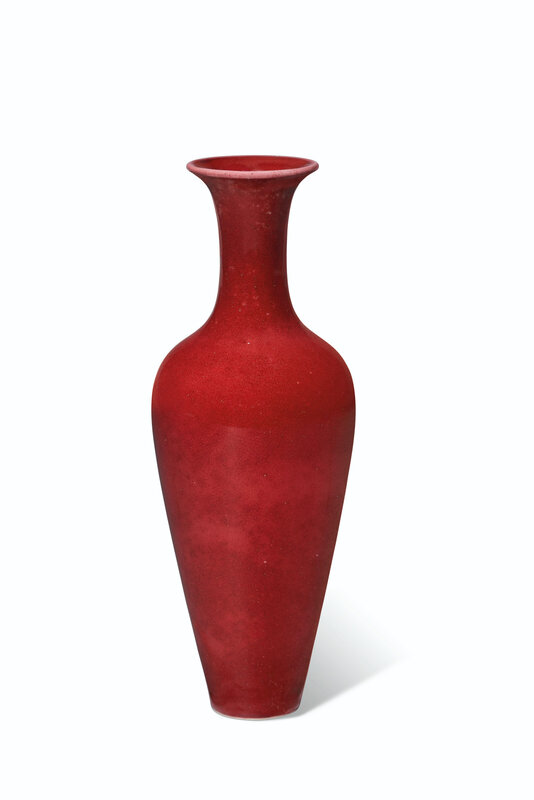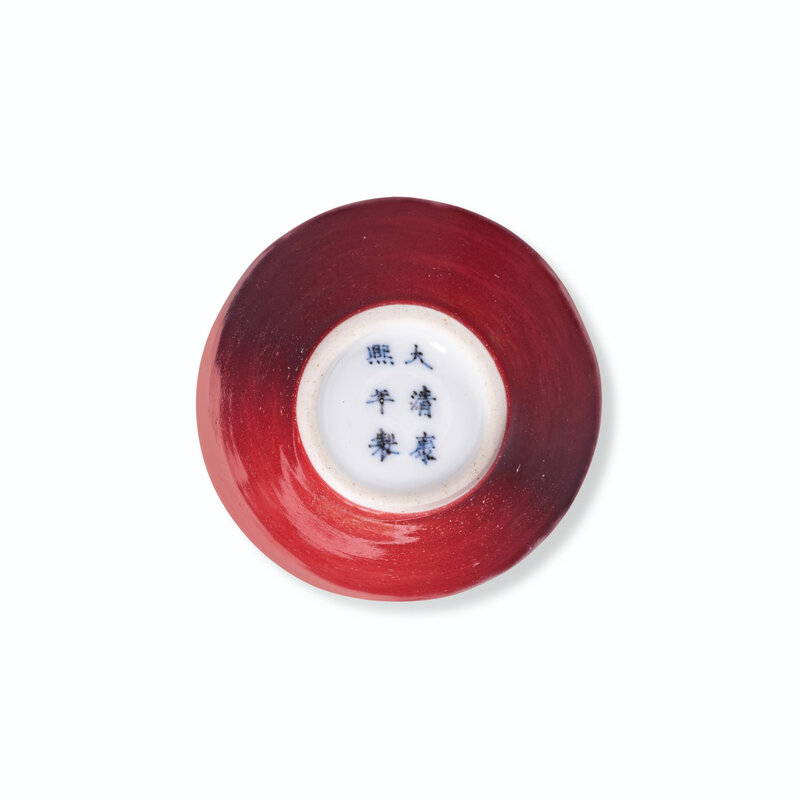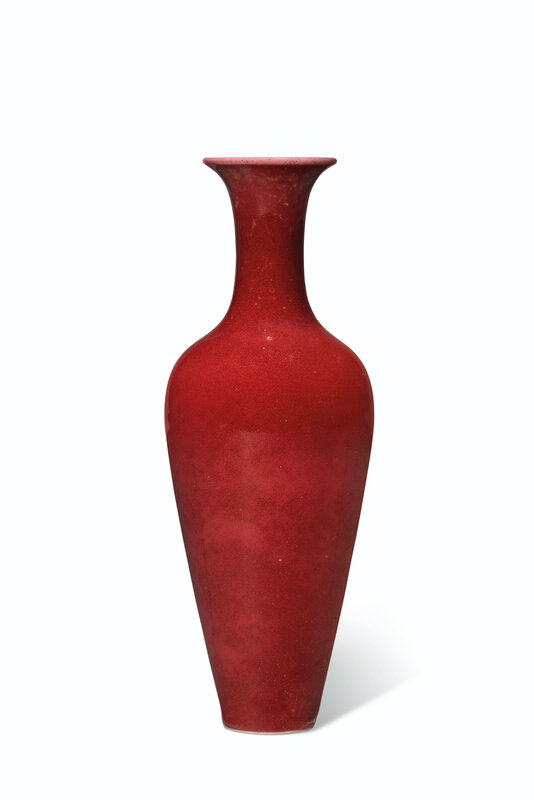 Lot 858. A peachbloom-glazed amphora, liuye zun, Kangxi six-character mark in underglaze blue and of the period (1662-1722); 5 ¾ in. (14.6 cm.) high. Estimate USD 120,000 - USD 180,000. © Christie's Image Ltd 2021
The vase has an elegant, tapering, high-shouldered body and is covered in a glaze of rich crushed strawberry-red color.
Provenance: Stephen Junkunc, III (d. 1978) Collection.
Note: The shape of this vase is sometimes described as liuye zun, 'willow-leaf vase', owing to its elegant form which resembles that of a willow leaf. It is also known as Guanyin ping, referring to the shape of the vase held by many figures of Guanyin, and said to contain ambrosia or magic elixir. It is one of the ba da ma or 'Eight Great Numbers', eight specific vessels covered in a peachbloom glaze.

Similar Kangxi-marked amphoras are in major institutions worldwide including the Palace Museum, Beijing; the Shanghai Museum; The Metropolitan Museum of Art, New York; the National Palace Museum, Taipei; and the Baur Collection, Geneva. See, also, the example sold at Christie's New York, 15 September 2016, lot 918, from The Metropolitan Museum of Art, and formerly in the Mary Stillman Harkness (1874-1952) Collection. See, also, a similar example from the Anna Maria and Stephen Kellen Foundation, sold at Christie's New York, 14-15 September 2017, lot 1230.
A peachbloom-glazed amphora, liuye zun, Kangxi six-character mark in underglaze blue and of the period (1662-1722), from The Metropolitan Museum of Art, and formerly in the Mary Stillman Harkness (1874-1952) Collection; 6 ¼ in. (15.8 cm.) high. Estimate USD 60,000 - USD 80,000. Price realised USD 425,000 at Christie's New York, 15 September 2016, lot 918 . © Christie's Image Ltd 2016
Cf. my post: A peachbloom-glazed amphora, liuye zun, Kangxi six-character mark in underglaze blue and of the period (1662-1722)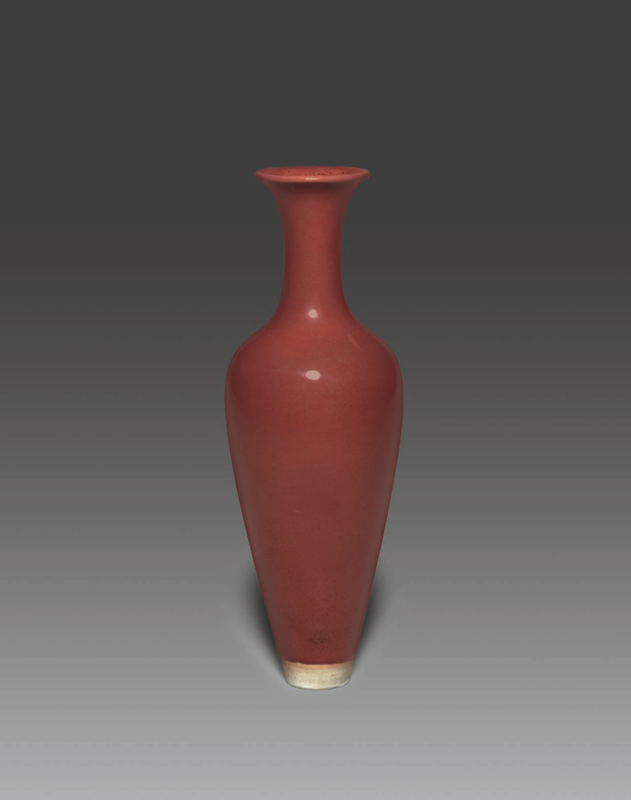 A peachbloom-glazed amphora, liuye zun, Kangxi six-character mark in underglaze blue and of the period (1662-1722) from the Anna Maria and Stephen Kellen Foundation, 6 ½ in. (16.6 cm.) high. Estimate USD 40,000 - USD 60,000. Price realised USD 360,500 at Christie's New York, 14-15 September 2017, lot 1230. © Christie's Images Ltd 2017
Cf. my post: A peachbloom-glazed amphora, liuye zun, Kangxi six-character mark in underglaze blue and of the period (1662-1722)
Christie's. Important Chinese Ceramics and Works of Art, 18 march 2021