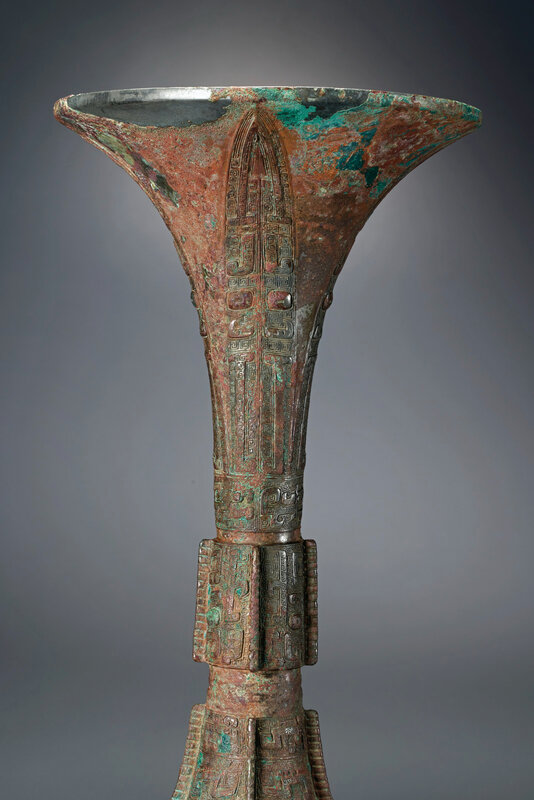 Lot 501. A finely cast bronze ritual wine vessel, gu, late Shang dynasty, 12th-11th century BC; 12 in. (30.4 cm.) high. Estimate USD 80,000 - USD 120,000. Price realised USD 187,500. © Christie's 2021
The trumpet neck of the slender vessel is decorated with four elongated blades crisply cast in relief with a dissolved taotie mask on a leiwen ground that rise from a narrow band of four kui dragons with hooked beaks and upturned tails. The middle section and the spreading foot are each cast with two taotie masks divided and separated by notched flanges, the larger masks on the foot below a narrow band of four dragons with angular bodies, C-scroll ears and long snouts. The vessel has a rich, mottled patina of green and red color. Two graphs, ya X, are cast on the interior of the foot, and can be read as a clan sign.
Provenance: J. J. Lally & Co., New York, 1988.
The collection of Daniel Shapiro, New York
.
Literature: D. Shapiro, Ancient Chinese Bronzes, A Personal Appreciation, London, 2013, pp. 92-95 and 137.
J. J. Lally & Co., Chinese Archaic Bronzes: The Collection of Daniel Shapiro, New York, 2014, no. 11.
Exhibited: New York, J. J. Lally & Co., Chinese Archaic Bronzes: The Collection of Daniel Shapiro, 14 March- 5 April 2014, no. 11.
Note: Pou, globular jars raised on a high foot, first appeared in bronze during the late Erligang period (1400-1300 BC) and continued to be made throughout the Shang dynasty.

The present vessel is similar both in form and decoration to one in the Qing Court Collection illustrated in The Complete Collection of Treasures of the Palace Museum: Bronze Ritual Vessels and Musical Instruments, Beijing, 2007, p. 123, no. 80. Another similar pou, excavated at Xiejiagou, Qingjian county, Shaanxi province, and now in the Suide County Museum, is illustrated in Shaanxi chutu Shang Zhou qingtongqi, Vol. I, Beijing, 1979, p. 71, pl. 67, and again by Li (ed.),The Shaanxi Bronzes, Xi'an, 1994, p. 227, no. 187, where it is dated to the mid-Shang period. See, also, the similar pou illustrated by Wang Tao, Chinese Bronzes from the Meiyintang Collection, London, 2009, pp. 124-125, no. 56. On this latter pou, the eyes of the nine dragons that form the band on the shoulder are smaller, as are the eyes of the taotie masks.