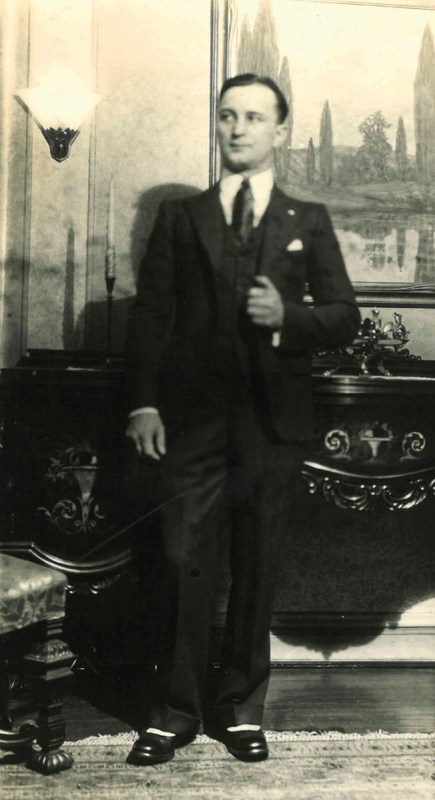 Stephen Junkunc, III, circa 1930.
Stephen Junkunc, III ranks amongst the most renowned collectors of Chinese ceramics and works of art, and is known for collecting a wide breadth of works of the highest standards of quality. At its height, his collection comprised over two-thousand examples of porcelain, jade, bronzes, Buddhist sculpture and paintings, and included two examples of the legendary Ru ware, of which only eighty-seven examples are known in the world. A superb Ru dish from the Junkunc Collection sold at Christie's in 1992 and achieved a world record for a Chinese ceramic. (Fig. 1) The dish now resides in an important Asian collection. Christie's has also been honored to have handled one of the outstanding paintings, a 13th-14th century landscape, Travelers in Autumn Mountains, in the style of the 11th century painter Guo Xi. (Fig. 2)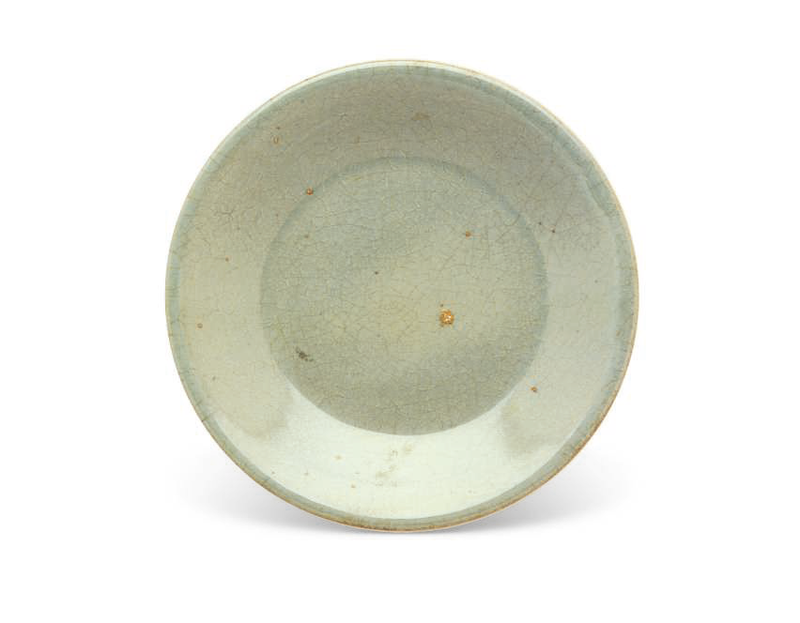 Fig. 1 A rare and important Ruyao dish, Northern Song dynasty (AD 960-1127). Christie's New York, 3 December 1992, lot 276.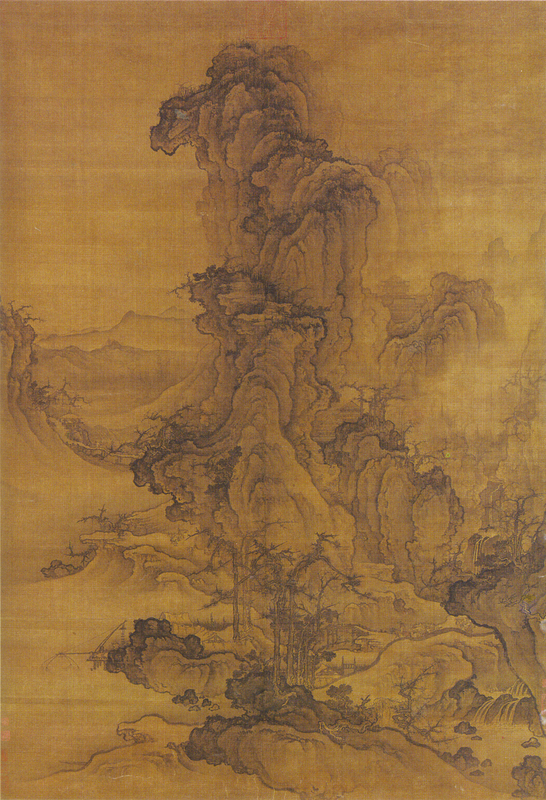 Fig. 2 Anonymous, Travelers In Autumn Mountains, In The Style Of Guo Xi (C. 1001-1090), (13th - 14th century). Christie's New York, 22 March 1999, lot 178.
Stephen Junkunc, III was born in Budapest, Hungary, and emigrated to the US as a young boy. His father, Stephen Junkunc, II was a tool-and-die maker who founded General Machinery & Manufacturing Company in 1918 on South Aberdeen Street in Chicago, focusing on the manufacture of knife-edge fuel nozzle heads. In 1933, the company moved to North Keeler Street, where it still exists today. With the outbreak of World War II, GMMCO endeavored to help in the war effort by manufacturing various aircraft parts, specializing in aircraft engine seals. Their devotion to quality and service led to commissions to manufacture critical parts for cuttingedge jet engines. After over one hundred years, GMMCO still remains a family business.
Stephen Junkunc, III began collecting in earnest in the 1940s, and his most ardent buying period was in the 1950s and 1960s. His collecting was always informed by diligent study — he kept libraries at both his home and his office and read voraciously, whether quickly over a short lunch break or at a more leisurely pace into the small hours of the morning.
When acquiring objects for his collection, he only dealt with the most renowned dealers of the mid-twentieth century, including Bluett & Sons, Sparks, Yamanaka & Co., Ltd., C.T. Loo & Cie, Tonying & Company and Hisazo Nagatani. The Chicago based gallery of Yamanaka & Co., Ltd., which had opened in 1928 played a particularly strong role in Junkunc's voracious passion for collecting. Nagatani (d. 1994), formerly the manager of Yamanaka in Chicago, was among the most influential to Stephen Junkunc, III, supplying works to the collection.
Junkunc kept his collection secure in a World War II bomb shelter in his home, and entering the rooms has been compared to the legend of Aladdin entering the cave—the visitor was immediately awed by the porcelain, jades, sculptures and other treasures on display. Such a variety of materials and wealth of artistry, in such unexpected surroundings, must indeed have been an extraordinary sight.
From his letters, it seems that Chinese ceramics were one of Junkunc's first passions in collecting, and he set a standard for quality and dogged determination that remained unflagging throughout his collecting career. He wrote to dealers such as W. Dickinson & Sons in 1935, requiring them to seek out monochromes from the Kangxi and Yongzheng periods. Nothing but the best would do: only "cabinet pieces" of "very fine quality" would suffice. A similar request for peachbloom and underglaze-red porcelains was penned to Bluett & Sons in 1936, and another to H.R. Norton a few months later for "nice pieces in monochromes… but not the clumsy types with poor color. *
From ceramics, Junkunc turned his attention to other categories such as Buddhist sculpture, and also to earlyChinese jade carvings, which presented an opportunity for more scholarly study. Junkunc's scholarly approach to Chinese art led him to forge friendships with preeminent scholars in the field, such as Alfred Salmony (1890-1958), a leading authority on Chinese jade and professor at the Institute of Fine Arts, New York University. Starting as early as 1950, Junkunc and Salmony discussed their shared passion for Chinese jades. Salmony had been planning an encyclopedic two-volume history entitled Chinese Jades of All Periods and selected pieces from Junkunc's collection to be featured in the publication. Junkunc, along with English collector Desmond Gure (1905-1970), contributed to the research. Salmony passed away before the publication could be completed, but letters between Desmond Gure and Junkunc reveal that Salmony entrusted Gure and Junkunc to complete his publication. The first volume was published posthumously and was entitled Chinese Jade Through the Wei Dynasty, and included a number of jade carvings in the present sale. Other important works from the Junkunc Collection included in Salmony's publication included an important Western Han dynasty jade beaker, which sold at Christie's New York in September 2006. Other masterpieces of Chinese jade in the Junkunc Collection included an imperial set of ten white jades and a rare white jade figure of Buddha, which sold at Christie's in March 2007 and March 2010, respectively.
With his breadth of collecting, exacting aesthetic standards and scholarly approach, Stephen Junkunc, III was a true connoisseur-collector. On his passion and commitment to collecting, Junkunc wrote: "it becomes a disease. But it's the one thing in the world that never pales or becomes static. It always holds the challenge of more to learn."
The legacy of Stephen Junkunc, III has been preserved through his generous donations to institutions throughout the United States. He frequently loaned works to the Art Institute of Chicago, and bequests from his collection can also be found in the Milwaukee Public Museum in Wisconsin and in the Lowe Art Museum at the University of Miami, Florida. His interest in Chinese art was continued by his son, Stephen Junkunc, IV, who has judiciously ensured that the next generation of connoisseurs and enthusiasts would have the opportunity to enjoy many items of his celebrated collection.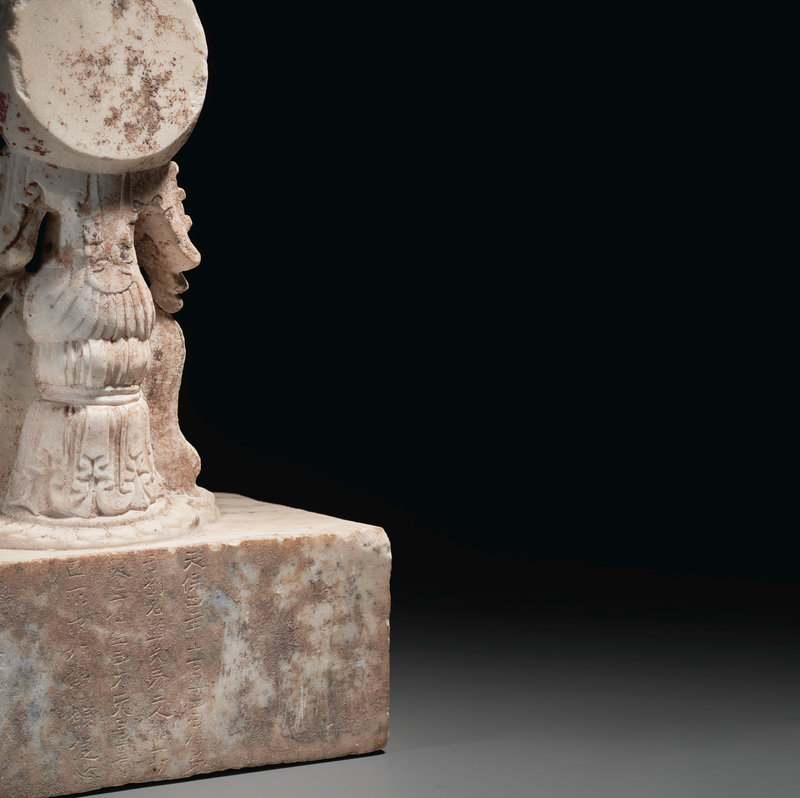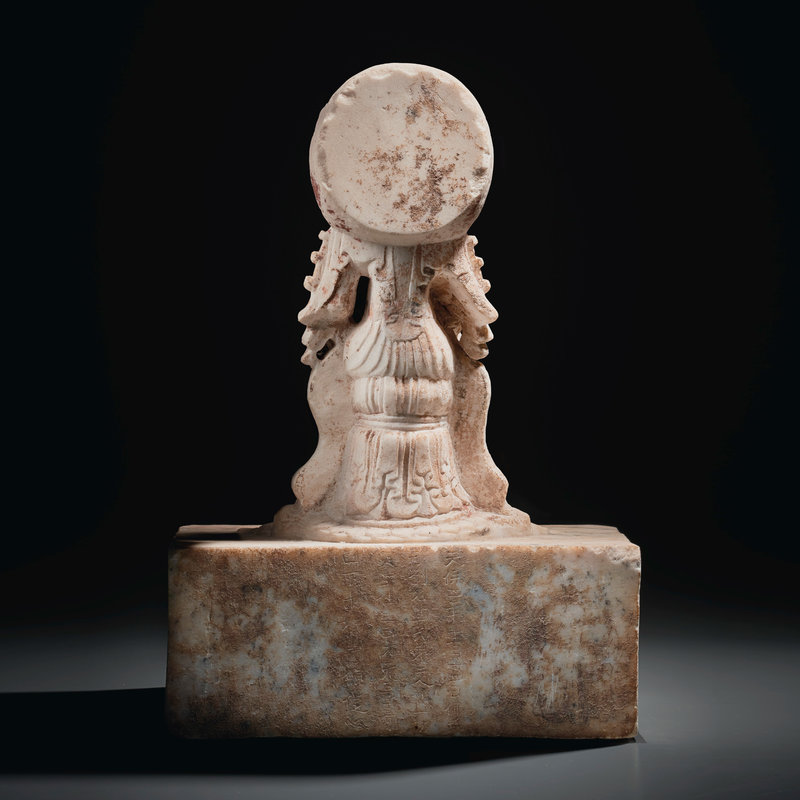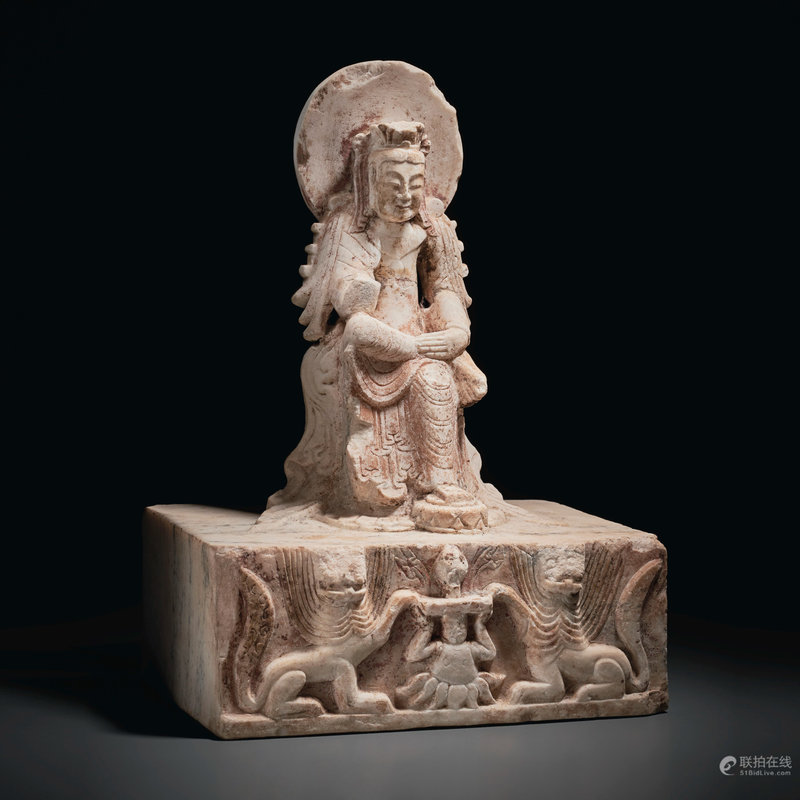 Lot 713. A very rare marble figure of a seated pensive bodhisattva, Northern Qi dynasty (AD 550-577), dated by inscription to 553; 18 ½ in. (46.8 cm.) high. Estimate: USD 250,000 - USD 350,000. Unsold. © Christie's 2021
The figure is shown seated on a cloth-covered seat in a pensive pose with the right leg crossed over the left knee, the head backed by a circular mandorla. The figure is raised on a rectangular platform, carved on the front with two leonine beasts flanking a figure supporting a censer, and on the reverse with a dedicatory inscription dated to the fourteenth day of the eleventh month, of the fourth year of Tianbao, corresponding to 553. Traces of painted figures, possibly a lady and officials, flank the inscription.
Provenance: Stephen Junkunc, III (d. 1978) Collection.
Note: A related white marble figure in the Palace Museum, Beijing, shown seated in a similar pose on a large rectangular block plinth, but of smaller size (16 ¼ in. high), is illustrated by Wan-go Weng and Yang Boda, The Palace Museum: Peking, Treasures of the Forbidden City, New York, 1982, p. 236, no. 131, where the figure is identified as Sakyamuni in meditation. The Palace figure, which is dated by inscription to 540, and the present figure both have long oval faces and slender waists, and have similar notched edges accenting the drapery on the shoulders. The Palace figure, however, holds in his right hand a lotus pod that rests against the halo behind the head, as do two ribbons that extend upwards from his headdress; the two ribbons of the headdress of the present figure, by contrast, fall gracefully behind the head and onto the shoulders. Another noteworthy difference is that the block plinth of the Palace figure is completely undecorated, while the plinth of the present figure is carved in relief with a pair of lions flanking a figure supporting a bud-shaped censer. A comparable depiction of two lions flanking a figure supporting a censer can be seen on the block plinth of a marble figure of seated pensive bodhisattva flanked by a pair of smaller, standing bodhisattvas. Illustrated by O. Sirén in Chinese Sculpture from the Fifth to the Fourteenth Century, vol. II, Bangkok, 1998 ed., pl. 244A, the figure is dated by inscription to 558.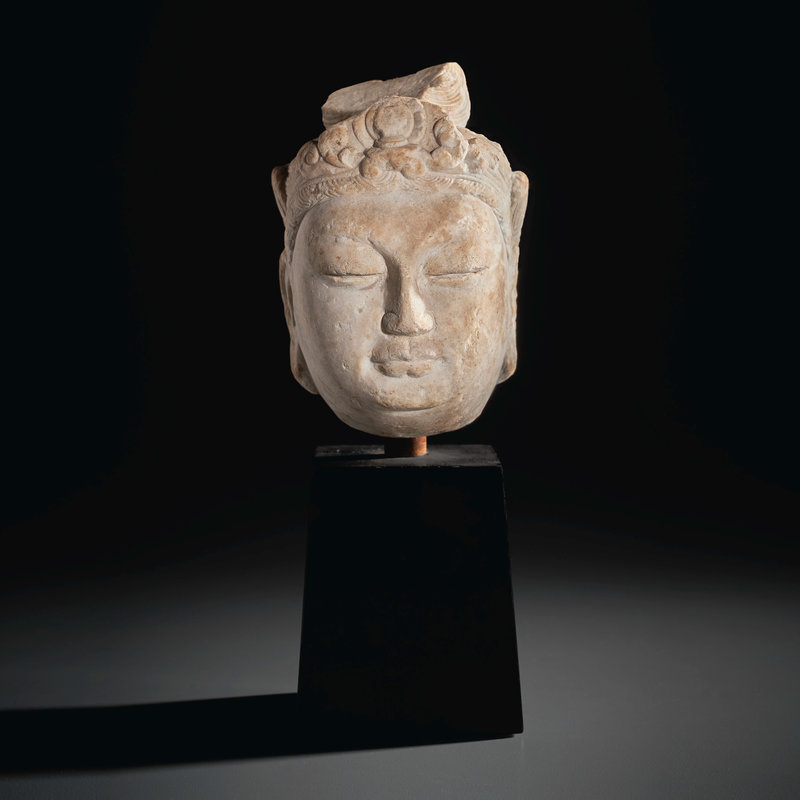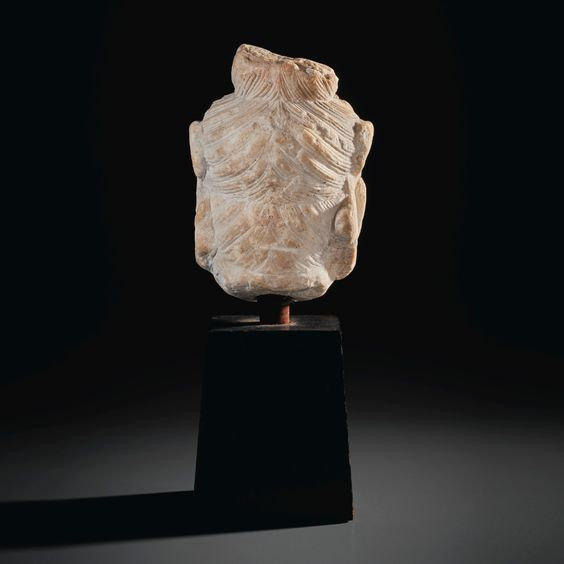 Lot 715. A small marble head of a bodhisattva, Tang dynasty (AD 618-907); 5 in. (12.8 cm.) high, wood stand. Estimate: USD 7,000 - USD 10,000. Price realised USD 32,500. © Christie's 2021
The face is carved with a serene expression below the finely detailed hair drawn up in a chignon.
Provenance: Stephen Junkunc, III (d. 1978) Collection.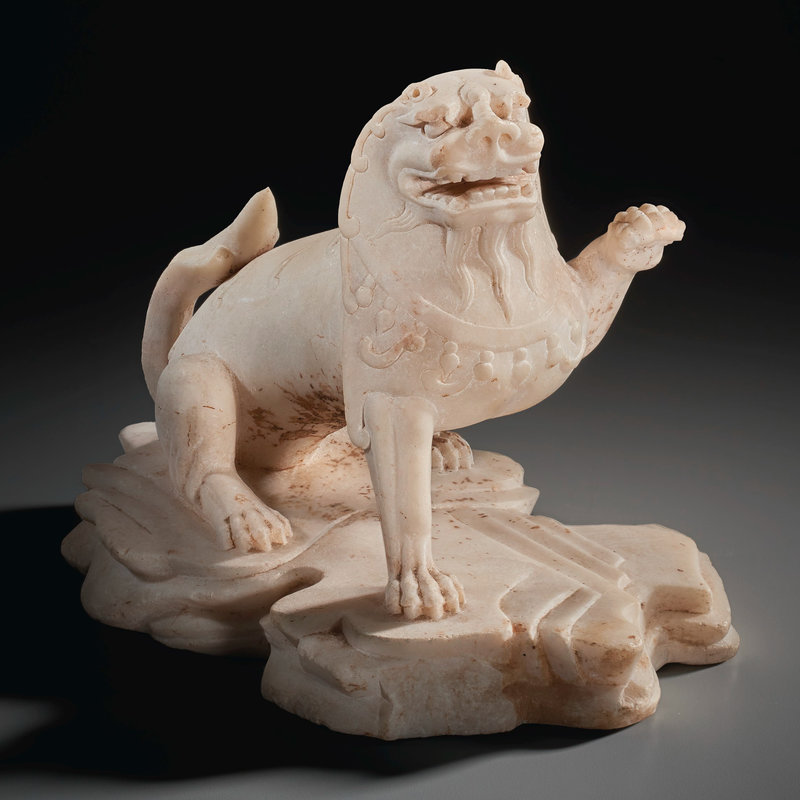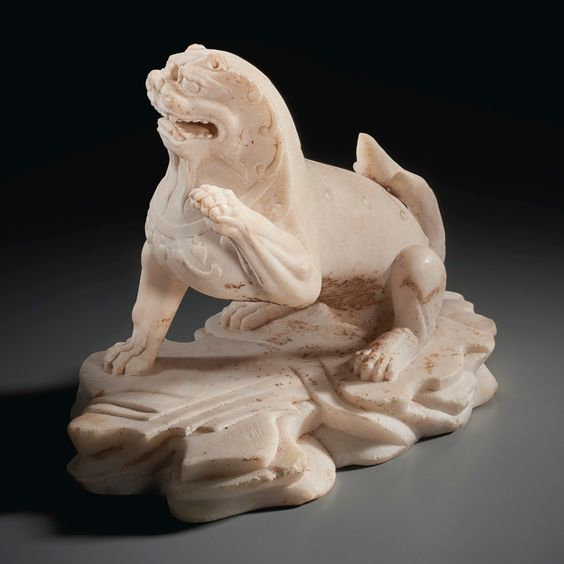 Lot 716. A white marble figure of a lion; 10 ¾ in. (27.2 cm.) long. Estimate: USD 7,000 - USD 10,000. Price realised USD 500,000. © Christie's 2021
The figure is shown seated on a rocky base with the front left paw raised.
Provenance: Stephen Junkunc, III (d. 1978) Collection.
Christie's. Important Chinese Ceramics and Works of Art, New York, 23-24 september 2021