LONDON.- New highlights of the exhibition announced today as tickets go on sale include some of the rarest works produced by the Fabergé firm. Many of these works are being shown for the first time in the UK and some of which are being reunited for the first time since the Russian revolution.

Fabergé in London: Romance to Revolution will be the first major exhibition devoted to the international prominence of the legendary Russian goldsmith and the importance of his little-known London branch. With a focus on Fabergé's Edwardian high society clientele, it will shine a light on his triumphs in Britain as well as the global fascination with the opulence of his creations. Across over 200 objects, the exhibition will tell the story of Carl Fabergé, the man, and his internationally recognised firm that symbolised Russian craftsmanship and elegance – an association further strengthened by its connection to the romance, glamour and tragedy of the Russian Imperial family.
Highlight objects announced today include:

• The recently rediscovered Third Imperial Egg of 1887, found by a scrap dealer in 2011 – one of the 'missing' eggs created by Fabergé that was lost for many years. It appeared at an auction in New York in 1964, but was unrecognised and then disappeared until 2011, when it was bought for its gold weight value at a Midwest flea market. The buyer later contacted the antique jewellery firm Wartski who identified it as being an Imperial easter egg. The jewelled and ridged yellow-gold Egg, on a tripod pedestal, stands on chased lion paw feet and is encircled by coloured gold garlands suspended from blue cabochon sapphires, topped with rose diamond-set bows. In the traditional Fabergé style, the egg contains a surprise – a lady's watch by Vacheron Constantin, with a white enamel dial and openwork diamond-set gold hands. The egg was first given by Emperor Alexander III to Empress Marie Feodorovna for Easter in 1887.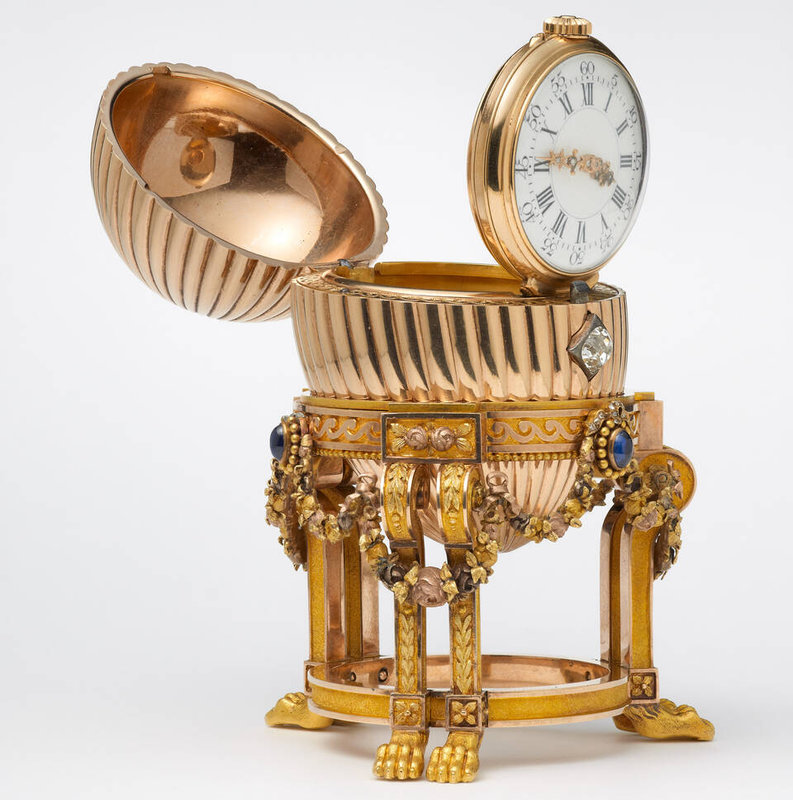 Third Imperial Egg presented by Emperor Alexander III to Empress Maria Feodorovn in Easter 1887, made by chief workmaster August Holmström for Fabergé, 1886 – 7, St Petersburg. © Private Collection.
• Two rare human sculptures that only after the Imperial easter eggs are considered the most coveted of his creations with less than 50 ever recorded; a pair of figurine portraits of the private bodyguards of the Dowager Empress and the Tsarina, commissioned by Emperor Nicholas II in 1912, reunited for the first time in over 100 years since they were confiscated following the Russian Revolution in 1917, along with nearly all of the imperial family's personal possessions. One of the figures remained in Pavlovsk Palace south of St Petersburg while his brother-in-arms was bought by a wealthy Fabergé collector in New York City, discovered in the family attic during a house clearance and later sold at auction in 2013.
Kamer Kazak, or Chamber Cossack, Nikolai Nikolaievich Pustynnikov, personal bodyguard to Empress Alexandra Feodorovna, made by chief workmaster Henrik Wigstrom for Fabergé, 1912, St Petersburg.
• The Peacock Egg of 1907-8, shown on public display for the first time in over a decade. This rock crystal egg, finely engraved with rocaille, contains a surprise of an enamelled gold peacock automaton, perched in the branches of a coloured gold tree with flowers in enamel and precious stones. The peacock, when lifted from the tree, placed on a flat surface and wound up, proudly struts around and fans out its tail feathers.
Peacock Egg presented by Emperor Nicholas II to Dowager Empress Maria Feodorovna in Easter 1908, made by Chief workmaster Henrik Wigstrom for Fabergé, 1907 – 8, St Petersburg.
Fabergé's innovation will further be embodied in his whimsical designs of functional objects including a silver cigar-cutter modelled as a carp. Fabergé's inspiration came from many sources and he particularly admired Japanese works of art, owning a significant collection of Japanese artefacts. This imaginative silver cigar cutter is modelled on a Japanese Meiji period bronze. When its protruding pink chalcedony eyes are pressed, the blade opens across its mouth and the fish appears to breathe.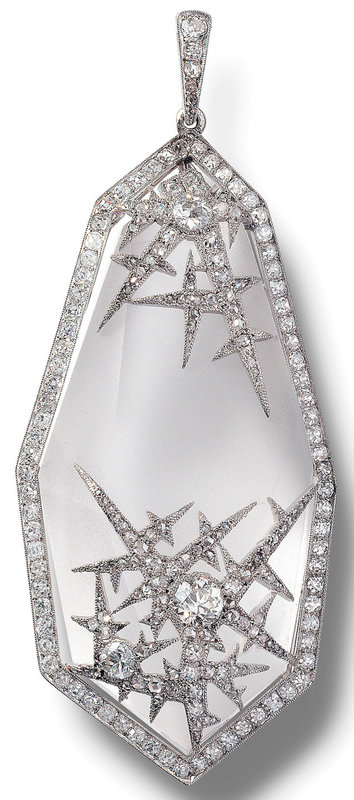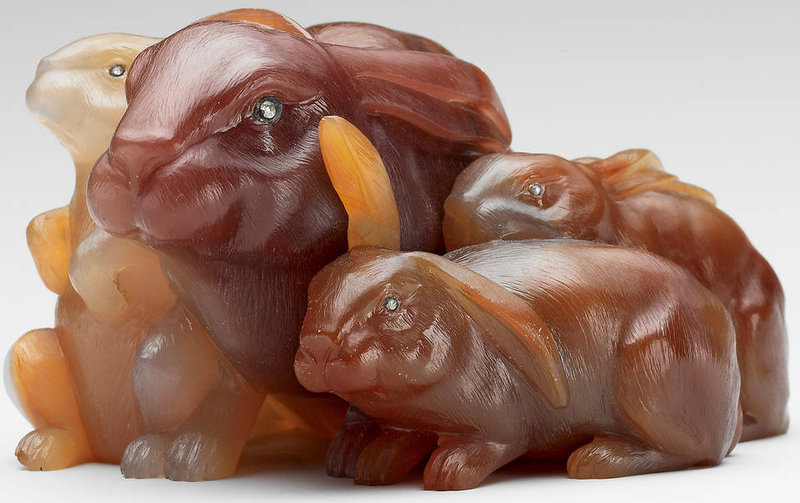 Doe and three baby rabbits, by Fabergé, about 1907. Royal Collection Trust © Her Majesty Queen Elizabeth II 2021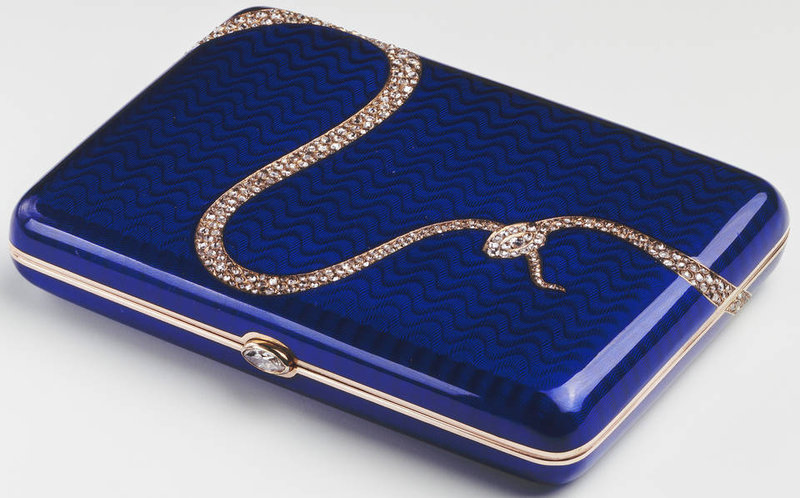 Cigarette case, by Fabergé, 1908. Royal Collection Trust © Her Majesty Queen Elizabeth II 2021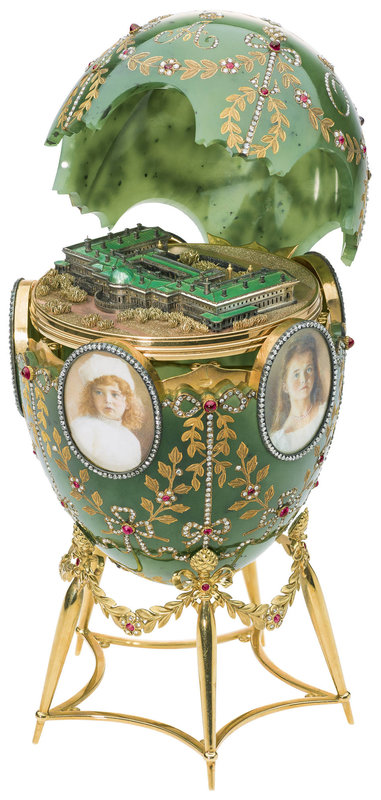 The Alexander Palace Egg, by Fabergé, Chief Workmaster Henrik Wigstrom (1862-1923), 1908. © The Moscow Kremlin Museums.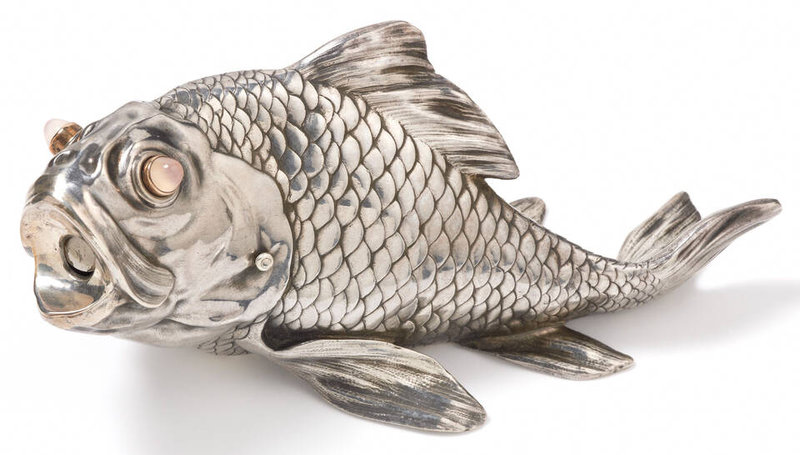 Silver cigar cutter, modelled as a carp, made by chief Workmaster Henrik Wigstrom for Fabergé, about 1908, St Petersburg. © Courtesy of the Woolf Family and Wartski, London