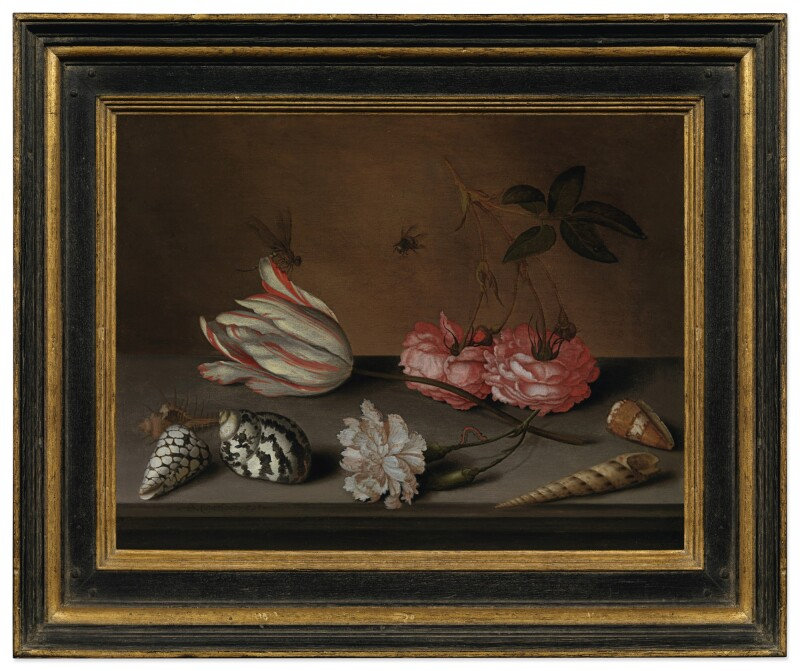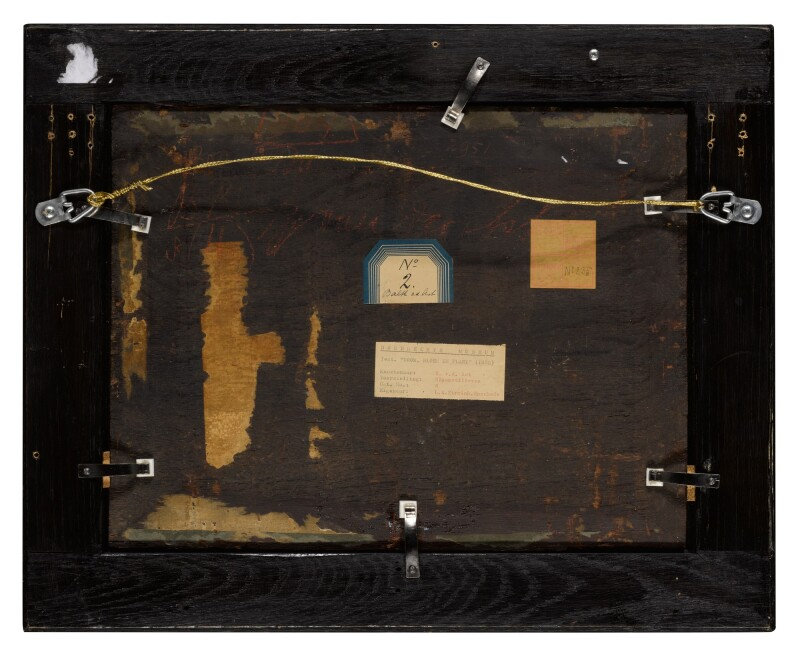 Lot 35. Balthasar van der Ast (Middelburg 1593/94 - 1657 Delft), A tulip, a carnation and roses, with shells and insects, on a ledge, signed lower left: B. van der ast, oil on panel; panel: 12 by 15 7/8 in.; 30.5 by 40.3 cm, framed: 17 by 21 in.; 43.2 by 53.3 cm. Estimate: 200,000 - 300,000 USD. © Sotheby's
Provenance: With Kunsthandel P. de Boer, Amsterdam, by 1934;
Ludwig Arnold Stroink (1886-1969), Enschede, by 1955;
Anonymous sale, Amsterdam, Mak van Waay, 7 April 1970, lot 2;
Anonymous sale ("Property from a European Collection"), London, Christie's, 4 July 2018, lot 18;
There acquired by the present owner.
Literature: PL.J. Bol, The Bosschaert Dynasty: Painters of Flowers and Fruit, Leigh-on-Sea 1960, p. 76, cat. no. 47, reproduced plate 41a.
Exhibited: Amsterdam, Kunsthandel P. de Boer, De helsche en de fluweelen Brueghel en hun invloed op de kunst in de Nederlanden, 10 February - 26 March 1934, no. 235;
Dordrecht, Dordrechts Museum, Boom, Bloem en Plant: Nederlandse meesters uit vijf eeuwen, 16 July - 31 August 1955, no. 6 (lent by L.A. Stroink, Enschede).
Note: Balthasar van der Ast was taught by his brother-in-law Ambrosius Bosschaert the Elder (1573-1621), the pioneering flower painter of the first decades of the seventeenth century. Works such as the present one from the 1630s, in which a choice number of blooms and a few shells are placed on a ledge with flying insects, are an innovation of Van der Ast. The personality of each flower and shell is brought out by their being placed against neutral backgrounds, with just enough overlapping to bind the composition together. Van der Ast derives from Bosschaert the sense of sculptural solidity of his objects and exquisite attention to each individual petal or curl of shell, but gives his painting a softness and atmosphere that moves away from the more linear approach of Bosschaert and his own early work. He is not afraid to pose his flowers in unexpected ways, for example the roses placed face-down on the ledge, the better to appreciate the ruffles of the petals.
The composition is dominated by the red-and-white striped tulip, a flower regarded as rare and precious in the 1630s. The northern Netherlands was in the grip of "tulipmania", with bulbs changing hands for thousands of florins by 1636-7. An Admirael van Enkhuizen bulb sold at an auction in Alkmaar on 5th February 1637 for 5,200 florins, when 10,000 florins would have purchased a fine house on a fashionable canal in Amsterdam. The market then dramatically collapsed, although the Dutch continued their skill in developing new tulips and the bloom kept its place in floral still lifes. The beautiful, flame-like markings so superbly delineated on Van der Ast's tulip were caused by a virus which ultimately weakened the bulb, although the cause was not known at the time. The fascination for connoisseurs was to see which bulbs would 'break' with these scarlet, burgundy or purple stripes. The tulip in the present painting is no doubt based on an example studied from life and recorded in watercolors kept in the studio for reference. A number of such watercolors attributed to Van der Ast are in the Fondation Custodia, Paris.1 The shells in this painting are also collectors' items, important elements of the cabinets of curiosities that became popular in the seventeenth century. They reflect increasing interest in the natural world and the trading and colonial voyages of Dutch sailors. In the foreground left is a marble cone shell from the Indian Ocean, with a murex behind; at foreground right is an auger shell.
1. For example La Novelle van dr Cuijp, inv. no.6534-25. Each tulip is named in elaborate calligraphy.
Sotheby's. Master Paintings & Sculpture Part I, New York, 27 January 2022