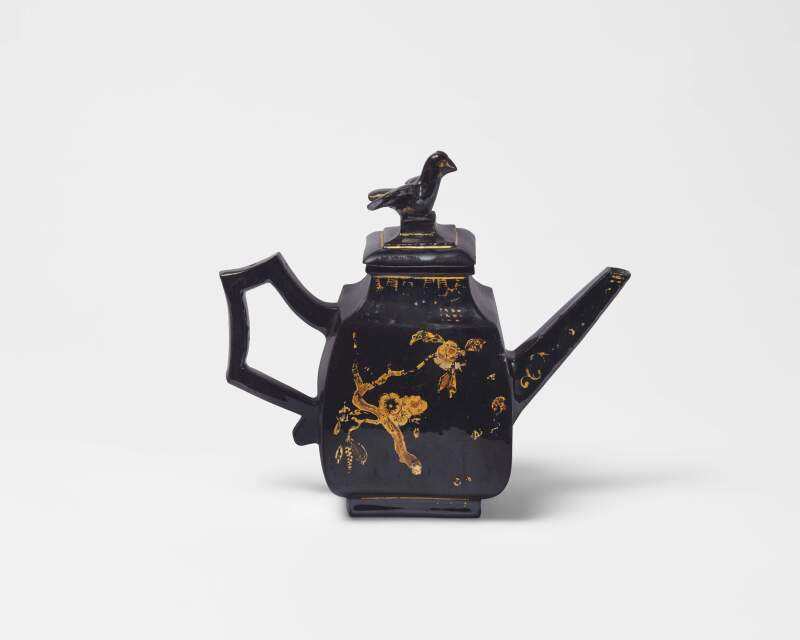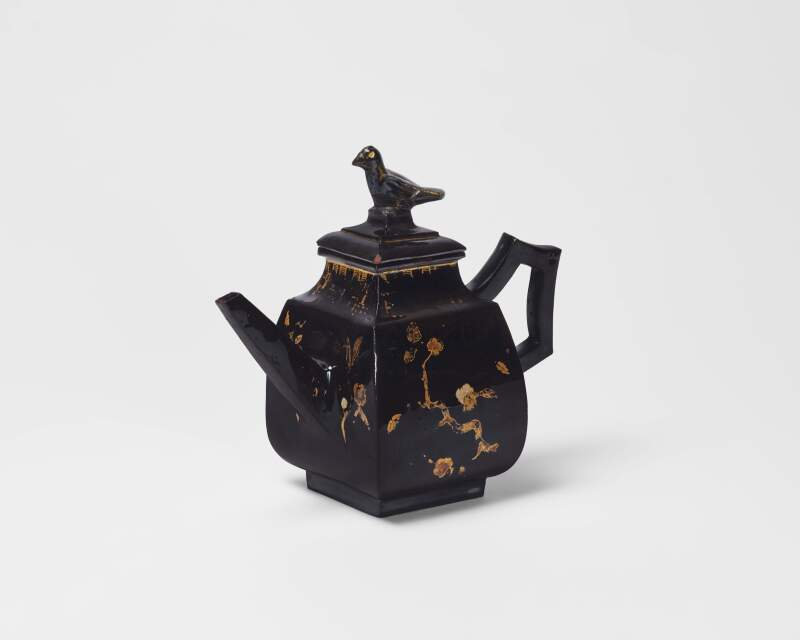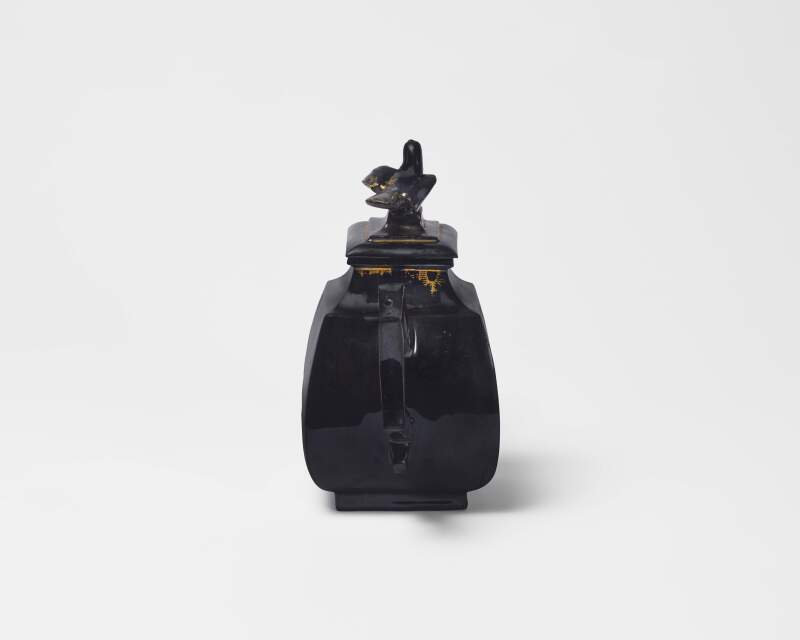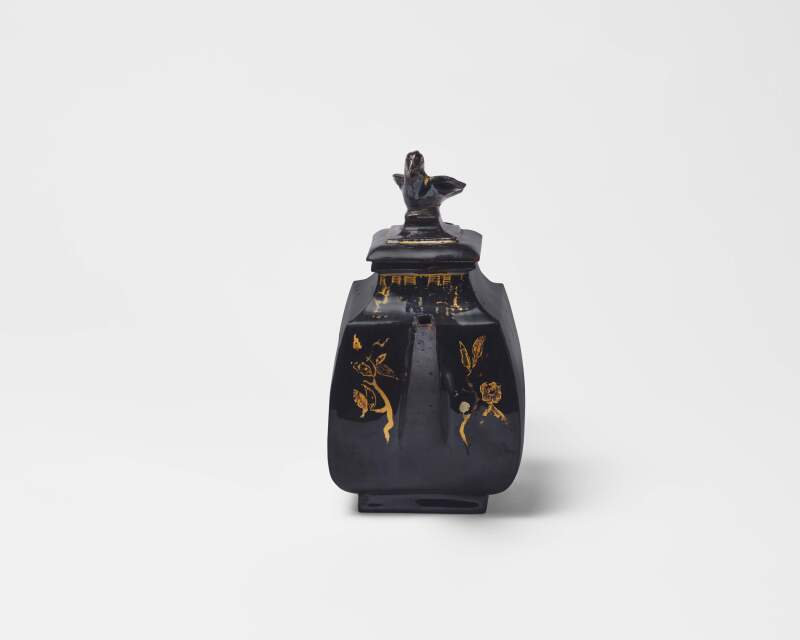 Lot 15. A Plaue-an-der-Havel Stoneware Brown-Black-Glazed and Gilt Teapot and Cover, Circa 1717-30; 6 1/8 in., 15.6 cm high, 17.8 cm. wide. Lot sold: 7,560EUR (Estimate: 6,000 - 8,000 EUR). © Sotheby's
of square section and swelling form, with fluted straight spout, fattened angular handle with scroll terminal and bird finial, the simulated lacquer ground decorated in enamels and gilt with flowering prunus branches, red lacquered inventory number i60 to teapot and ii60 to cover.
Literature: Ulrich Pietsch, Frühes Meissener Porzellanaus einer Privatsammlung, exhibition catalogue, Lübeck, 1993, pp. 34-5, no. 21.
Keramik aus Plaue an der Havel, Zur Geschichte der ersten Preußischen "Porcellain Fabrique" 1713-1730, exhibition catalogue, Brandenburg an der Havel, 2005, no. 12.
Exhibited: Museum für Kunst und Kulturgeschichte der Hansestadt Lübeck St. Annen-Museum, 14 November 1993-31 January 1994.
Museen der Stadt Aachen, Couven Museum, 26 February 1994-30 April 1994.
Stadt Brandenburg an der Havel, Museum im Frey-Haus, 8 May 2005-25 September 2005.
Note: The Meissen manufactory's first major competitor was the works established on the riverside estate of Friedrich von Görne (1670-1765), Prussian minister of state to Friedrich Wilhelm I (1688-1740), and Knight of the Schwarzer Adlerorden (Order of the Black Eagle) at Schloss Plaue in Brandenburg. Von Görne began building a three-winged Schloss in 1711 using the old foundations of the previous 16th century building and some of its masonry. The building had a Corps de Logis, which comprised two floors, and two single floored side wings, and boasted its own chapel and a Chinesische Zimmer. It was completed in 1716. Under Wilhelm von Anhalt (1734-1801) (von Görne's successor) much of the Palace was altered and the north wing was demolished. According to Theodore Fontane, writing in 1899, it is van Anhalt that destroyed all the remaining stocks and paperwork relating to the ceramics works at Plaue by, reputedly, throwing them into the river Havel (Fontane, Fünf Schlösser. Altes und Neues aus Mark Brandenburg, Berlin 1889).
Because of this action by Anhalt much of the story of the Ceramics works at Plaue is lost to history. Production of red stonewares began at the site in 1713 and remained active until 1730. In 1717, Böttger sent Johann Georg Melhorn, disguised as a worker to the factory in Plaue to spy on the progress of works. Melhorn reported back that the produced were "rather good, and not dissimilar to what is produced here (in Meissen)", quoted from Pietsch, op. cit., 1993, p. 34.
Schloss Plaue, circa 1860, view from the east across the Havel, Sammlung Duncker.
Plaue pieces decorated with gilding are uncommon. Among the pieces recorded is a coffee-pot of square-section after a Böttger prototype, sold at Christie's London, 16 November 2021, lot 609, formerly sold at Sotheby's London, 28 November 1961, lot 134. A coffee-pot of octagonal baluster form, also after a Böttger prototype, is the Porzellansammlung, Dresden, inv. no. PE 1662, illustrated in Rolf Sonnemann and Eberhard Wächtler, Johann Friedrich Böttger, Die Erfindung des Europäischen Porzellans, Leipzig, 1982, p. 186, fig. no. 122. Similar squat square-form black-glazed teapots were produced at Meissen. See the example decorated with gilt branches of flowers that was in the Baron von Born Collection, Budapest, sold, Rudolph Lepke's Kunst-Auctions-Haus, Berlin, 4 December 1929, lot 112.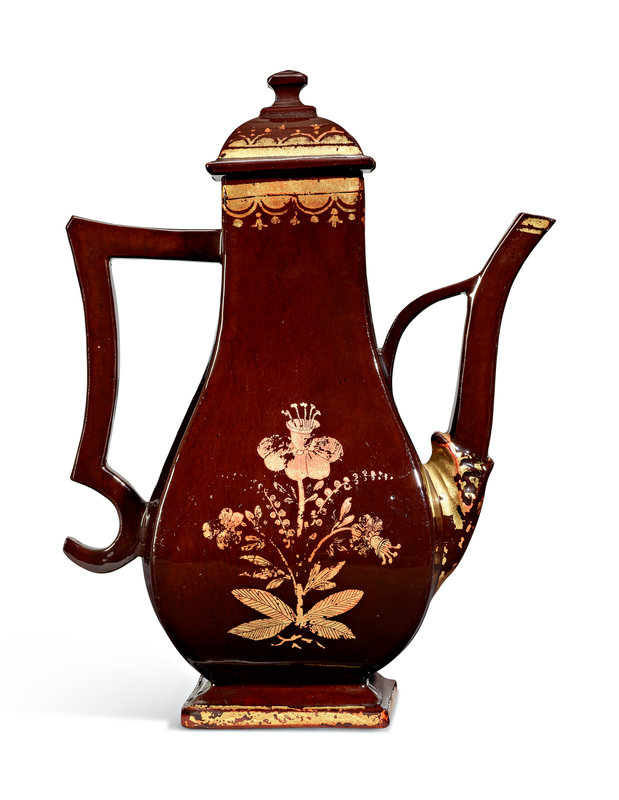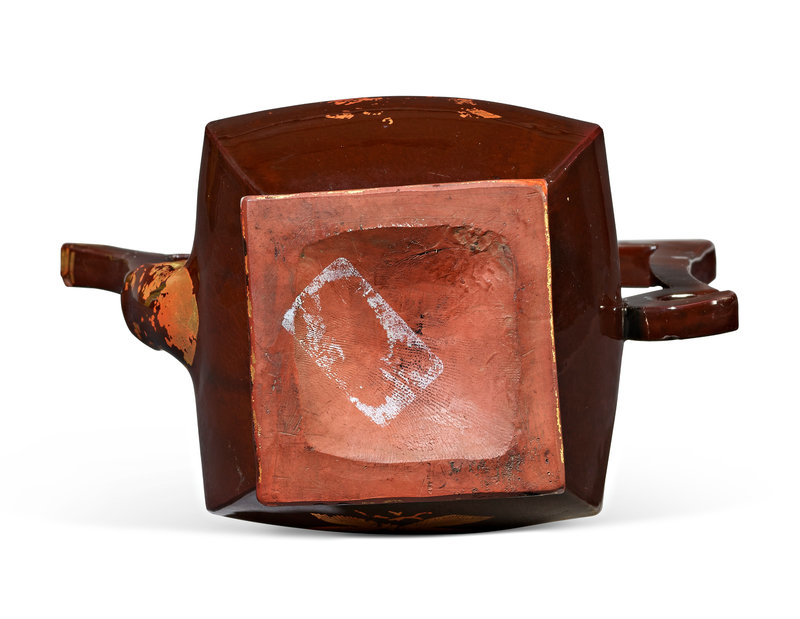 A Plaue-on-Havel red stoneware brown-glazed coffee-pot and cover, circa 1717; 71⁄8 in. (18.2 cm.) high. Sold for GBP 13,750 (Estimate GBP 4,000 - GBP 6,000) at Christie's London, 16 November 2021, lot 609. © Christie's Image Ltd 2022
After a Böttger original, of baluster square-section form, the curved spout with a support and issuing from a sea-monster's jaws, the angular handle with a curved lower terminal, decorated with gilding over red bole, the sides with flowers below a gilt band border with husks, the domed cover with a square knop finial and similar gilt border.
Provenance: Anonymous sale; Sotheby's, London, 28 November 1961, lot 134.
Note: The Plaue-on-Havel manufactory was established on the estate of Friedrich von Görne, a Brandenburg nobleman. The local clay turned red after firing and it was hoped that Plaue's products would rival those of Böttger's factory at Meissen. Görne tried to negotiate with the Saxon government for his factory to be incorporated as a Prussian branch of the Meissen manufactory, but he was not successful. The two factories kept an eye on each other's products and spied upon each other. An attempt by Plaue to lure Johann Georg Melhorn from Meissen to Plaue went awry when a letter to him was intercepted in April 1715, resulting in Melhorn being sent by Meissen to spy upon Plaue. Melhorn reported back that Plaue was making red stoneware, but not with a black glaze.1
Unfortunately the Plaue factory archive is lost to scholars, making precise stylistic dating difficult (Friedrich von Görne's successor, Wilhelm von Alhalt, threw all the paperwork relating to his predecessor into the river Havel).2Horst Mauter suggests that Plaue was using black glazes in 1715 and brown glazes from 1717.3A black-glazed coffee-pot of related form to the present lot is in the Gliwice Museum (Inv. No. MGI/RA/18).4 The Gliwice museum example has a double scroll support attaching the spout to the body rather than the curved support on the present example. It is clear that this Plaue coffee-pot form is derived from the Böttger original designed by Johann Jakob Irminger.
1. Barbara Szelegejd, Red and Black Stoneware and their Imitations in the Wilanów Collection, Warsaw, 2013, p. 302.
2. Barbara Szelegejd, ibid., 2013, p. 303 (note 7), citing H. Köhler, 'Steinzeug aus der Plauer "Porcellain Fabrique" (1713 bis 1730)', in 800 Jahre Plaue 1197-1997, Festschrift, 1997, p. 63.
3. Cited by Barbara Szelegejd, ibid., 2013, p. 302.
4. Illustrated by Barbara Szelegejd, ibid., 2013, p. 302, fig. XXII.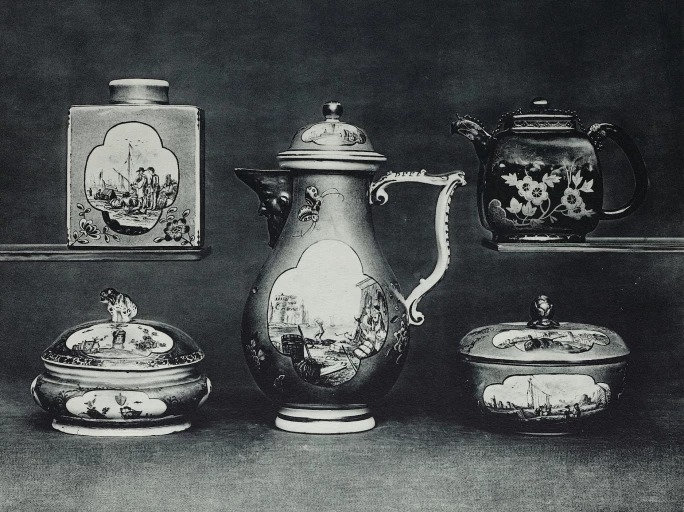 A Meissen black-glazed teapot (upper right) from the Baron von Born Collection, Budapest, illustrated in Rudolph Lepke's Kunst-Auctions-Haus, Berlin, 4 december 1924, lot 112.
Sotheby's. Transformed by Fire A Private Collection of Early Meissen, Cologne, 1 July 2022