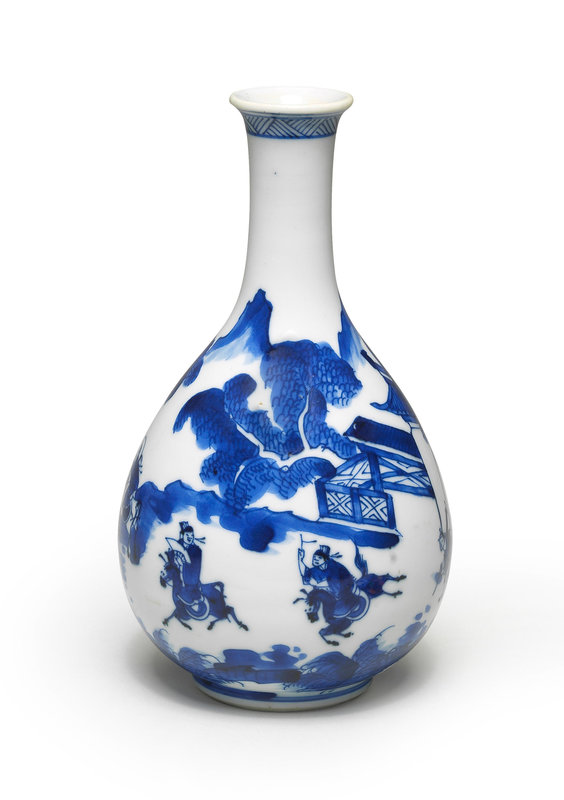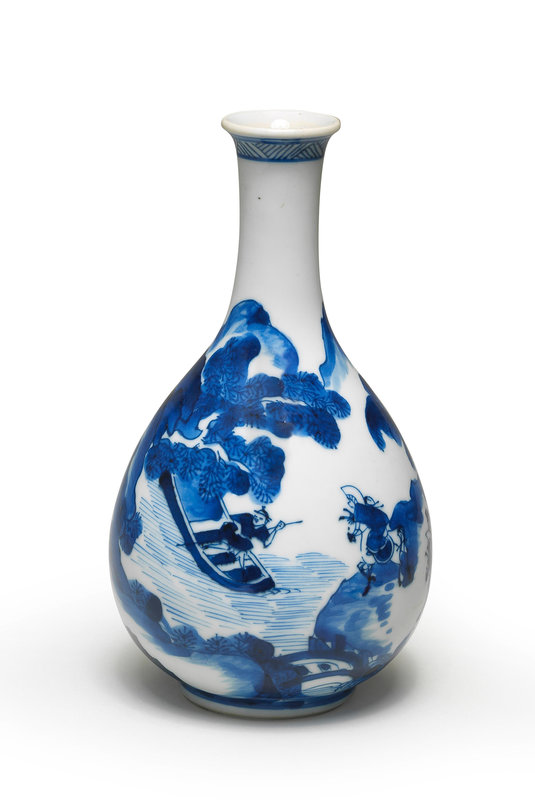 Lot 42. A very fine blue and white 'Han Xin' pear-shaped vase, Kangxi period (1662-1722); 18.3cm (7 1/4in) high. Sold for £24,225 (Est: £4,000 - £6,000). © Bonhams 2001-2022
Elegantly potted with an ovoid body rising from a short foot to a long cylindrical neck and flaring mouth rim, painted around the body in vibrant tones of cobalt-blue with a continuous scene of Han Xin and companion on horseback being chased by Xiao He riding at full gallop followed by an attendant emerging from a gate, Han Xin stops by the river with fan held aloft while a boatman approaches, all amidst pine trees and craggy rocks, a herring-bone border under the mouth rim.
Provenance: S.Marchant & Son, London
Adrian M. Joseph (d.2010), Hong Kong, 6 September 1985.
Published, Exhibited and Illustrated: S. Marchant & Son, Chinese Blue and White - Wanli to K'ang Hsi, London, 1980, no.71
Note: Han Xin 韓信 (died 196 BC) was a military general who served Liu Bang 劉邦 (died 195 BC) in founding the Han dynasty. Initially, Liu Bang was not impressed with Han Xin and put him in charge of food supplies. After a while, Han Xin became discontented and attempted to desert under the cover of darkness. Xiao He 蕭何 (died 193 BC), one of Liu Bang's chief advisers, recognised Han Xin's talent, however, and heard that he left. Xiao He immediately chased after Han Xin to bring him back, whereupon Han Xin was promoted to the rank of general. According to some versions of the story, Xiao He was able to catch up to Han Xin because the rise in water level prevented Han from crossing the river. In the Jin dynasty, Jin Renjie wrote the play 'Xiao He Chasing after Han Xin under the Moon' in which Xiao He invited Han Xin for a boat ride after catching up with him; several other Ming dynasty versions of the story also existed.
The original story, recorded in Sima Qian's Shiji (史記), would have resonated strongly with many scholar-officials during the late Ming dynasty, who felt their talents to serve in the government were not being appreciated under the waning Ming empire. The same motif can be found on a baluster vase, c.1635-40, illustrated in Seventeenth Century Chinese Porcelain from the Butler Family Collection, Alexandria, 1990, p.78, no.37.
See also a very similar blue and white vase, with the same design, Kangxi, illustrated in Folklore in Ming and Qing Porcelain, Hong Kong, 2019, pp.48-49. Another very similar vase with the same design, Kangxi, is illustrated by H.Garner, Oriental Blue and White, London, 1970, pl.69, no.A.
Bonhams. THE MARSH COLLECTION ART FOR THE LITERATI, 3 November 2022, London, New Bond Street