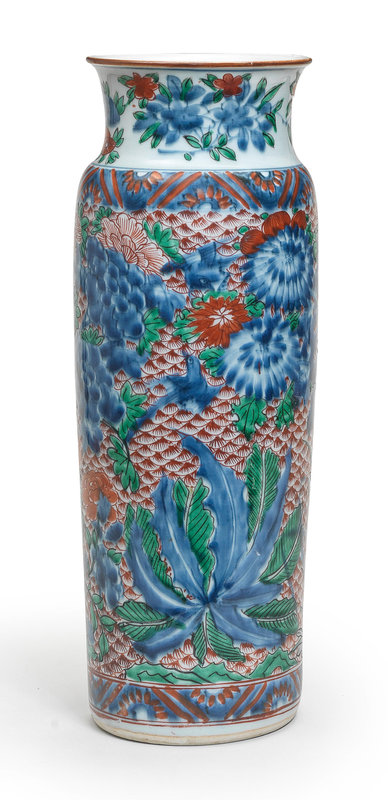 Lot 41. A rare wucai rouleau vase, Shunzhi period (1644-1661); 39.5cm (15 1/2in) high. Sold for £10,200 (Est: £10,000 - £15,000). © Bonhams 2001-2022
The tall cylindrical vessel vibrantly decorated around the exterior with craggy rocks issuing dense chrysanthemum and peony, two birds in flight, all against a red petal-pattern ground and between floral patterned borders, the waisted neck with floral sprays.
Provenance: Priestly & Ferraro Chinese Art, London, 10 July 2006.
Note: The dense decoration of flowers on red ground, as found on the present lot is rare. See a jar with related decoration of flowers and rocks against a red diaper-pattern ground, Shunzhi, illustrated by T.Canepa and K.Butler, Leaping the Dragon Gate: The Sir Michael Butler Collection of Seventeenth-Century Chinese Porcelain, London, 2021, p.345. The same jar is illustrated in Seventeenth Century Chinese Porcelain from the Butler Family Collection, Alexandria, 1990, no.60, where the author notes that 'some pieces of this type were made for the Indian or Middle Eastern markets. Friedrich Volker asserts two red rolwagens were given to an Indian King in 1648'; see ibid., p.107.
According to T.Volker in Porcelain and the Dutch East India Company: As Recorded in the Dagh Registers of Batavia Castle, Those of Hirado and Deshima and other Contemporary Papers, Leiden, 1971, p.105, in 1649 the Dutch wrote to Batavia on 31 May 'that they intend to present the King [of Surat] with...2 large red rolwagens with leaf work in relief and flowers...' The present lot, also with a predominately red tone, could therefore, have been made for the Indian or Middle Eastern market.
Bonhams. THE MARSH COLLECTION ART FOR THE LITERATI, 3 November 2022, London, New Bond Street