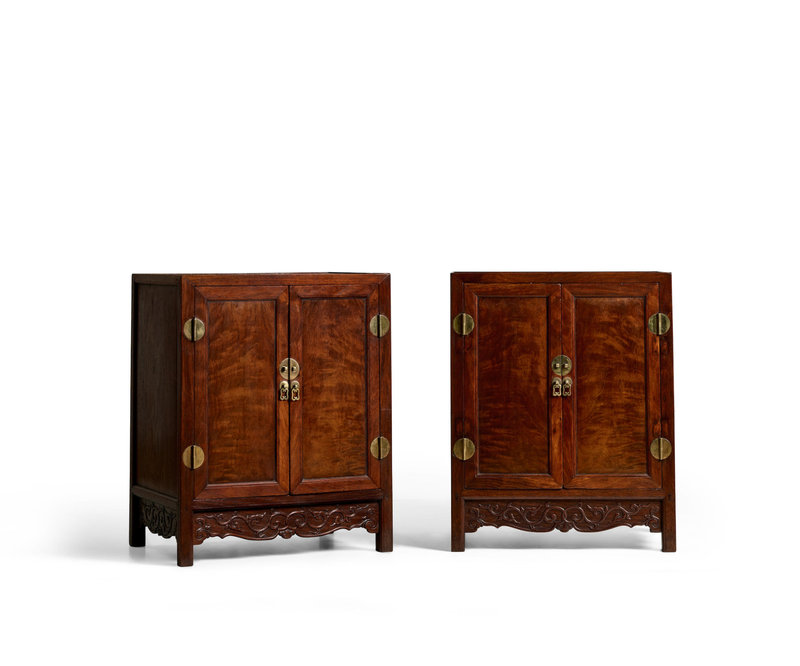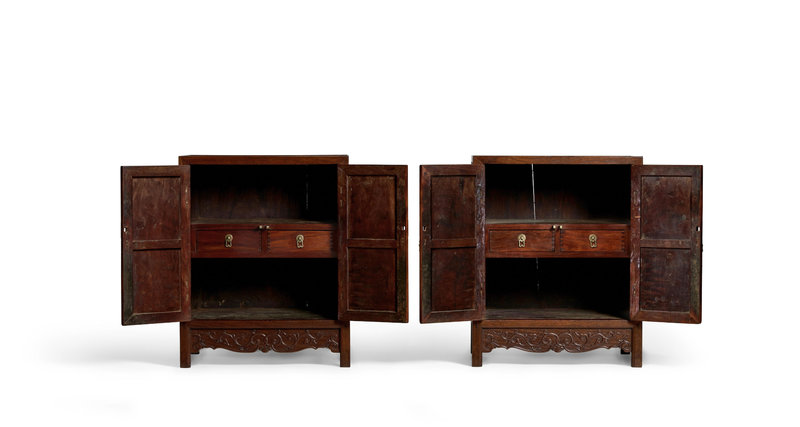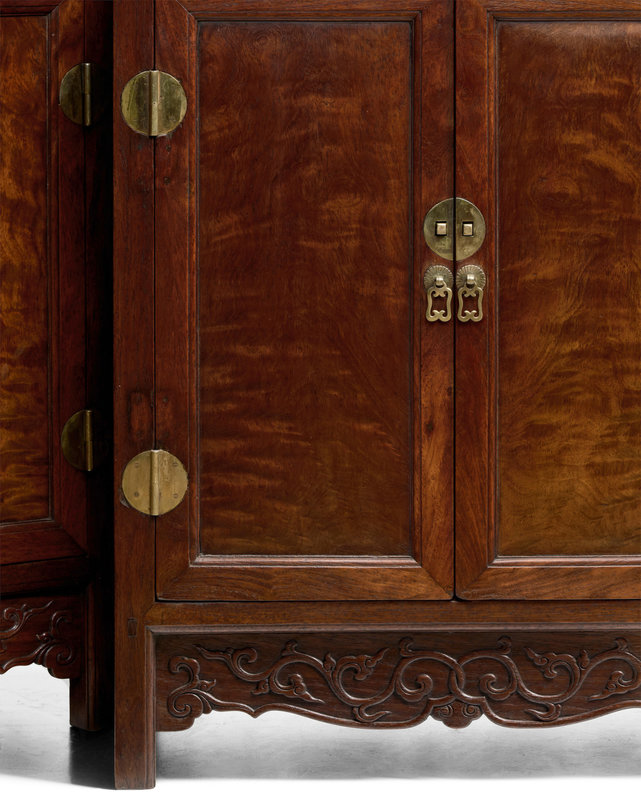 Lot 86. A pair of fine huanghuali and huamu kang cabinets, kanggui, 17th-18th century; 23 7/8 x 19 1/8in x 13 5/8in (60.7 x 48.6 x 34.5cm) each (2). Sold for US$113,775 (Estimate: US$40,000 - US$60,000). © Bonhams 2001-2023
The top and sides and back composed of richly figured huanghuali, the top two-board panels set into a mitered, mortise and tenoned frame with 'water-stopping' edge over a pair of well-matched huamu panel doors fitted with baitong lockplate and hasp and opening to reveal two interior shelves with original lacquer, the top suspending paired drawers and all over elegant xiangcai and cloud-scroll beaded aprons carved in high relief on the front and sides, the back apron carved with a beaded scallop edge centered on interlocking tendrils over a cloud-shaped floret.
The Mary and Cheney Cowles Collection
Provenance: Grace Wu Bruce, Hong Kong, early 1990's.
Note: Small cabinets of this size and quality are rare. As tables seldom had drawers, cabinets such as these served to house both useful objects and 'scholar's playthings'. See a pair of cabinets in the Hung collection, composed of huanghuali with burl panels published in Ellsworth et. al., op.cit., volume 1 sold at Sotheby's, 14 September 2016, lot 358, and a cabinet sold at Christie's New York, 20 March 2013, lot 921, provenance M. Flacks.
Bonhams. THE MARY AND CHENEY COWLES COLLECTION OF CLASSICAL CHINESE FURNITURE, 20 March 2023, New York