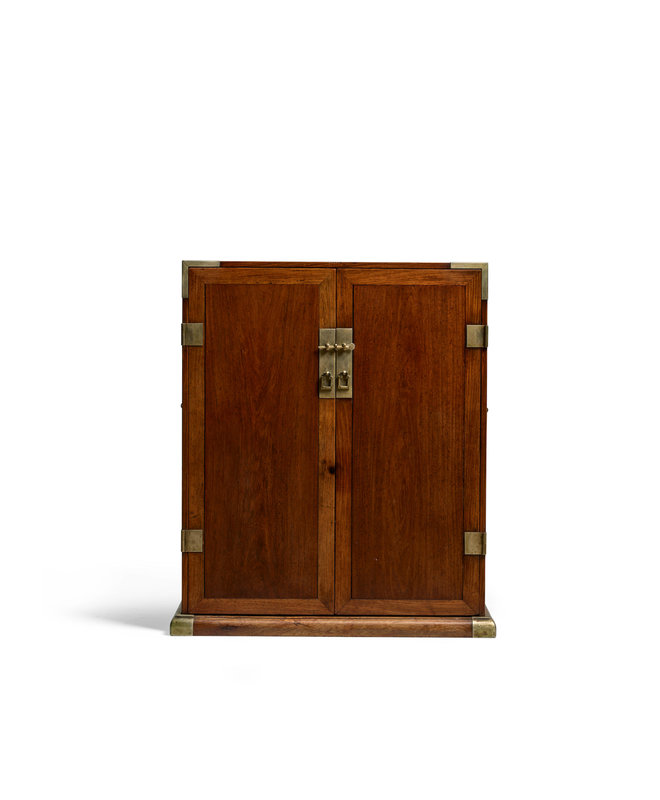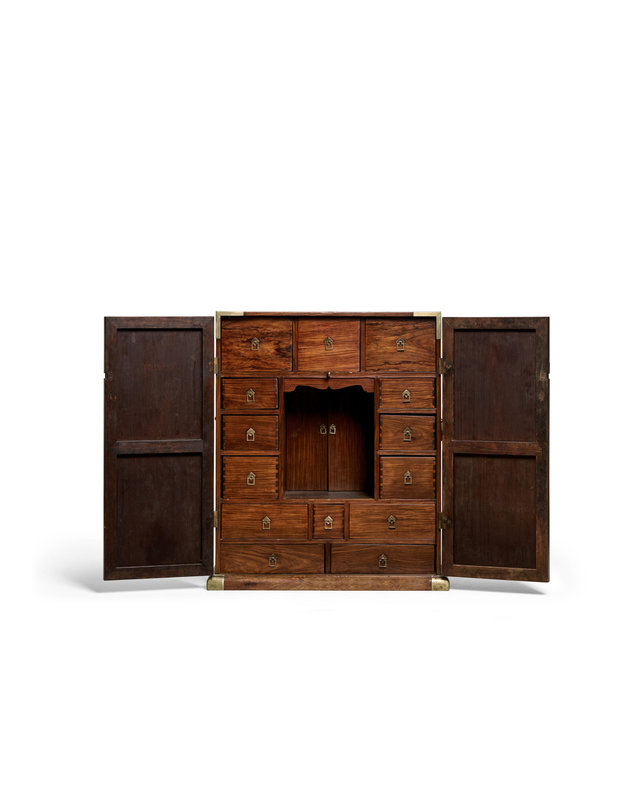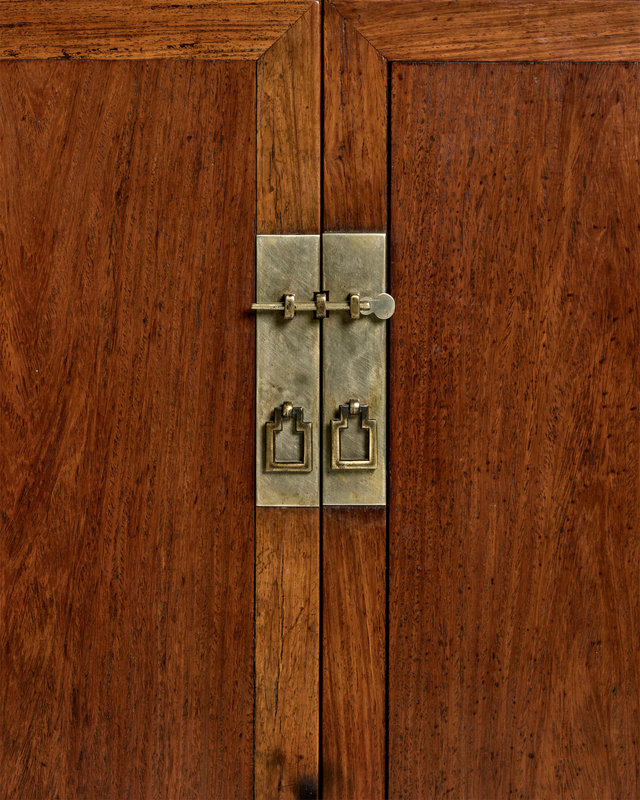 Lot 87. A rare huanghuali apothecary cabinet, yaogui, Early Qing dynasty, 17th century. Cabinet: 29 1/2 x 23 7/8in x 14in (74.9 x 60.7 x 35.5cm); Base: 25 1/2in long x 15 1/2in deep (64.7 x 39.3cm). Sold for US$120,075 (Estimate: US$50,000 - US$80,000). © Bonhams 2001-2023
The rectangular frame set with a pair of finely figured paneled doors fitted flush with the surface and opening to reveal a central framed open compartment with paired recessed doors, enclosed by a series of three horizontal drawers at the top and sides over two rows of three and two drawers at the base, all fitted with elegant baitong pulls, all set into a base frame with baitong corner mounts, rectangular handles, face plates and hinges.
The Mary and Cheney Cowles Collection
Provenance: Ever Arts, Hong Kong, 1 March 1996.
Note: Traveling cabinets of this size served various functions, as bookcases, storage boxes and in this case, various purposes, for books, precious objects and games, or in this case, as a probable apothecary cabinet. For examples with different interior construction, see Robert Hatfield Ellsworth, Nicholas Grindley and Anita Christi. CHINESE FURNITURE. One Hundred Examples from the Mimi and Raymond Hung Collection (New York, 1996), Vol II, nos. 65 and 66, pp. 130-133; Curtis Evarts. Liang Yi Collection. Huanghuali (Hong Kong, United Sky Resources Limited, 2007), no. 63, page 158, and Gustav Ecke. Chinese Domestic Furniture. (Rutland, Vermont, Charles E. Tuttle Company. 1962) p. 135, no. 107, the last built with the same interior as the present lot. See also Christie's, 7 October 2020, lot 431, for a traveling bookcase of large size.
Bonhams. THE MARY AND CHENEY COWLES COLLECTION OF CLASSICAL CHINESE FURNITURE, 20 March 2023, New York