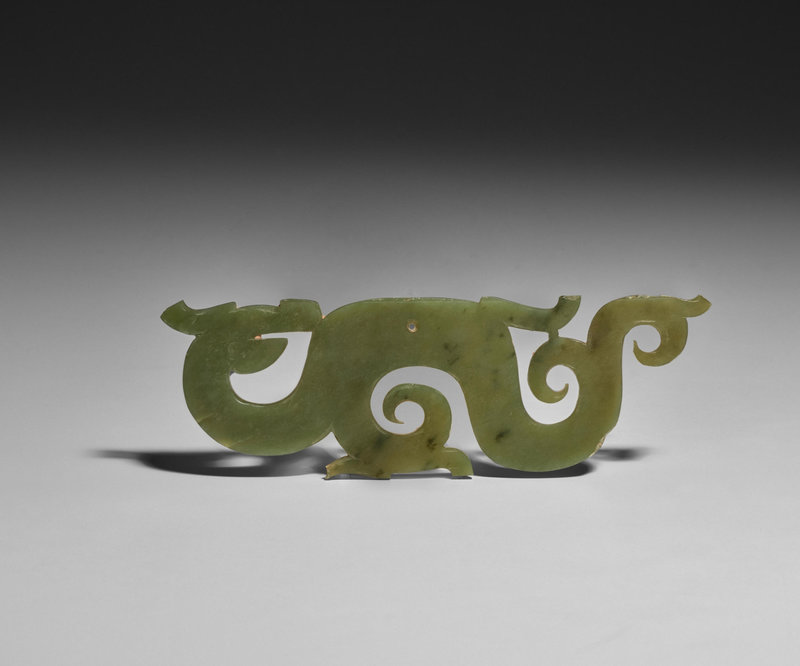 Lot 22. An archaic green jade dragon-form huang pendant, Warring States period; 5/8in (37.2cm) high. Sold for US$6,375 (Estimate US$700 - 900). © Bonhams 2001-2023
The thin plaque simply carved as the silhouette of a horned dragon looking back towards its forked tail, the 'S'-shaped body supported by the curled wing and clawed feet, a small aperture drilled at the center for stringing, the surface plain, the translucent stone mottled with natural inclusions softly polished to a silky surface on both sides, with incised drafting lines still evident on the edges.
Note: Compare the similar jade dragon-form huang pendant discovered from a Warring States tomb at Baijiacun, Handan, Hebei province, now in the collection of the Handan Museum, illustrated by Gu, Zhongguo chutu yuqi quanji (Complete Collection of Jades Unearthed in China), Vol. 1, Beijing, Tianjin, Hebei, Beijing, 2005, p. 132.

Compare also the green jade dragon-form huang pendant of this form with traces of cuts very similar to the present example, in the collection of the National Palace Museum, Taipei, illustrated by Teng (ed.), Jingtian gewu: Zhongguo lidai yuqi daodu, Taipei, 2011, p. 25, no. 3-3-4.

Another similar green jade dragon-form huang pendant in the collection of the Harvard Art Museums is illustrated by Loehr and Huber in Ancient Chinese Jades from the Grenville L. Winthrop Collection in the Fogg Art Museum, Harvard University, Cambridge, 1975, p. 294, no. 429.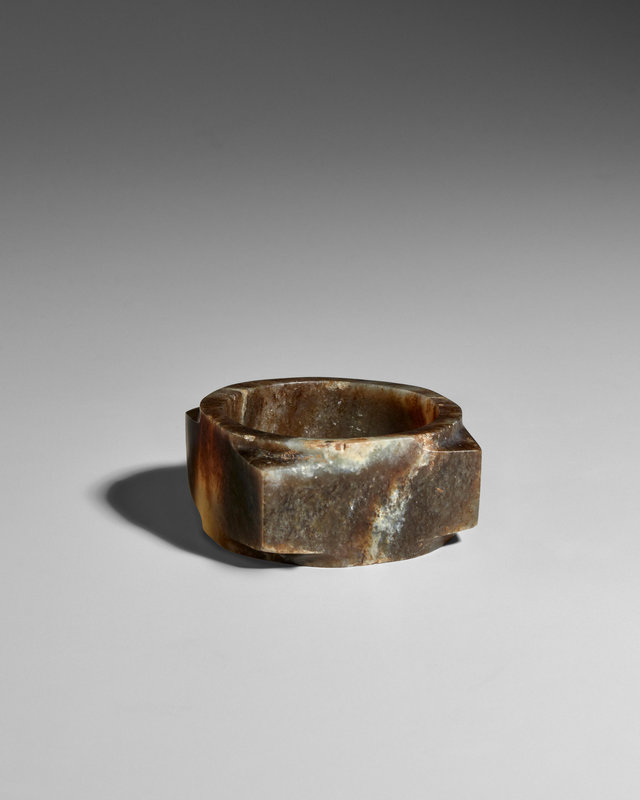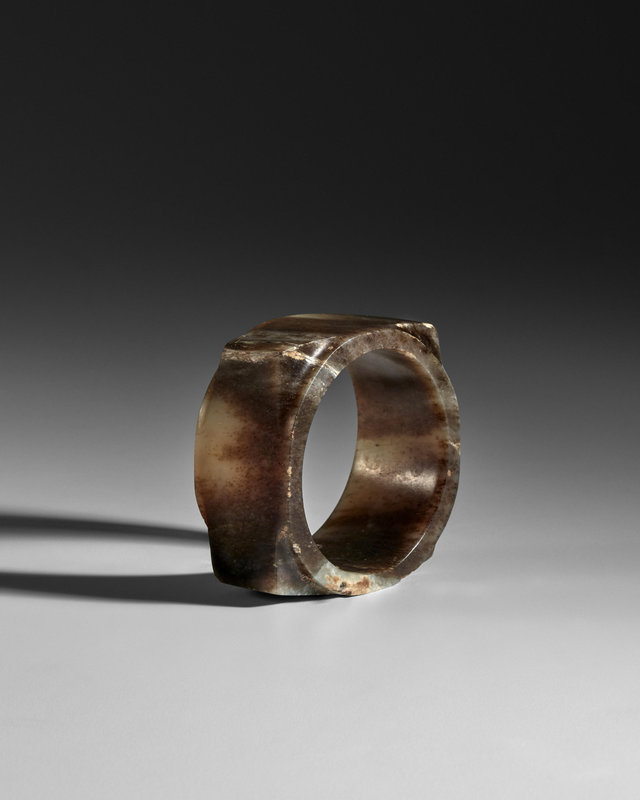 Lot 23. An archaic plain jade cong, Late Shang - Early Western Zhou dynasty, 12th-10th century B.C.; 3in (7.5 cm) wide. Sold for US$8,925 (Estimate US$1,000 - 1,500). © Bonhams 2001-2023
Of classic one-tier form, the center cylinder finished flat at the ends and enclosed by square corners on the sides, the tops of the corners gently sloped, the stone softly polished and striated in translucent celadon and brown.
Note: Compare the plain jade cong of this form excavated from the tomb of Fu Hao, consort of the Shang dynasty King Wu Ding, illustrated in the excavation report Yin xu Fu Hao mu (Tomb of Lady Hao at Yinxu in Anyang), Beijing, 1980, pl. 81, no. 3.
Another jade cong of this type discovered at the Shang capital at Anyang, Henan province, is illustrated in Anyang Yinxu chutu yuqi (Jades from Yinxu), Beijing, 2005, p. 1.
Compare also a small plain jade cong illustrated by Rawson, Chinese Jades from the Neolithic to the Qing, London, 1995, p. 154, no.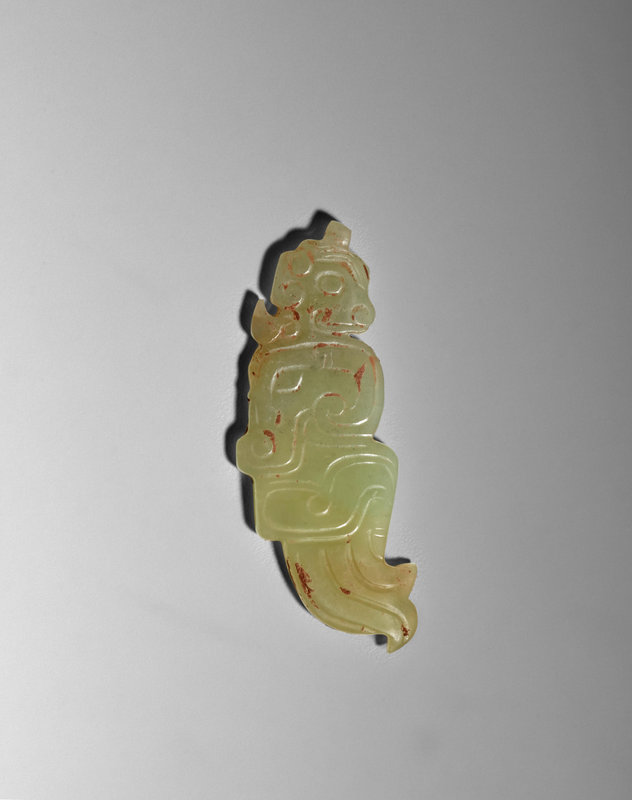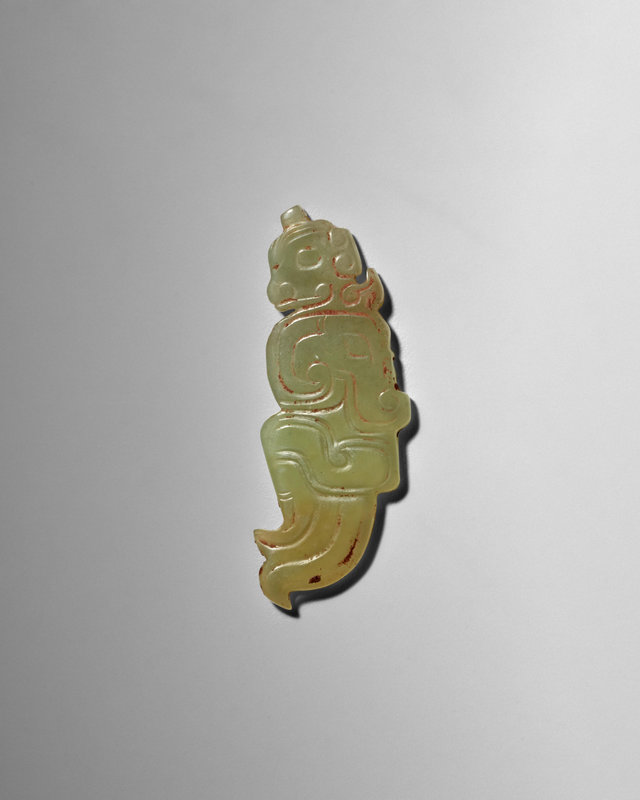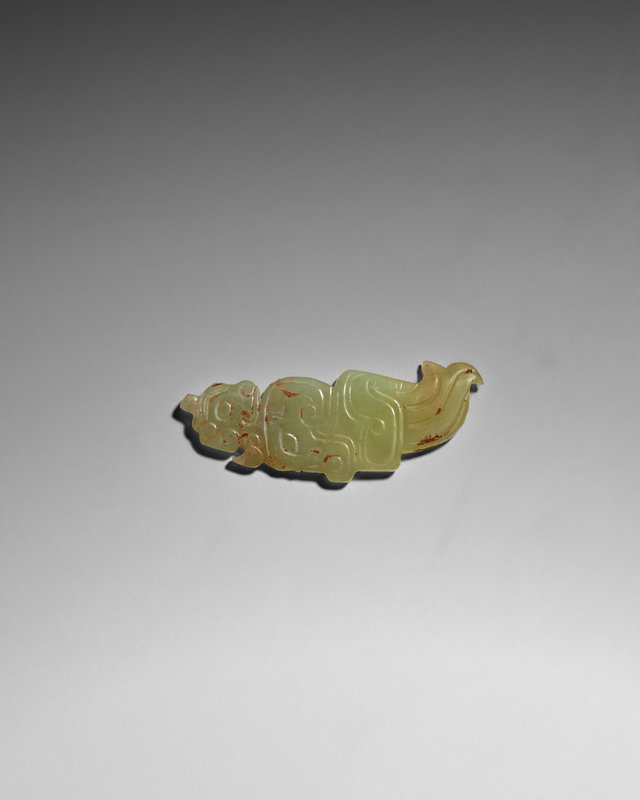 Lot 24. A small jade dragon-fish human-head pendant, Western Zhou Dynasty (1046 BC-771 BC); 2 1/4in (5.8cm) length. Sold for US$50,775 (Estimate US$6,000 - 8,000). © Bonhams 2001-2023
Carved on both sides of the flat plaque in simple incised lines a simian-like head in profile composite with a dragon-head body and a short fish tail, drilled under the small tab on top of the head for stringing, the celadon jade smoothly polished, with remains of earth encrustation and cinnabar red on the surface.
Published: Ancient Chinese Jade: From the Neolithic to the Han, J. J. Lally & Co., New York, 2016, no. 52.
Exhibited: Ancient Chinese Jade: From the Neolithic to the Han, J. J. Lally & Co., New York, March 10-April 2, 2016, no. 52.
Note: Two very similar jade pendants of human and dragon design are illustrated in Yu shi zhi hun (Soul of Jade and Stone), Beijing, 2013, pp. 76 and 78, discovered from the Western Zhou cemetery at Fengxi, Zhangjiapo, Shaanxi province.

See also a jade pendant of this type with human and dragon design, strung as part of the ensemble necklace, in the collection of the Baoji Zhouyuan Museum, illustrated by the National Palace Museum, Taipei, in the catalog of the special exhibition, He he zong Zhou: Xi Zhou wenhua tezhan (The Cultural Grandeur of the Western Zhou Dynasty), Taipei, 2012, pp. 224-225.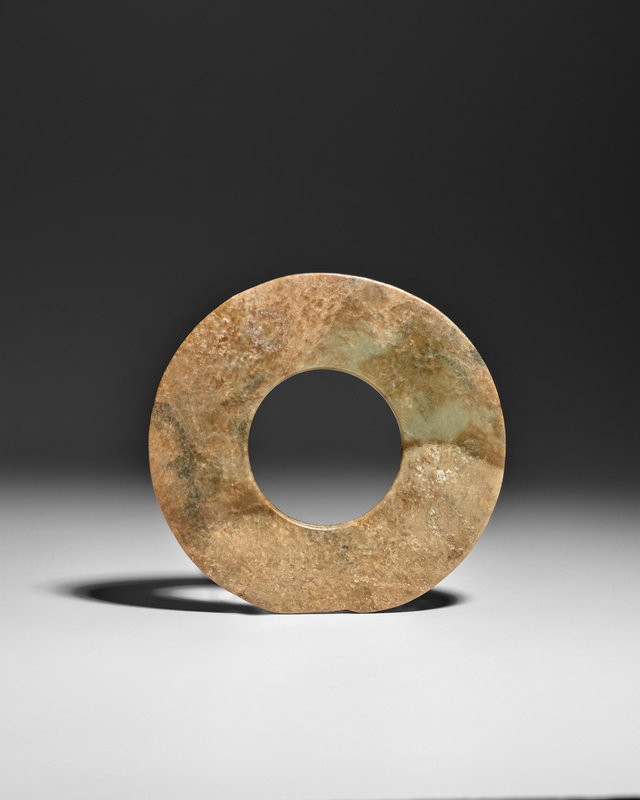 Lot 25. A plain archaic jade disc, yuan, Zhou dynasty (1046 BC – 256 BC); 5in (12.8cm) diam. Sold for US$3,570 (Estimate US$400 - 600). © Bonhams 2001-2023
Thinly carved with a wide central aperture, the softly polished celadon green stone with natural inclusions and mottled brown areas from burial, the outer rim polished down in antiquity.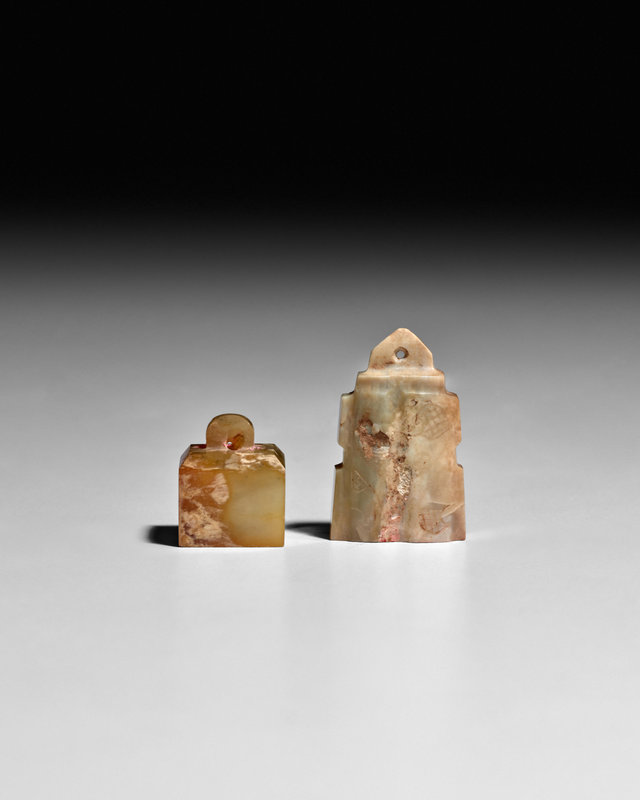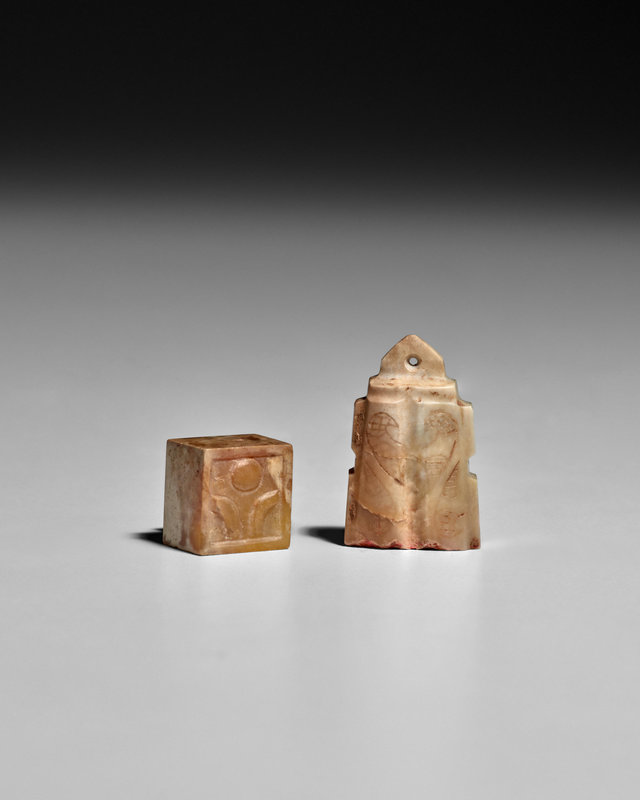 Lot 33. Two archaic jade seals, Warring States period-Han dynasty; 1 x 3/4in (2.5 x 1.9cm); 5/8 x 1/2 x 1/2in (1.6 x 1.3 x 1.3cm) (2). Sold for US$28,050 (Estimate US$3,000 - 5,000). © Bonhams 2001-2023
Note: Following the bo bell shape with notched sides, a tab on the top pierced for suspension, the front and back panels incised with hooked patterns and crosshatched lines, the underside carved with two characters typical of the Warring States period, the tan color stone softly polished with light encrustation and pitted areas; the square seal with faceted top edge and knob, carved underneath with one character gong, the celadon jade highly polished with tan 'calcified' areas and light encrustations.
Compare the very similar square jade seal carved with the same character 公 (gong) illustrated by Dohrenwend, Chinese Jades in the Royal Ontario Museum, Toronto, 1971, p. 88, top. The same seal was previously illustrated by White, Tombs of Old Lo-yang, Shanghai, 1934, pl. CXXXVIII-336.
Bonhams. J. J. Lally & Co. Fine Chinese Works of Art, New York, March 20, 2023