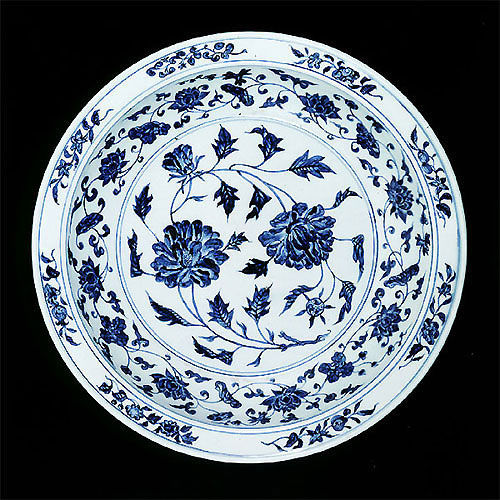 Dish. China, Ming Dynasty, beginning of the 15th century. Porcelain with underglaze, decorated in cobalt blue. H. 7; Diam. 40.3 cm. Inv. no. 2374. Museu Calouste Gulbenkian © 2008 Fundação Calouste Gulbenkian
Deep dish with rounded cavetto and flat rim painted in underglaze cobalt blue. In the centre, bordered by a double circle, a scrolling branch of peonies with two large blooms. On the cavetto there is a lotus scroll and, on the rim eight fruit and flowers sprays include pomegranate, peach, persimmon, chrysanthemum, camellia and gardenia. On the outside there is a more stylised lotus scroll.

This is an excellent example of fifteenth century Chinese porcelain. It is difficult to date precisely for it is not easy to distinguish articles from the Yongle period (1403-24), which rarely bore the reign mark, from those of the Xuande era, when the nianhao or mark appeared regularly on official products.
The high quality of workmanship and the refining of the decorative style as revealed in this piece, also reflect official court interest in Jingdezshen products at the time of the Xuande emperor.
Provenance: H.F. Parfitt Esq.; his sale, Sotheby's, London, February 8, 1946 (no. 37), bought through Knoedler.
Bibliography: Lisbon 2001
Calouste Gulbenkian Museum – Album, Lisbon, Calouste Gulbenkian Foundation, 2001, p. 75, no. 53, colourpl.

New York 1999
"Only the Best". Masterpieces of the Calouste Gulbenkian Museum, Lisbon, exhibition catalogue, Katharine Baetjer e James David Draper (eds.) – New York (The Metropolitan Museum of Art), 1999, p. 29, no. 11, colourpl.