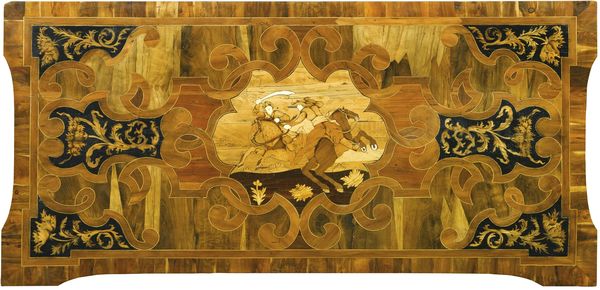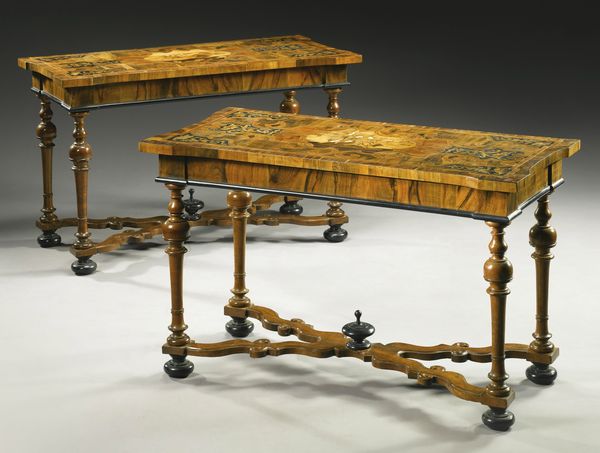 A pair of Italian ivory, mother-of-pearl, pewter and fruitwood inlaid walnut, ebony marquetry and parquetry console tables, attributed to the De Lucci brothers, Venetian, circa 1686. Photo Sotheby's
each with a rectangular top with projecting corners, one with a reserve decorated with a Turkish and European horseman engaged in armed combat, the other with two seated female figures in drapery flanked by tasselled curtains in a landscape, both within scrollwork cartouches and with reserves of flowers on tapering and turned legs joined by an x-form scrolled stretchers centerd by an ebonised urn finial; both with old inventory numbers in black ink: No 1 and No 2, and the underside of the stretchers with No 1 and No2 Da Vanti respectively; each 84cm. high, 138cm. wide, 67cm. deep; 2ft. 9in., 4ft. 6¼in., 2ft. 2½in. Estimate 30,000-50,000 GBP
Comparative Literature: C. Alberici, il mobile veneto, Milan, 1980, p. 120, fig. 160, 161.
Giuseppe Morazzoni, Mobili Veneziani del'700, Milan-Rome, MCMXXVII, plates XIV-XXVI.
Clare Santini, Mille Mobili Veneti, Modena, MMII, p.149, plates 103-195.
Alvar González-Palacios, Il gusto dei principi, Arte di corte del XVII e del XVIII secolo ,Volume II, Milan, 1993, pp. 338-339, figs. 595, 596, 597 and 598
Note: This pair of tables, the tops of which are exuberantly inlaid and engraved would appear to be an unrecorded example of a small group of related pieces executed by Lucio and Antonio De Lucci in Venice in the late 17th century. Although they are more restrained in terms of the style of inlay than the other recorded examples, they bear some features of the work by these makers eg pictorial central scenes within scrollwork, ivory inlay, the colour contrast of different woods and floral marquetry sprays.This pair belongs to a group with Turkish horsemen which can be found on a cassettone in the Civico Museo in Padua, illustrated by Alberici, op. cit.,p. 120, figs. 160 and 161. There are other pieces by the same makers with Turkish horsemen and this may refer to the Turkish siege of Vienna in the last quarter of the 18th century, when Venice reconquered the Peloponnese coast of Greece. It is also rare to find a pair of tables from this date on their original bases.
The tops by Lucio and Antonio De Lucci:
Furniture by these craftsmen constitute the only known pieces of elaborate marquetry furniture dating from the second half of the 17th century emanating from Venice emphasing their rarity. There is a paucity of information about the De Luccis, apart from the few items signed by or attributed to them that have come to light in the research by Alvar Gonzáles-Palacios, op. cit.
The table top recorded on which a Turkish figure is holding an ivory scroll inscribedANT. DE LUCCI FECE IN VENETIA 1686 (González-Palacios, op. cit., fig. 597, erroneously shown as fig. 595). That table top is important as it sets the date for all the other pieces by the De Luccis. As their works are extremely alike, there can be no doubt that Antonio and Luccio De Lucci were related and that they were active in the same workshop in Venice in the fourth quarter of the 17th century. There existed a top, possibly made en suite to the aforementioned table top, and identically inscribed, that was cut up in the eighteenth century to be employed as marquetry decoration on a German writing desk probably constructed in 1764 (Daniela di Castro, 'Una tarsia veneziana del Seicento per un bureau Tedesco del Settecento', DecArt, Riviste di arti decorative 1 (2004), pp. 20-25). Another unsigned top, inlaid with a view of Napoli Di Romania (presumably Nauplia, Greece), which on being compared with the abovementioned signed tops be safely attributed to either of the same makers (González-Palacios, op. cit., fig. 598). A pair of tables with bases by Andrea Brustolon sold in these Rooms, `Treasures a Princely Taste, ', 6th July 2011, lot VIII, which are now in the National Museum of Scotland, Edinburgh.
Another table top with the view of Vienna has been recently recorded on the art market. In the Davia Bargellini Museum of Bologna, three console tables inlaid with mother of pearl are surely by the De Luccis. In fact a letter exists signed by Lucio De Lucci,in Venice and dated 10th August 1699 referring to these three tables ( A.G.P. Antologia delle Belle Arti, S. Tumidei, Intagli a Bologna, Intagli per Bologna, n 59-62, 2000,p.36-37 and 48).
The work of the De Luccis is not only recorded on table tops but also can be found on a group of chests of drawers, some of them certainly by their hand. Amongst those worthy of mention include a magnificent pair in the Galleria Benucci, Rome, which without a doubt originates from the same workshop and depict exotic figures in cartouches. Other artisans must have followed the style of the De Luccis as similar chests but more provincial in appearance have survived.The marquetry by the De Luccis is characterized by boldly scrolled ribbons, exuberant floral patterns and highly ambitious pictorial scenes. It is also worthwhile considering a pair of very similar tables on almost identical bases illustrated by Santini, op. cit., p. 149, plates 103-195.
Also see a related pair of console tables sold Sotheby's, Florence, 11th-12th May 1985, lot 36. Another table with Turkish figures on the top was sold Finarte, Milan, March 1967, lot 36.
Sotheby's. Arts of Europe. London | 10 juil. 2013, 02:00 PM - www.sothebys.com