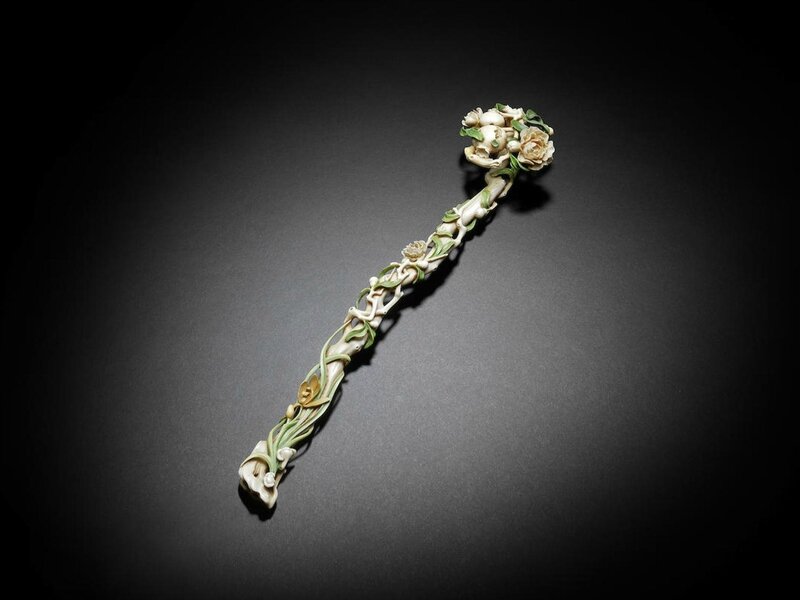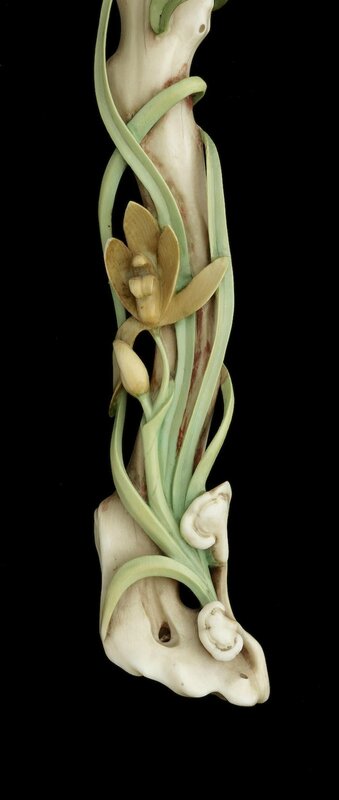 Lot 107Y. A rare 'Guangzhou imperial tribute' stained ivory 'peony and pomegranate' ruyi sceptre, Qianlong period (1736-1795). Sold for £35,000 (€45,700). Photo: Bonhams.
Exquisitely carved in relief and openwork as a gnarled tree branch bearing auspicious lingzhi fungus and naturalistically rendered sprays of flowering narcissus with long leafy stems to one end, the arched shaft entwined with subsidiary branches and gracefully curling leaves stained in bright green, scattered with small blossoming peony flowers and buds, raising to a large interweaved cluster of blooming peonies, flower buds and splitting pomegranates forming the ruyi head.35cm (13 3/4in) long
Provenance: a European private collection, acquired between 1960-70, and thence by descent
Notes: The meticulous carving of the present ruyi is exceptionally rare. It demonstrates the high level of craftsmanship available in the 18th century and distinguishes this example from many other sceptres carved as plants.

The word 'ruyi' (如意) can be translated as 'as you like', which symbolises the wishes of good fortune and longevity. The Qianlong emperor highly rated ruyi sceptres as auspicious gifts, made in various materials including jade, wood, hardstones, lacquer and other materials. Several ruyi sceptres are also included in the famous Guwan tu painting (Pictures of Ancient Playthings) in the Victoria and Albert Museum no.E.59-1911, which illustrates the Qing Court interest in ruyi sceptres.

Compare a related stained ivory ruyi sceptre, Yongzheng/Qianlong, exhibited in the Hong Kong Museum of Art and illustrated in Splendour of the Qing Dynasty, Hong Kong, 1992, pl.270. See also related examples of sceptres in the form of gnarled leafy branches made in different materials in the Palace Museum, illustrated by E.Rawski and J.Rawson, China: The Three Emperors 1662-1795, London, 2005, pp.366-369, nos.273 and 275. Compare also a carved openwork stained ivory ruyi sceptre, sold at Christie's Hong Kong, 27 November 2013, lot 3351.
Bonhams. AUCTION 23237: FINE CHINESE ART, LONDON, NEW BOND STREET