A group of ceremonial tubes , most produced by the Liangzhu culture 良渚 (ca. 3300-2250 BCE), Late Neolithic period, ca. 5000-1700 BCE, Jade (nephrite), Gifts of Charles Lang Freer, Arthur M. Sackler, and Dr. Paul Singer. © 2016 Smithsonian Institution
WASHINGTON, DC.- The Smithsonian's Freer Gallery of Art and Arthur M. Sackler Gallery will launch a digital catalog, "Jades for Life and Death," from its extensive collection of one of the finest holdings of Chinese jades in the world Oct. 6. The first release, in a series of five volumes, will include more than 250 outstanding jades produced during the Chinese Stone Age (ca. 5000-1700 B.C.) drawn from the Freer and Sackler's collections, ranging from the Chinese Stone Age to the end of the Han dynasty (206 B.C.-220 A.D.). The online publication will be bilingual and incorporate research from the fields of art history, archaeology, geology and materials science, and take advantage of the rapidly evolving understanding of ancient China.
The jades included in the first release are searchable through customizable filter options that combine typological, historical, cultural, material and geographical details. The primary contents are jewelry and ceremonial objects such as ritual disks (bi) and tubes (cong), as well as symbolic tools that were found close to the body in tombs. The majority of the works were produced by the Neolithic Liangzhu culture (ca. 3300-2250 B.C.), which is now recognized as the most prolific and advanced center for jade production in ancient China. Despite the significance of these objects, they have never been featured in a catalog such as those created for other major jade collections in China and the West.
Chinese archaeological discoveries continue to underscore the importance of the Freer and Sackler's works. The pace of research internationally amplifies the need for a scholarly catalog that is both interdisciplinary and digital. This digital catalog allows for immediate revision and expansion as new archeological sites and jade objects are discovered; new scholarly resources can also be added relatively easily.

"A digital platform like this facilitates easier communication with our archaeological colleagues working in China," said Keith Wilson, the Freer and Sackler specialist who conceived this online publication. "The hope is that Chinese archaeologists will help us understand our objects, which were acquired in the early 20th century without a clear record of their original burial context."

Given the size of the collection and the amount of scholarship and archival material that will be shared, "Jades for Life and Death" will be produced serially. Each of the anticipated five volumes is composed of five units:

• Objects comprise both the individual object entries and the filtered search tool designed to access groups of related pieces

• Places is where provenanced museum objects and archaeological discoveries are linked dynamically to a Google Map of China

• People will offer biographical information on previous owners, dealers and researchers who significantly contributed to the museum's knowledge of early jades (currently under development); in the future, practicing archaeologists in the field will be added

• Essays in English and Chinese provide in depth topical research directly related to the collections

• Resources aiding research include Freer and Sackler archival materials, relevant past publications available in their entirety, a comprehensive bibliography, and links to on-line assets like the Google Cultural Institute

The 250 detailed entries in the first volume are joined by four essays on the history of the collection, scientific studies and a survey of archaeological work on the Neolithic Liangzhu culture in China by its leading excavator. Each entry also includes links to related objects in the Freer and Sackler collection and elsewhere as well as associated documentation such as purchase records and other archival materials. This digital approach offers numerous advantages, including an almost limitless capacity for images and content that ranges from historiographic to archaeological.

The next volume in this series, scheduled for release in fall 2017, is dedicated to jades of the early Bronze Age, chiefly the Shang dynasty (ca. 1600-1050 B.C.). "Jades for Life and Death" has been generously supported by the E. Rhodes and Leona B. Carpenter Foundation. Additional funding has been provided by the Leon Levy Foundation.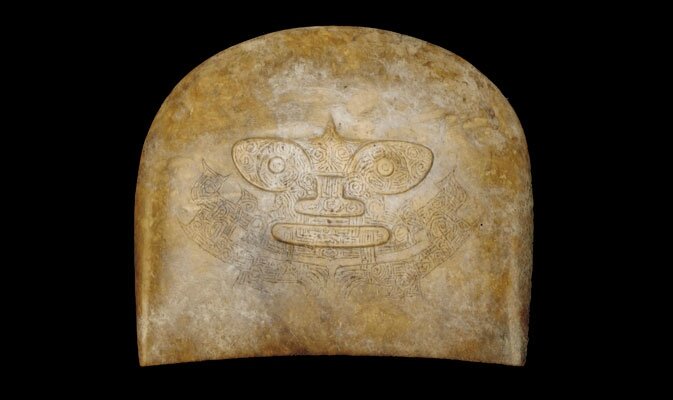 Head ornament, China, late Neolithic period, Liangzhu culture, ca. 3300-2250 BCE. Jade (nephrite). Gift of Charles Lang Freer F1916.511. © 2016 Smithsonian Institution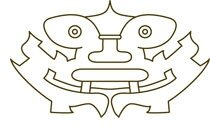 Since the earliest of times, jade was treasured as a material of status in China. This rare and beautifully colored stone was transformed into bracelets, pendants, head ornaments, and other forms of jewelry. Some of the examples found in Liangzhu culture tombs must have played a ritual function, for many pieces bear a mask motif that is also commonly found on objects surely created for burial rites. Craftsmen meticulously ground away the surface surrounding the masks to emphasize the large eyes and oblong mouth in relief.
Cong, China, late Neolithic period and Shang dynasty, ca. 3300-1050 BCE. Jade (nephrite). Gifts of Charles Lang Freer
.
© 2016
Smithsonian Institution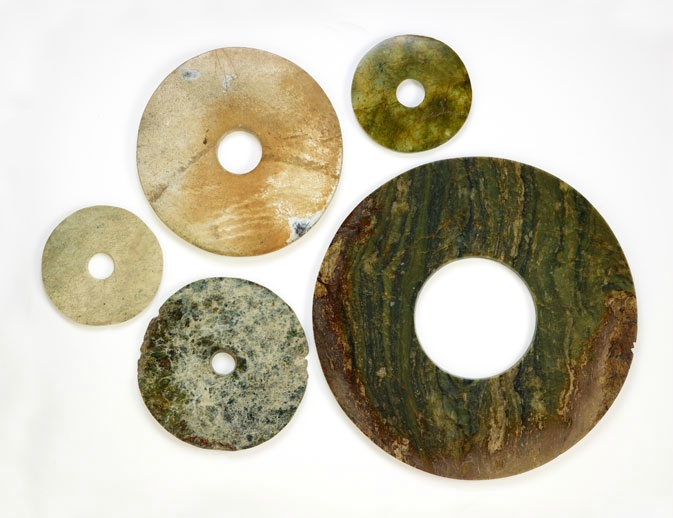 Bi, China, late Neolithic period, Liangzhu culture, ca. 3300-2250 BCE. Jade (nephrite). Gifts of Charles Lang Freer. © 2016 Smithsonian Institution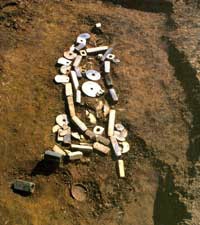 Although the circular shape of these bi resemble earlier jade pendants, their sheer size and weight make them impossible to wear. Such disks most likely held a ritual significance since thousands of them have been found at Liangzhu burial sites. The ones fashioned from finer jade and smoothed to a lustrous polish were typically placed nearest the deceased's body, while those of lesser-quality stone and with unfinished surfaces were often arranged in short stacks below the feet.Cong were sometimes arranged in a circle around the body, and ceremonial axes made of jade were interred with the deceased.
The finest Liangzhu bi (pronounced bee) were crafted from dark, even-grained nephrite. They were meticulously shaped with a circular edge and a central hole, signs of great patience and skilled workmanship. Perhaps more interesting are the imperfectly shaped disks. Some still retain evidence of the jade boulder's rough edges. Others preserve traces of tool marks, such as the shallow cuts that resulted from string saws methodically rubbing back and forth across the flat stone surface thousands of years ago.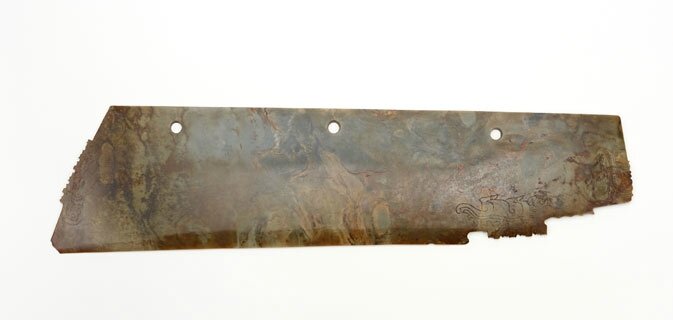 Ceremonial Harvesting Blade, China, late Neolithic period, Longshan culture, ca. 2000-1700 BCE. Jade (nephrite). Gift of Charles Lang Freer F1918.1.1
.
© 2016
Smithsonian Institution