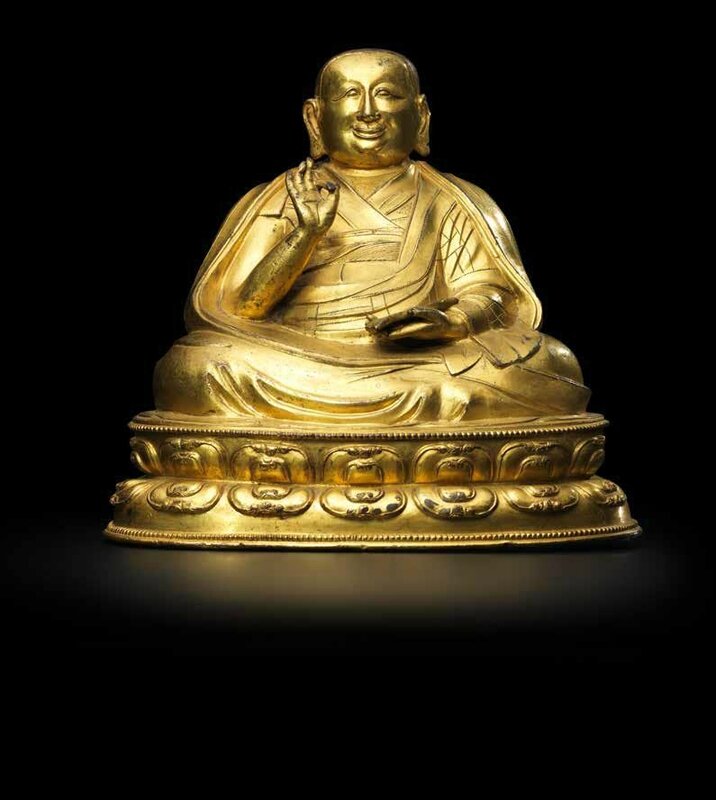 Lot 3290. A gilt copper alloy figure of the second Dalai Lama, Gendun Gyatso Pelzangpo, Tibet, late 16th-17th century. Estimate USD 100,000 ~ 150,000. Sold for US$ 199,500 (€184,688). Photo: Bonhams.
Inscription (on book held in hand) translated: 'Here lie the Father and Son teachings of the Kadam'. 7 7/8 in. (20 cm) high
Himalayan Art Resources item no.2280
Note: There can be no mistaking his likeness to the stout, broad featured, smiling figure within the Museum Rietberg, identified by inscription as the Second Dalai Lama, Gendun Gyatso Pelzangpo (1475–1542). Moreover, while the Rietberg example unusually depicts him holding a vase, the Narthang woodblocks, which inspired generations of painted copies, depict the Second Dalai Lama holding a book instead (cf. HAR set no.965).

Almost as wide as he is tall, the Dalai Lama is cast with an extraordinary sense of volume and presence. His joyful expression draws the eye, and is flanked by a pair of big earlobes often considered auspicious in Chinese culture. He holds the teachings of the ancient Kadam order, which the Gelug claimed to revitalize as they sought to trace their teaching lineages back to an Indian root in the Kadam's founder, Atisha (982-1054).

The office of the Dalai Lama was formally established in 1578, which suggests a date no earlier for the bronze and the Ngok Loden Sherab from the same atelier (lot 89). Another from the same workshop is published in von Schroeder, Indo-Tibetan Bronzes, Hong Kong, 1981, pp.448-9, no.122G.
Published: Portraits of the Masters, pp.308-9, no.84.

Published & Exhibited: Monasterios y Lamas del Tibet, p.215, no.186.

Provenance: Sotheby's, New York, 26 March 1998, lot 144.
Bonhams. PORTRAITS OF THE MASTERS, 108 Bronze Sculptures of the Tibetan Buddhist Lineages, 14 Mar 2017, New York