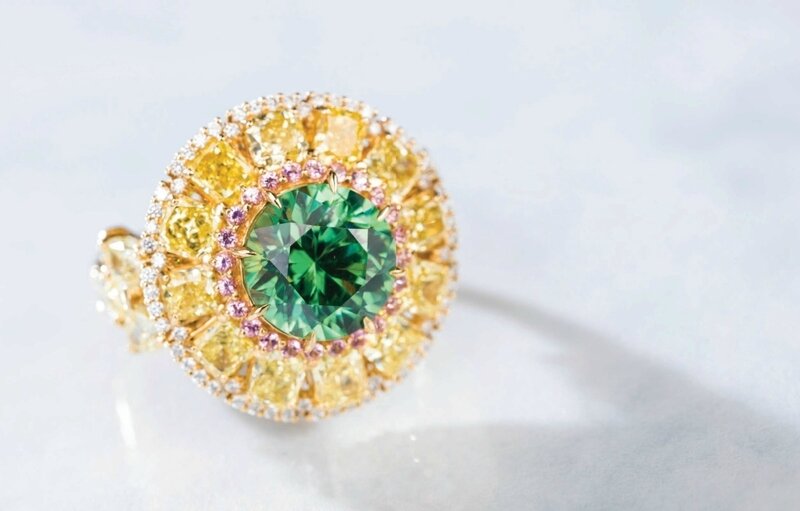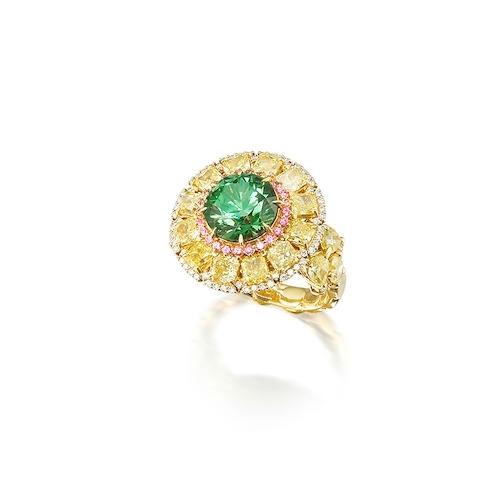 Lot 550. A 3.88 carats Russian Oural Demantoid Garnet, Gem-set, Coloured Diamond and Diamond Ring, by Tsarina. Estimate HK$ 240,000 - 320,000 (€26,000 - 35,000). Photo: Bonhams.
The circular-cut demantoid garnet, weighing 3.88 carats, surrounded by radiant-cut diamonds of yellow tint, accented by circular-cut pink spinels and brilliant-cut diamonds, to a half hoop set with similar, pear and oval-cut diamonds, some of yellow tint, diamonds approximately 4.70 carats total, maker's mark, ring size 6¾
Accompanied by a GRS report stating that the natural demantoid garnet is 'Green with dispersion colours of Orange, Red and Blue', has no indications of thermal treatment and originates from Ural (Russia). Report number GRS2016-070130, dated 15 July 2016.
Note: Demantoid garnets are highly acclaimed members of the andradite family and are considered to be the noblest among the garnet family. Demantoid garnets were first discovered in the Russian Ural Mountains in the 1850's along the shores of the Bobrovka River, but were identified at the time as peridot.
A Finnish mineralogist, Nils von Nordensheld, later declared the gems were in fact a new mineral, and he spoke before the St. Petersburg Mineralogical Society in February 1864, pronouncing the new discovery of rich green hue to be an andradite variety of garnet. Due to its high refractive index and dispersive powers, similar to that of a diamond, the new found mineral earned its name, Demantoid (diamond-like). Of particular note, the horsetail inclusion found only in Russian demantoid garnet, is a unique and highly desirable clarity characteristic.
The mines in the Ural mountains were nearly exhausted by 1905, and by 1917 the onset of the Revolutionary War in Russia resulted in the near-end of demantoid garnet production. Thereafter, most gems were found in the Bobrovka River in the 1970s and 1980s.
Admired as the most distinguished of gemstones, Demantoid garnets were frequently used in delicate works by master Russian jeweller, Peter Carl Faberge, and often used to great effect in Art Nouveau and Art Deco jewels by Tiffany and Co.
Most demantoid garnets are less than 1 carat, however there are rare, larger exceptions. Today, Russian demantoid garnets are considered a rare gemstone which is treasures by collectors.