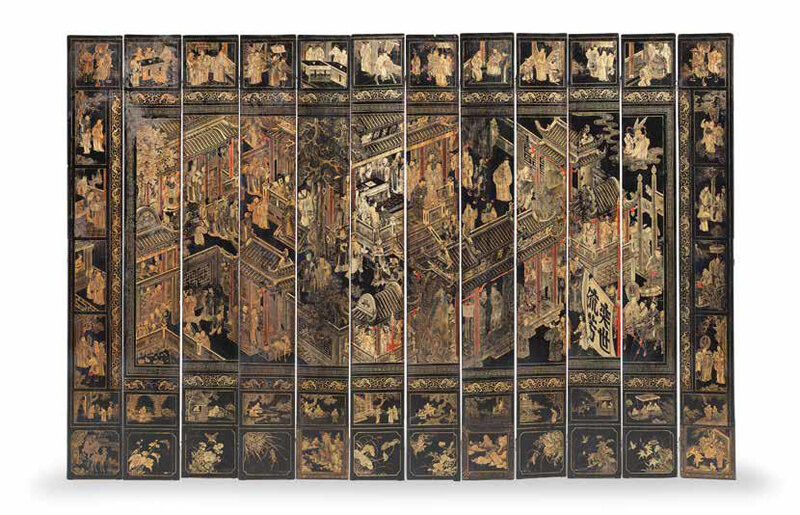 Lot 80. A twelve-leaf lacquer 'palace' screen, Qianlong, ciclycally dated to the Gengyin year, corresponding to 1770 and of the period; 221cm (87in) high x 338cm (133in) wide. Estimate £10,000 - 15,000. Sold for £ 23,750 (€ 27,189) inc. premium. © Bonhams 2001-2018
Finely painted with palace scenes filled with courtiers, musicians, and ladies, in the central palace named the Wen ye dian sits a Daoist dignitary before a Yin Yangsymbol, while a minister proffers a tortoise shell for divination, on the far right a deity descends on a cloud, a soldier carries a flag with the phrase 'yi shi liufang' meaning to 'leave a good name for generations to come', all bordered by further square panels with scenes of scholars, the lower register with flowers and birds, the reverse with the Eight Immortals at the far ends framing a lengthy calligraphic inscription between panels with auspicious shou characters in three different calligraphic scripts. 12
Note: The present lot is rare for its unusual depiction of palatial settings with a deity descending on the far right, perhaps Geruda. Palace scenes usually depict the General Guo Ziyi (697-781) receiving birthday gifts. Other scenes with palaces may relate to the Romance of the Three Kingdoms or depictions of the 'Spring Morning in the Han Palace' if all the figures are female. For examples see W.De Kesel and G.Dhont, Coromandel: Lacquer Screens, Ghent, 2002, pp.32-57.
The palace in this screen is named the Wenye dian (文葉殿). This could be referring to a scene from the book Huangming shi qie (皇明史竊) by the Ming dynasty writer Yi Shouheng 尹守衡 (1549-1631) describing a coronation or the choosing of an heir. While many screens usually have flags with the character 'leader' (shuai 帥), if the scene relates to the choosing of an heir it would explain the message from the flag in the present lot that reads 'leave a good name for generations to come' (奕世流芳).
The inscription on the reverse of the screen written by Yang Lianchang 陽聯長 from Guangzhou (according to the inscription he passed the Imperial examinations in 1741) makes clear that it was meant as a birthday gift to Rui Wengren 瑞翁仁.