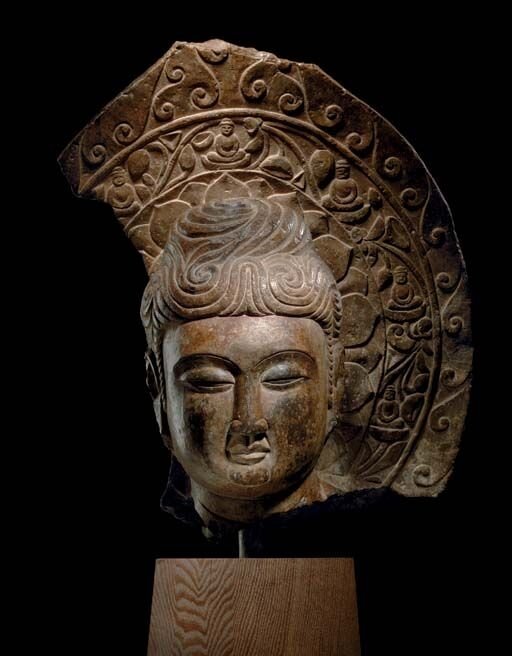 Lot 222. A rare dark grey stone head of Buddha, Tang dynasty (618-907); 19¾ in. (50.2 cm.) high. Estimate USD 300,000 - USD 400,000. Price realised USD 712,000. © Christie's Images Ltd 2007.
The face crisply carved with small mouth and chin, straight nose and elongated almond-shaped eyes below the arched brows, the hair deeply carved in coiled waves continuing into a large coiled wave covering the round usnisa, the head framed by a flame-formmandorla carved with a band of overlapping lotus petals, a band of small Buddha figues seated amidst lotus plants, and an outer border of scrolling flames, the dark grey stone now with a yellowish-buff patina, wood stand.
Provenance: Prince Kamakura.
Collection of Mrs. Kasen Kawamura, Tokyo.
Gump's, San Francisco, 1957.
Stephen Junkunc III.
Exhibited: Tokyo, Ueno Park, Japan Art Club, 22 - 27 November 1932.
Note: This magnificent head of Buddha compares well stylistically with a head dated to the Tang dynasty and identified as being originally from the Longmen Cave site illustrated in Chuugoku bijutsu - Ten; Zui to no bijutsu, Osaka Municipal Art Museum, 1976, p. 40, no. 3-5. Both heads display similar carving of the facial features, especially of the small pursed mouths, obliquely cut eyes and curved brows, as well as in the shape of the faces with their full cheeks and small rounded double chins. The curls of the hair of the Longmen head are tighter than those of the present head, which are broader, and display more of a sweeping quality.

The striking, crisply carved mandorla framing the present head is similar to that which is part of a limestone torso of Buddha in the Osaka Museum illustrated ibid., p. 44, no. 3-36. Like the present mandorla, the mandorla of the Osaka Buddha has an inner band of overlapping lotus petals and an outer band of small meditating Buddha figures seated amidst floral scroll, all set within a band of scrolling flames. A marble head of Buddha dated to the Nothern Qi dynasty was included in the exhibition, Ancient Chinese Sculpture, Eskenazi, London, 11 December - 24 December 1981, no. 4, which was framed by a similar mandorla consisting of an inner band of stylized curling lotus leaves and an outer band of small meditating Buddhas seated among lotus tendrils. Compare, also, the similar mandorlaframing the head of a seated figure of Buddha dated by inscription to AD 639 in the Fuju Yurin Museum, Kyoto, illustrated by S. Mizuno, Bronze and Stone Sculpture of China from the Yin to the T'ang Dynasty, Tokyo, 1960, no. 72. The mandorla of the Fuju Yurin figure, however, has an extra band of arabesque designs set in between the inner band of lotus petals and the outer border of small Buddha figures seated amidst lotus plants.
Christie's. Fine Chinese Ceramics & Works of Art, New York, 22 March 2007