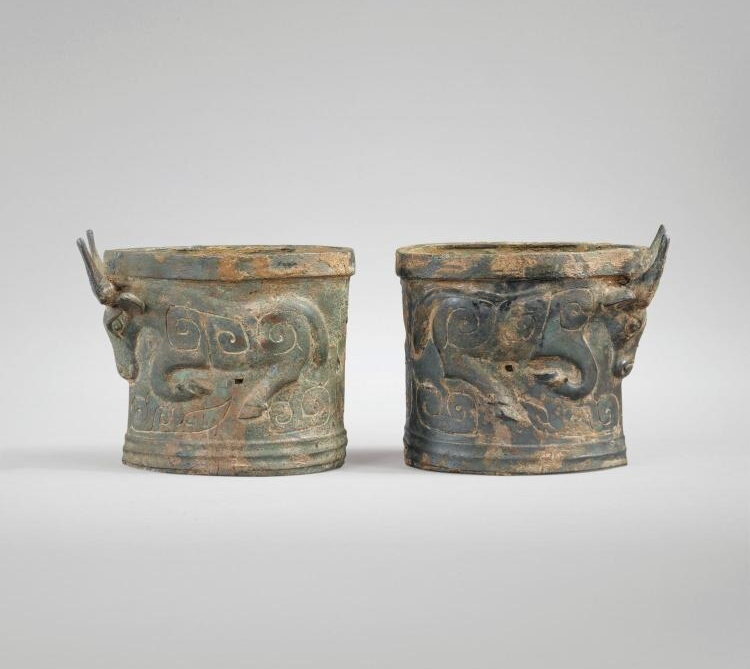 Lot 34. Deux Garnitures de char en Bronze, Dynastie des Zhou Occidentaux; Larg. 12,8 cm. Estimation 10,000 — 15,000 EUR. Lot Vendu 65,000 EUR. Courtesy Sotheby's 2015.
de section ovale se terminant en pointe devant, d'où surgit une tête de bovidé aux cornes saillantes, le corps de l'animal représenté de profil sur les côtés, les pattes avant repliées sous lui, les pattes arrière légèrement tendues soulignées de lignes formant des enroulements, la queue large et courte à l'extrémité pointue, les bords supérieurs soulignés d'un léger bourrelet, l'arrière agrémenté d'une ouverture et d'un motif stylisé évoquant une cigale, la patine de couleur verte avec quelques incrustations, D.W 36/7 et D.W. 35/64 (2).
Provenance: Discovered in North-western China (according to David-Weill's notes).
Note: In his notes on these two pieces, David David-Weill mentions that another bronze axle cap fitting of this type and design was owned by C.T. Loo, and that both fittings had been purchased in China from a 'Christian general'.
Sotheby's. Trésors de la Chine ancienne de la collection David David-Weill, Paris, 16 Dec 2015