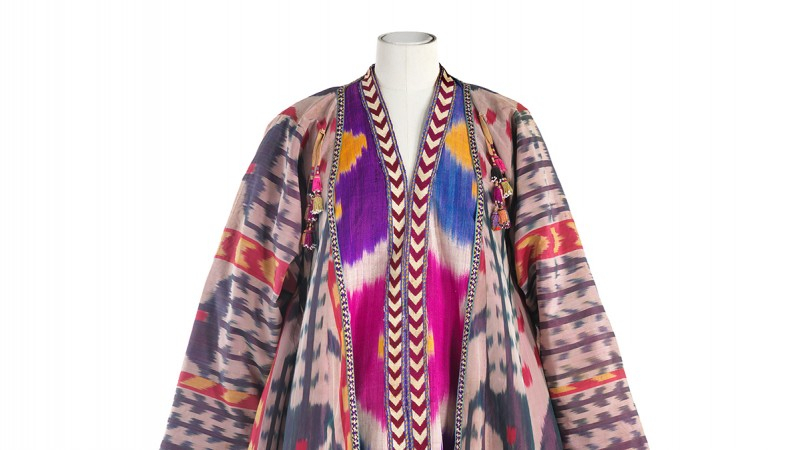 Power of Pattern: Central Asian Ikats from the David and Elizabeth Reisbord Collection.
LOS ANGELES, CA.- The Los Angeles County Museum of Art presents Power of Pattern: Central Asian Ikats from the David and Elizabeth Reisbord Collection. On view February 3–July 28, 2019, the exhibition showcases over 60 examples of visually dynamic Central Asian ikat robes and wall hangings. Organized by motif, Power of Pattern examines how the region's textile designers, dyers, and weavers used improvisation and abstraction to create textiles unique to Central Asia. The objects on view are drawn solely from the collection of Dr. David and Elizabeth Reisbord. On the occasion of the exhibition, LACMA announced the acquisition of all the ikats on display, a generous gift from the Reisbords, strengthening the museum's encyclopedic costume and textiles collection. Power of Pattern is curated by Clarissa M. Esguerra, associate curator, Costume and Textiles.

Central Asian ikat textiles are a testament to the power of pattern and are influenced by the various cultures along the historic Silk Road. Employing creative use of scale, proportion, and orientation, with hues that are compelling in their purposeful contrast, these luxury fabrics functioned as beacons of kaleidoscopic color that reflected the wealth and sophistication of its patrons. During the 19th and early 20th centuries, the region experienced a renaissance in ikat, a technique where silk threads were bound and resist-dyed with a design before weaving into cloth. The result were vivid patterns with blurred, cloud-like juxtapositions of color, known locally as abrbandi (literally "cloud binding"). When worn on the body or decorating the home, these textiles resonated against the Central Asian landscape.

Surrounded by present-day Iran, Afghanistan, India, China, Mongolia, and Russia, Central Asia generally refers to the countries of Kazakhstan, Kyrgyzstan, Tajikistan, Turkmenistan, and Uzbekistan. This landlocked Eurasian ecoregion was for thousands of years the center of active trade and conquest that carried various design elements adapted in the area. Though ikat is an ancient textile tradition, 19th-century artisans from oasis towns experimented with textile patterns that recalled motifs that had become prevalent in daily life and nature and traditionally found in the decorative objects produced in the region.
Woman's Ensemble, Central Asia, late 19th–early 20th century, Los Angeles County Museum of Art, gift of David and Elizabeth Reisbord, photo © Museum Associates/LACMA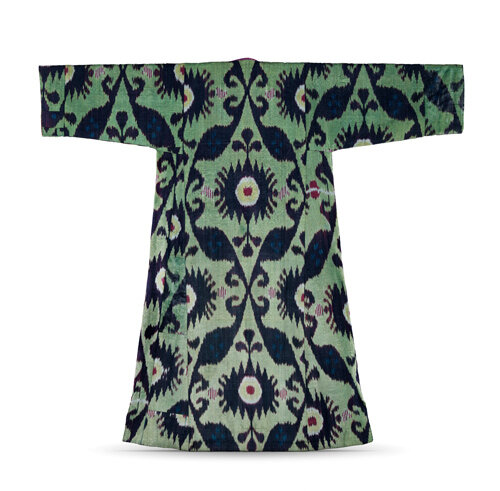 Robe (Chapan), Central Asia, late 19th century, Los Angeles County Museum of Art, gift of David and Elizabeth Reisbord, photo © Museum Associates/LACMA
Man's Ensemble, Central Asia, second half of the 19th century, Los Angeles County Museum of Art, promised gift of David and Elizabeth Reisbord, photo © Museum Associates/LACMA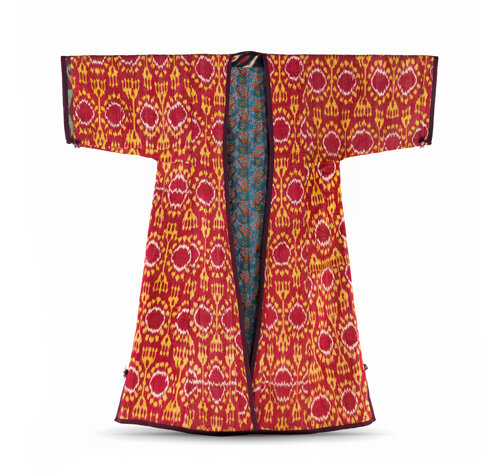 Robe (Chapan), Central Asia, third quarter of the 19th century, Los Angeles County Museum of Art, promised gift of David and Elizabeth Reisbord, photo © Museum Associates/LACMA
Ikat (detail), Central Asia, late 19th–early 20th century, Los Angeles County Museum of Art, gift of David and Elizabeth Reisbord, photo © Museum Associates/LACMA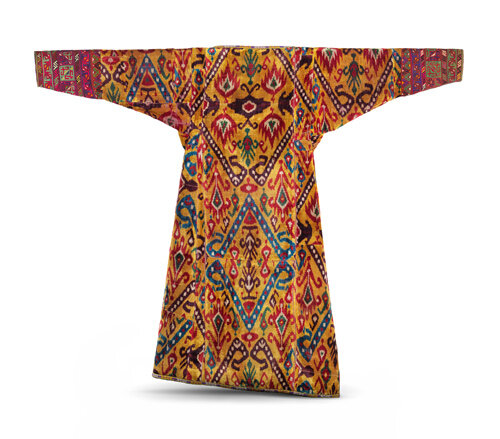 Ikat, Central Asia, late 19th–early 20th century, Los Angeles County Museum of Art, gift of David and Elizabeth Reisbord, photo © Museum Associates/LACMA
Ikat, Central Asia, late 19th–early 20th century, Los Angeles County Museum of Art, gift of David and Elizabeth Reisbord, photo © Museum Associates/LACMA
Ikat, Central Asia, late 19th–early 20th century, Los Angeles County Museum of Art, gift of David and Elizabeth Reisbord, photo © Museum Associates/LACMA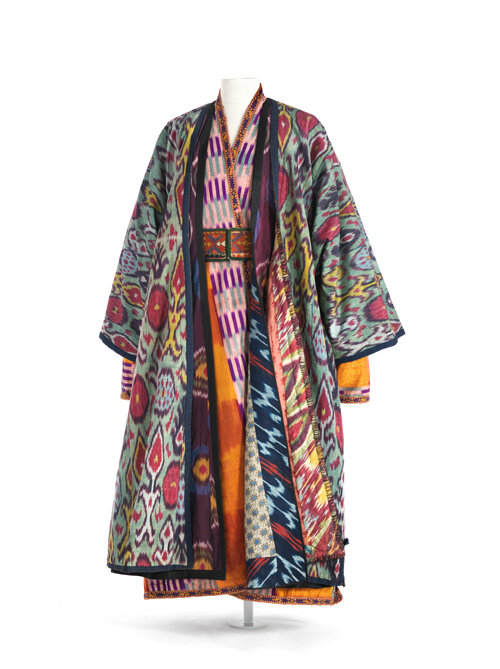 Ikat, Central Asia, late 19th–early 20th century, Los Angeles County Museum of Art, gift of David and Elizabeth Reisbord, photo © Museum Associates/LACMA
Ikat (detail), Central Asia, late 19th–early 20th century, Los Angeles County Museum of Art, gift of David and Elizabeth Reisbord, photo © Museum Associates/LACMA
Ikat, Central Asia, late 19th–early 20th century, Los Angeles County Museum of Art, gift of David and Elizabeth Reisbord, photo © Museum Associates/LACMA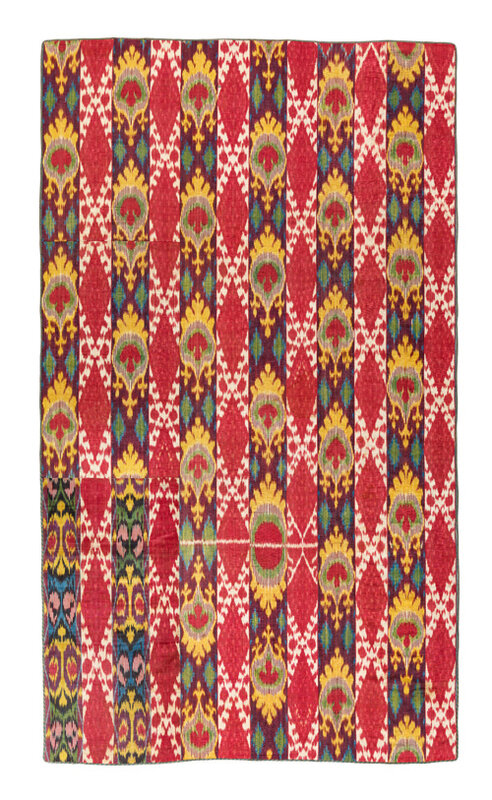 Ikat, Central Asia, late 19th–early 20th century, Los Angeles County Museum of Art, gift of David and Elizabeth Reisbord, photo © Museum Associates/LACMA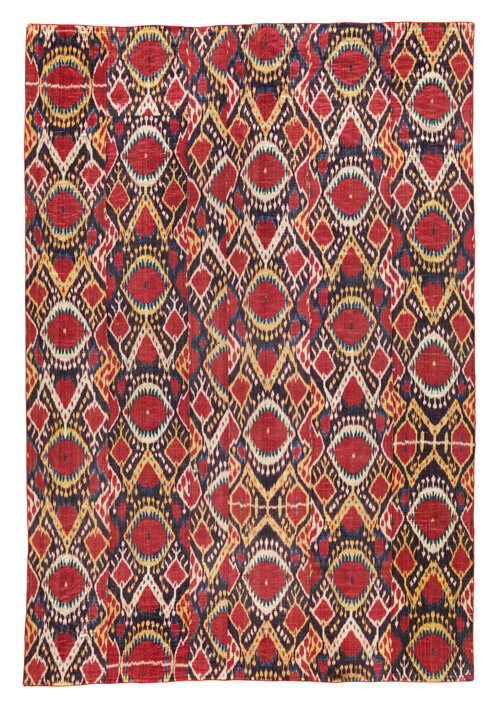 Ikat, Central Asia, late 19th–early 20th century, Los Angeles County Museum of Art, gift of David and Elizabeth Reisbord, photo © Museum Associates/LACMA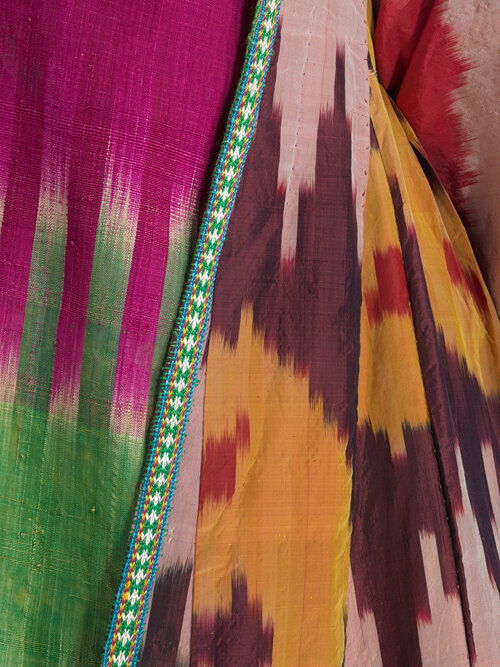 Ikat, Central Asia, late 19th–early 20th century, Los Angeles County Museum of Art, gift of David and Elizabeth Reisbord, photo © Museum Associates/LACMA
Ikat, Central Asia, late 19th–early 20th century, Los Angeles County Museum of Art, gift of David and Elizabeth Reisbord, photo © Museum Associates/LACMA