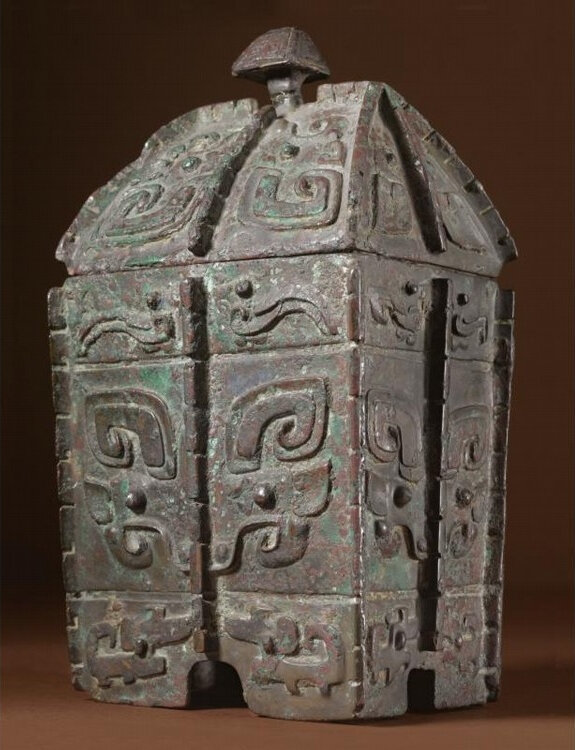 Lot 505. A rare archaic bronze wine vessel and cover, fangyi, Late Shang Dynasty, 13th - 11th Century BC; Height 8 in., 20.3 cm. Estimate 150,000 — 250,000 USD. Lot sold 144,000 USD. Photo: Sotheby's.
the thin walls of the four-sided vessel cast on each side in raised relief with a central panel of a taotie animal mask with protruding eyes and centered on a raised notched flange, set between a top register containing a pair of confronting long-tailed birds, and a pair of confronting dragons skirting the foot and separated by a small open arch, all reserved on a plain ground and further divided on the corners with vertical notched flanges, the tectiform cover similarly cast with inverted masks on each side and surmounted by a knop echoing the form of the cover and cast with two small masks, the olive-green patina covered with light malachite and cuprite encrustation, one wall of the interior of the vessel cast with a single pictogram (2).
Provenance: Collection of Arthur B. Michael, Newton Center, MA (bequest of 1942).
Collection of Albright-Knox Art Gallery, Buffalo, New York, no. 1942:16.280.
Exhibited: Far Eastern Art in Upstate New York, Herbert F. Johnson Museum of Art, Cornell University, Ithaca, Albany, Utica, Syracuse, Rochester and Buffalo, 1976-1977, cat.no. 5.
Literature: Steven A. Nash, with Katy Kline, Charlotta Kotik and Emese Wood, Albright-Knox Art Gallery: Painting and Sculpture from Antiquity to 1942, Buffalo, 1979, p. 98.
Note: The pictogram on this vessel depicts a clan sign representing a ram's head.
Fangyi of this form and decoration belong to the Anyang period of the Shang dynasty, although the present vessel is unusual for bearing the taotie mask and bird and dragon decoration against a plain ground instead of the tightly woven background of the leiwen pattern commonly found on Shang bronzes. The decoration appears bolder in this manner emphasizing the beautiful shape of the vessel rather than the rich nature of the design. Only one other closely related example can be found illustrated in Jung Keng, 'The Bronzes of Shang and Chou,' vol. 2, Yenching Journal of Chinese Studies, Monograph Series no. 7, Beijing, 1941, pl. 594. A larger, more robustly cast fangyi with animal masks on a plain ground was sold in our London rooms, 6th December 1983, lot 18 and is now in the Bella and P. P. Chiu Collection in Jessica Rawson, The Bella and P.P. Chiu Collection of Ancient Chinese Bronzes, Hong Kong, 1988, pp. 46-7, no. 9.
Ritual vessels of this type were used for storing wine or grain and appear to derive their shape from wooden rather than ceramic models. A fangyi of this form and design but with the leiwen background was found in Fu Hao's tomb at Xiaocun, Anyang in Henan province and is illustrated in Shang Ritual Bronzes in the National Palace Museum Collection, Taipei, 1998, fig. 94:1. See also a fangyi in the British Museum, London, included in Jessica Rawson, Chinese Bronzes. Art and Ritual, London, 1987, fig. 8; one in the Hakutsuru Museum, Kobe, published in Zhongguo qingtongqi quanji, vol.4, Beijing, 1997, pl. 73; one in the Shanghai Museum included in Zhongguo wenwu jinghua daquan. Qingtongqi juan, Hong Kong, 1994, pl. 0144; and another in the Metropolitan Museum of Art illustrated in Robert W. Bagley, Shang Ritual Bronzes in the Arthur M. Sackler Collections, Cambridge, Mass., 1987, pl. 78.
Compare also a fangyi, from the collection of Gladys Lloyd Robinson and included in the exhibition Ancient Ritual Bronzes of China, Los Angeles County Museum of Art, Los Angeles, 1976, cat.no. 17, sold in these rooms, 23rd October 1976, lot 118; and another, from the Mottahedeh Collection, also sold in these rooms, 4th November 1978, lot 318.
See a Shang zhi decorated with the taotie design against plain ground, in the Royal Ontario Museum, Toronto, illustrated in Bagley, op.cit., fig. 49.5; and a zun also with taotie decoration on plain ground in The Metropolitan Museum of Art, ibid., pl. 50.
Sotheby's. Fine Chinese Ceramics and Works of Art, including Property from the Collection of the Albright-Knox Art Gallery, Buffalo, New York, 19-20 march 2007