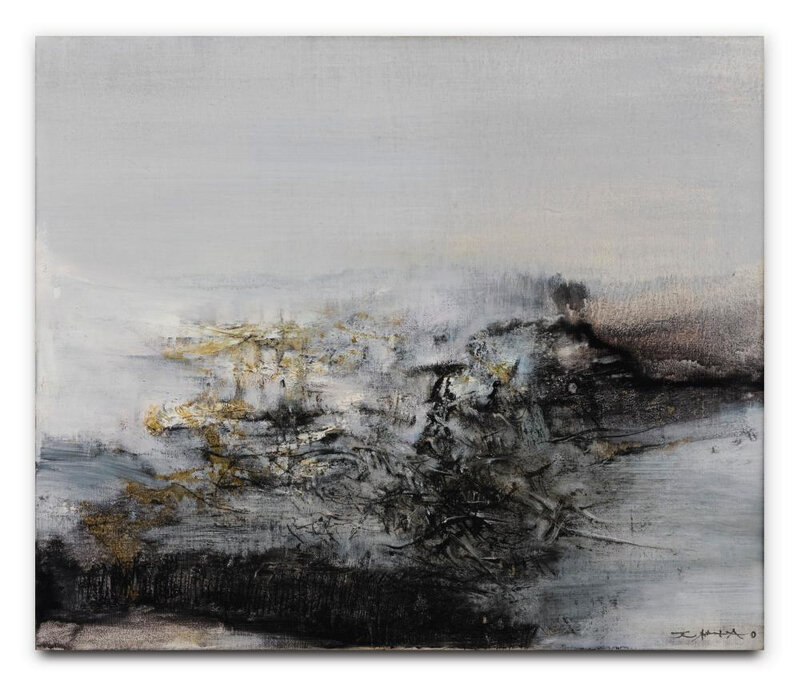 Lot 21. Zao Wou-Ki (1921 - 2013), 5.6.66, signed, signed in Chinese; signed, titled on the reverse , oil on canvas, 46 x 55 cm; 18 1/8 x 21 5/8 in. Executed in 1966. Estimate €500,000 - €700,000. Courtesy Sotheby's.
The authenticity of this work has been confirmed by the Fondation Zao Wou-Ki. The work will be included in the forthcoming Catalogue Raisonné currently being prepared by Françoise Marquet and Yann Hendgen. It is accompanied by a certificate of authenticity.
Provenance: Galerie de France, Paris
Private Collection, Paris (acquired in 1967)
Thence by descent to the present owner
Exhibited: Paris, Galerie de France, Zao Wou-Ki, Peintures et Aquarelles, 1967; catalogue, np.
Note: There is a unity in the composition of Zao Wou-Ki's work that makes it more than formal art. Because of the magnitude of his spaces and the echoes between the different parts of the paintings, our eye never gets bored, as if his shapes and colors followed the stream of thoughts that spurts at every glance, anticipating its flux and reflux. These qualities are probably what relates Zao Wou-Ki's painting to music composition, which requests the listener's attention without brutality, and interrupts daydream only to follow a forever changing path.
Sotheby's. Art Contemporain - Evening Sale, Paris, 05 Jun 2019, 07:00 PM