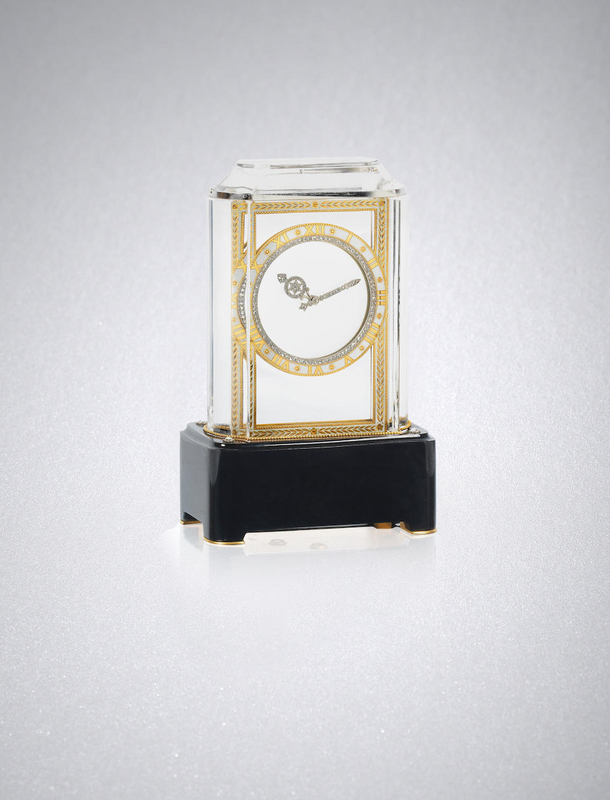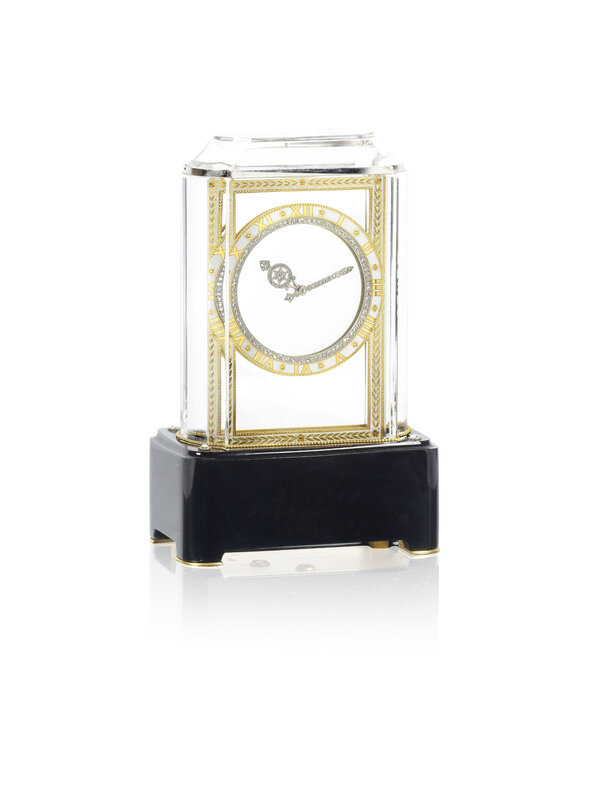 Lot 137. An art deco rock crystal, gold, agate, enamel and diamond-set 'Mystery Clock', by Cartier, 1919, Pendule Mysterieuse 'Model A' No 151. Estimate £ 150,000 - 250,000 (€ 180,000 - 290,000). Courtesy Bonham's.
The rectangular rock crystal case and rounded stepped pediment with bombé sides and bezelled edges, the double-sided white enamel frame applied with gold laurel leaf decoration, the annular chapter ring with Roman numerals interspersed with fleurette motifs, to an inner rose-cut diamond border and rose-cut diamond hands, on an agate base accented with rose-cut diamonds and gold bead work, the pediment a later replacement, base and movement signed Cartier, 13.5cm x 8.4cm x 5.0cm
Accompanied by a Certificate of Authenticity from Cartier, dated 16 December 2008.
Property from a European Private Collection.
Note: This is an extremely rare and early example of the first type of mystery clock produced by Cartier and master clockmaker Maurice Coüet, known as a 'Model A' - a name reminiscent of Henry Ford's 'Model T' car of the same period.

Cartier's 'pendule mystérieuses' or 'mystery clocks' were the result of a collaboration between Louis Cartier and Maurice Coüet, which capture the imagination through optical illusion and mystical elegance.

The clever illusion and 'mystery' is in the hands appearing to float in space without any connection to the movement.

In fact each hand is fixed onto a rock crystal disc. These discs have a tooth-edged border and are driven by worm screws fixed at the ends of two lateral axles working at the levels of 9 and 3 o'clock, which are cleverly concealed within the frame. The rotation of the axles is activated by the movement hidden in the base. It is therefore not the hands themselves that rotate, but the rock crystal discs that are attached to the hands that move at two different speeds, one for hours and one for the minutes.

The 'Model A' established Cartier's reputation in this field. Produced from 1913, the first 'Model A' was sold to financier J.P Morgan, before World War One suspended production until 1919.

Characterised by its sleek and transparent silhouette, the 'Model A' clock design is an example of Cartier's pioneering Art Deco aesthetic that became so popular with major international collectors. Each 'Model A' took on average a year to produce, and this particular 'Model A', dating from as early as 1919, presents a rare opportunity to purchase one of Cartier's most innovative and distinctive creations.
Bonham's. London Jewels, December 4, 2019 2:00 PM GMT