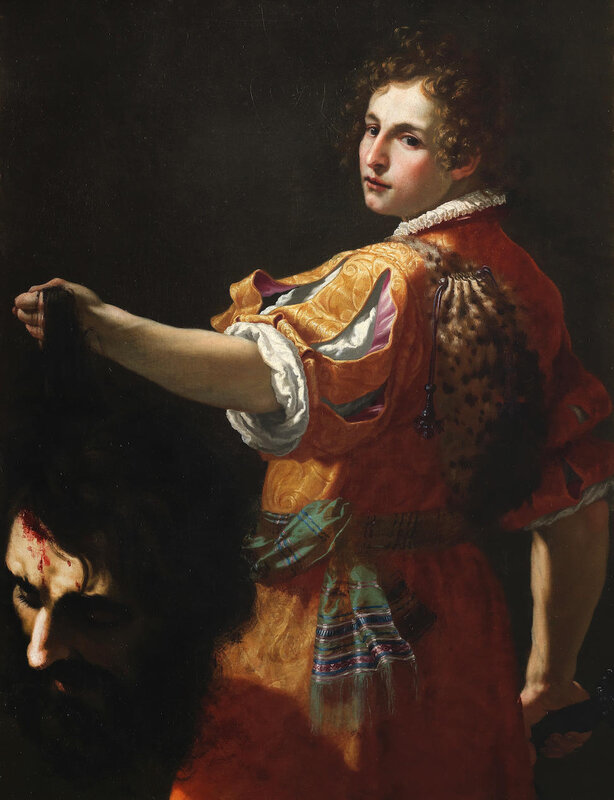 Lot 26. Jacopo Vignali (1592-1664), David with the Head of Goliath, oil on canvas, 113.5 x 87.5cm (44 11/16 x 34 7/16in). Estimate £ 150,000 - 200,000 (€ 170,000 - 220,000). Photo: Bonhams.
LONDON.- The Biblical story of how the shepherd boy David slew the mighty giant Goliath with a well-aimed shot from his sling has long appealed to religious and secular audiences alike as an example of the little man defeating the odds to come out on top. The subject has inspired some of the world's greatest works of arts including Michelangelo's and Donatello's sculptures in Florence where they became symbols of a resilient small City State standing up to its larger bullying neighbours. A newly discovered painting, David with the Head of Goliath, by the early Baroque Florentine painter Jacopo Vignali (1592-1664) leads Bonhams Old Master Paintings sale in London on Thursday 17 December. It has an estimate of £150,000-200,000.

In David with the Head of Goliath, painted in 1624, Vignali put a contemporary interpretation on the subject, marrying rich and colourful fabrics with the innovative pictorial drama that Caravaggio had recently made popular throughout Italy. Indeed, Caravaggio had himself treated the subject three times, between circa 1605 and 1610 in masterpieces which are now respectively in the Prado, Vienna and the Villa Borghese.

Bonhams Director of Old Master Paintings, Andrew McKenzie, said, "David with the Head of Goliath is a very exciting discovery. Vignali is regarded as the foremost Florentine painter of the 16th century and this work now takes its place as one of his masterpieces. Both the dramatic composition and outstanding quality of the painting – the remarkably delicate modelling of the flesh tones and the theatrical elegance of his simple composition – represents the height of Vignali's achievement."
Writing in the Winter Edition of Bonhams Magazine, the art critic Susan Moore said: "This Biblical David is not presented as a humble shepherd boy. Instead of being half-nude and wearing simple classical drapery, Vignali's David is sumptuously dressed in the fashionable costume of the day. He is neither jubilant nor compassionate. His expression suggests a distasteful job that had to be done. By this single courageous, brutal act, David saved Israel."

Other highlights of the sale include:
Lot 85. Jean Baptiste Greuze (Tournus 1725-1805 Paris), Portrait of Jeanne Philiberte Ledoux (1767–1840), half-length, in a white dress with a blue shawl, and holding a garland of flowers, oil on panel, 60 x 49.3cm (23 5/8 x 19 7/16in).. Estimate: £70,000-100,000 (€ 78,000 - 110,000). Photo: Bonhams
The subject of this charming portrait was a painter and pupil of Jean-Baptiste Greuze. Born in Paris in 1767, the daughter of the architect and writer Claude-Nicolas Ledoux. Philiberte exhibited her for the first time in public in 1793, when she showed three paintings in the Paris Salon. She is known for miniatures and portraits and was a frequent exhibitor until 1819.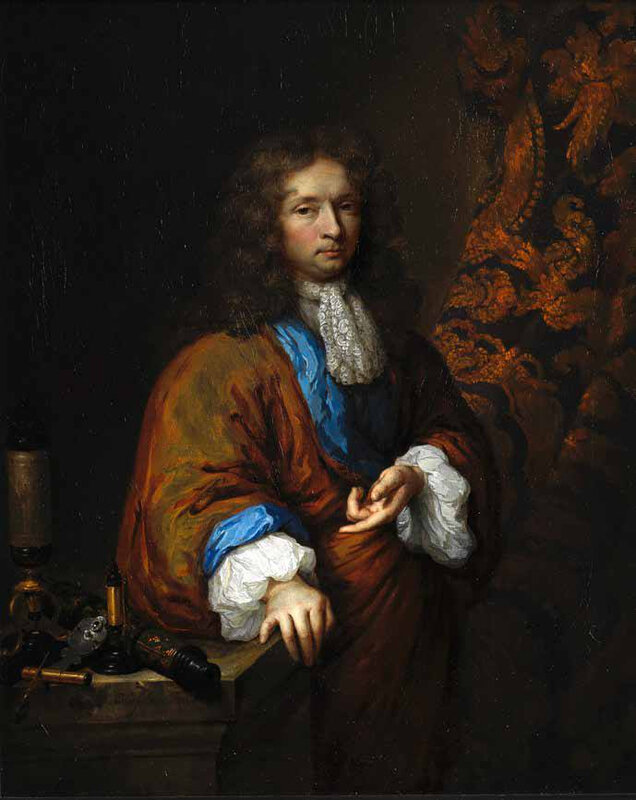 Lot 4. Caspar Netscher (Heidelberg 1639-1684 The Hague), Portrait of a gentleman scientist, probably Constantijn Huygens, half-length, standing beside a group of miscroscopes, signed and dated 'CNetscher.Fec. 1680' (lower left, CN in ligature), oil on canvas, 48.6 x 39.2cm (19 1/8 x 15 7/16in). Estimate: £7,000-10,000 (€ 7,800 - 11,000). Photo: Bonhams
A diplomat and diarist, Constantijn was known mostly for his work on scientific instruments and this portrait of him contains a very rare depiction of 17th century microscopes. He assisted his brother, Christiaan, (considered to be the most important scientist between Galileo and Isaac Newton) in the construction of lenses, and between 1683 and 1687 the two brothers developed larger and longer focal length telescopes. They were remarkably close in their collaboration, personally grinding lenses together, and, as a mark of their advanced thinking, were known to have discussed the possibility of extra-terrestrial life while at the telescope.