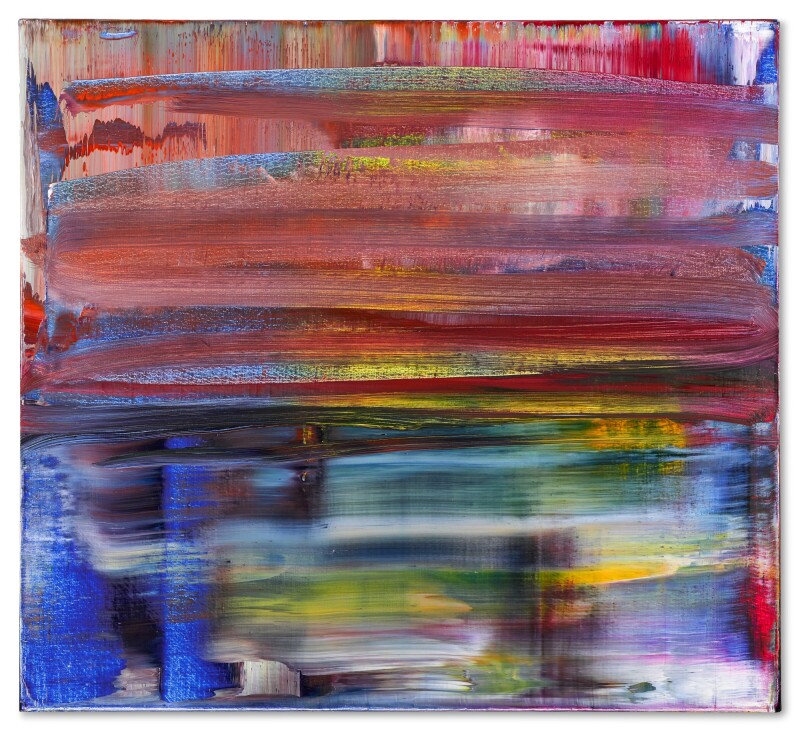 Lot 102. Gerhard Richter (b. 1932), Abstraktes Bild signed Richter, numbered 817-1 and dated 1994 (on the verso), oil on canvas, 51 by 56.1 cm. 20 by 22 in. Executed in 1994. Lot sold: 2,092,000 GBP (Estimate: 1,000,000 - 1,500,000 GBP). © Christie's 2022
Property from a Private European Collection.
Provenance: Anthony d'Offay Gallery, London
Private Collection, Switzerland (acquired directly from the above in 1995)
Christie's London, 21 June 2007, lot 334 (consigned by the above)
Private Collection (acquired from the above)
Christie's London, 9 May 2012, lot 201 (consigned by the above)
Acquired from the above by the present owner.
Literature: Exh. Cat. and Catalogue Raisonné, London, Anthony d'Offay Gallery, Gerhard Richter 1998, with a Catalogue Raisonné of Paintings 1993 - 1998, 1998, n.p., no. 817-1, illustrated in colour
Exh. Cat. and Catalogue Raisonné, Düsseldorf, K20 Kunstsammlung Nordrhein-Westfalen (and travelling), Gerhard Richter Catalogue Raisonné 1993 – 2004, 2005, n.p., no. 817-1, illustrated in colour.
Exhibited: London, Anthony d'Offay Gallery, Gerhard Richter, Painting in the Nineties, June – August 1995, pp. 29, no. 7, and 86, no. 33, illustrated in color.
Note: "A picture like this is painted in different layers, separated by intervals of time… The first, smooth, soft-edged surface is like a finished picture… I partly destroy, partly add to it... At that stage the whole thing looks very spontaneous, but in between there are long intervals of time. It is a highly planned kind of spontaneity." Gerhard Richter quoted in: Exh. Cat., London, Tate Modern, Gerhard Richter: Panorama, 2011, p. 131.
Executed in jewel-like tones of maroon, crimson and violet, Abstraktes Bild is a luminescent example of Gerhard Richter's epoch-defining abstract painting. Saturated with tonal vivacity, the surface of the present work reveals veils of lusciously viscous oil paint spectacularly applied into a mesmerizing confluence of gestural tides. The present painting is the first iteration within a cycle of five intimately-scaled Abstraktes Bilder measuring 51 by 56 centimeters, and numbered 817-1 to 817-5 in the artist's catalogue raisonné. The series debuted at Anthony d'Offay Gallery one year after they were executed during the exhibition Gerhard Richter, Painting in the Nineties which ran through the summer of 1995. Executed during one of the most prolific decades of the artist's magnificent ouevre, Abstraktes Bild is testament to Richter's postmodern reinvention of abstract painting.
The Artist In His Studio, 1994. Image: © Benjamin Katz © Dacs 2022. Artwork: © Gerhard Richter 2022, Courtesy Gerhard Richter Archive Dresden
Abstraktes Bild from 1994 represents an aggregation of Richter's pioneering work in the field of abstraction and affords a sublime experience to the viewer. It is an outstanding example of Richter's epic, eponymous cycle, which is recognised as the preeminent venture in abstract art of the last forty years. Fundamentally non-representational, the present work offers an interaction that is almost unearthly, emanating a shimmering fluidity of colour that rushes towards the eye. Richter's intense manipulation of the surface conjures a sensation of infinite paint layering. As the artist stated in conversation with Nicholas Serota in advance of his 2011 Tate retrospective: "Almost all the abstract paintings show scenarios, surroundings and landscapes that don't exist, but they create the impression that they could exist. As though they were photographs of scenarios and regions that had never yet been seen." (Gerhard Richter quoted in: "I Have Nothing to Say and I am Saying It: A Conversation between Gerhard Richter and Nicholas Serota, Spring 2011," in: Exh. Cat., London, Tate Modern, Gerhard Richter: Panorama, 2011, p. 19). Art historian Benjamin Buchloh has also identified an unlikely coalition of absence and content in Richter's abstract paintings, an effect that at once hints towards and dispels any residual trace of the Abstract Expressionist impetus towards an evocation of nothingness or the void via unrelenting complexity and turbulence: "The ability of colour to generate this emotional, spiritual quality is presented and at the same time negated at all points, surely it's always cancelling itself out. With so many combinations, so many permutational relationships there can't be any harmonious chromatic order, or composition either, because there are no ordered relations left either in the colour system or the spatial system" (Benjamin H. D. Buchloh, Ed., Gerhard Richter: October Files, Massachusetts 2009, pp. 23-24).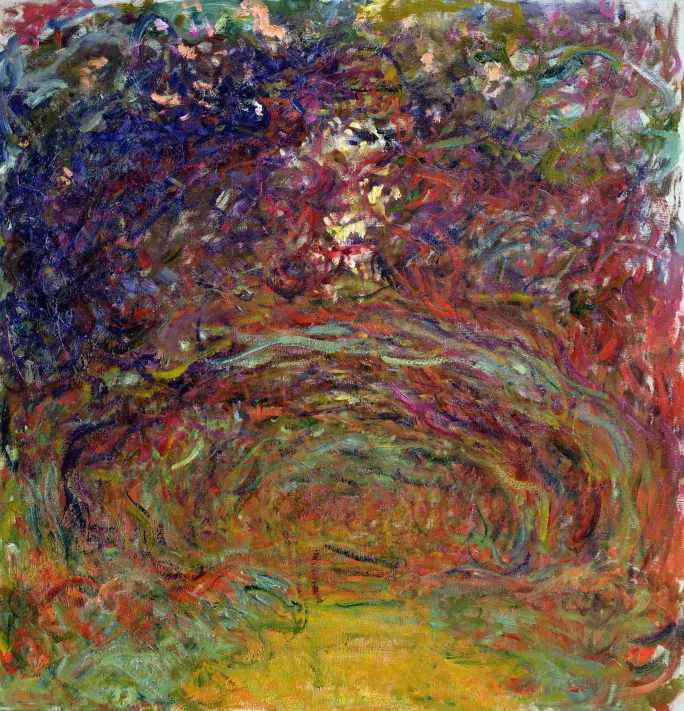 Claude Monet, The Rose Path At Giverny, 1920-22, Musée Marmottan Monet, Paris. Image: © Bridgeman Images
Embracing an element of automatism, kinetic energy is literally compounded into the painterly surface of the present work. The painting bears an indexical trace of Richter's movements, much like the work of the American action painters, tracing where Richter drew the squeegee vertically and then horizontally across the canvas in successive layers. While the underlayers of pigment reveal Richter's vertical gesture, the top layers illuminate a vigorous horizontal movement of the squeegee. Together, the multifarious layers reveal a density of paint, the viscosity of the painted movements, and the drying time between each scrape. Here, Richter indulges in an infinite and unknowable number of permutations born out of the precise interactions between the oil pigments. The detailed combinations of construction, modification, and erasure all stand to be manipulated by the intuitively felt variations of pressure and direction enacted by Richter. The resultant surface of Abstraktes Bild is boldly corporeal in its texture, yet it simultaneously toys with our visual tendency for viewing the picture plane as an illusory realm of depth. Richter performs a sensory shattering of the Renaissance idea of the painting as a clear window into an alternate reality, as his distinctly cerebral abstract fields construct a peculiar sense of unstable spatial configuration.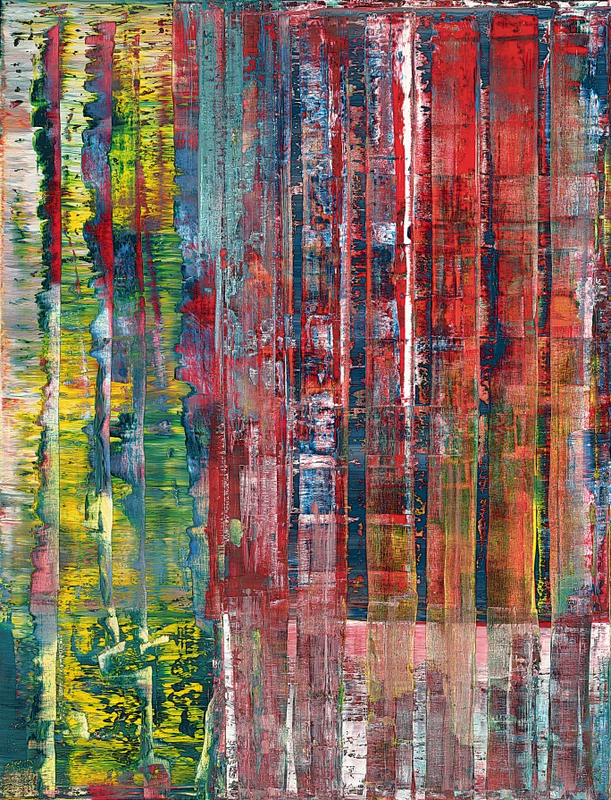 Gerhard Richter, Abstraktes Bild, 1992, San Francisco Museum Of Modern Art, San Francisco. Image/Artwork: © Gerhard Richter 2022 (0032)
Richter's abstraction stands as the ultimate culmination to the epic journey of his career, during which he has ceaselessly interrogated the limits of representation, the nature of perception and the operations of visual cognition. Variously evoking something of Joan Mitchell's exuberance and transformative colour, or Jackson Pollock's instigation of autonomous composition, Richter's abstraction is ultimately without comparison. His prodigious artistic output has earned unparalleled international acclaim, and over the course of a fifty-year career his work has been honoured with numerous retrospectives by the most prestigious institutions. In the past decade alone there have been seventy-six major solo exhibitions of Richter's work held in over twenty countries around the world, including the United States Japan, Brazil, Switzerland, Mexico and South Korea. In recent years these have famously included shows at the Museum of Modern Art in New York, Tate Modern, London, the Musée du Louvre, and the Centre Georges Pompidou, Paris in addition to many others. As curator Achim Borchardt-Hume notes of Richter's oeuvre: "… Richter's paintings are primarily preoccupied with establishing their own reality. They close the chasm between painting and reality first proclaimed by Duchamp and his readymades by acting as an analogy for life with all its contradictions. It is their lack of a premeditated order that makes them come alive" (Achim Borchardt-Hume quoted in: Exh. Cat., London, Tate Modern, Gerhard Richter: Panorama, 2011, p. 171).
Christie's. Modern & Contemporary Evening Auction, London, 2 March 2022