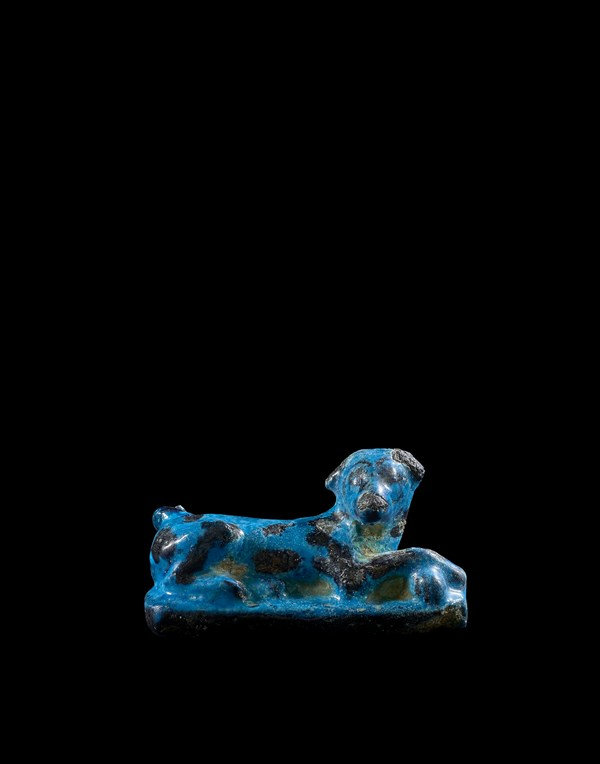 Statuette of a recumbent dog, Egypt, Middle Kingdom, 2050-1780 BC. Blue faience with black details. H 5.5 x W 9.7 cm. Courtesy Galerie Eberwein

Accompanied by Art Loss Register certificate S00127419
Provenance: former private collection, France circa 1987
Literature: F. Dunn Friedman, Gifts of the Nile, Ancient Egyptian Faience –Thames and Hudson, London, 1998, p. 160, 149; W. C. Hayes, Sceptre of Egypt I, The Metropolitan Museum of Art, New York, 1959; J. Bourriau, Pharaohs and Mortals : Egyptian Art in The Middle Kingdom, University Press Cambridge, Fitzwilliam Museum, 1988

The dog in lying on a rectangular base with its head turned sideways. His right foreleg is crossed over the left. The eyes, eyebrows, snout and other details are painted black on the bright blue faience. The body is also covered with large black spots.
Parallel: Entdeckungen, Ägyptische Kunst in Süddeutschland, Philipp von Zabern, 1985, p. 50.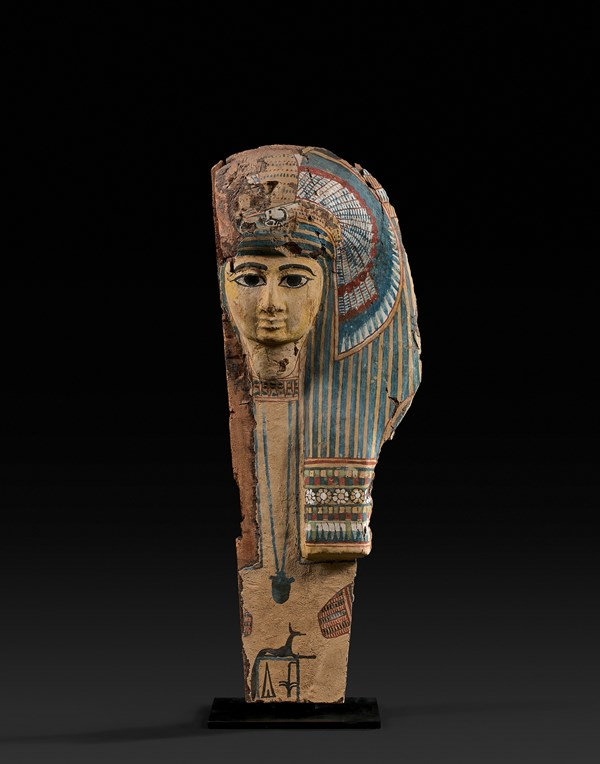 Sarcophagus mask, Egypt, New Kingdom, XVIIIth-XXIst Dynasty, 1570-1070 BC. Wood with original gesso and polychrome painting, 66 x 24 cm. Courtesy Galerie Eberwein
Accompanied by Art Loss Register certificate S00022151
Provenance: former private collection UK, by descent until June 2008; thereafter private collection Berlin, Germany
Literature: K.M. Cooney, Coffins, Cartonnage, and Sarcophagi, John Wiley & Sons, 2015
Upper part of a sarcophagus with the left remaining side of a tri-parted wig. The yellow painted face has large and prominent eyes beneath black arched eyebrows. The nose and lips are small and not underlined to give the eyes a stronger presence. The finely detailed wing of a falcon headed vulture headdress covers the blue and yellow striped wig ending in a large finely detailed floral border. Below the 'ib'- pendant worn around the neck, a black Inpw (Anubis as a jackal) 'he who is over the secrets', of secret words, rests upon a column of inscription: 'ji n(y)-sw.t' [htp] – 'May the king give [a boon]...'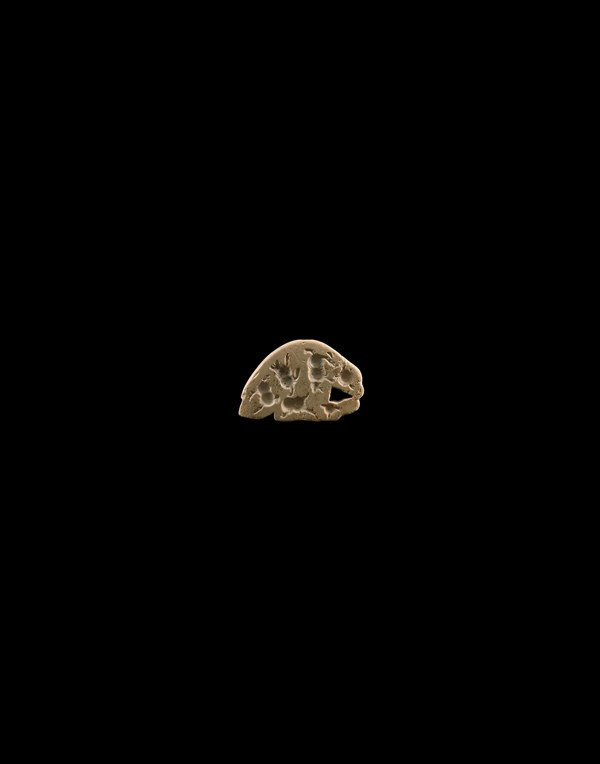 Vulture stamp seal, Ancient Near East-Mesopotamia, Sumerian, Uruk IV-III., ca. 3200-2900 BC. Calcite. H 3.4 x W 5.3 x D 1.35 cm. Courtesy Galerie Eberwein
Provenance: private collection, New York City; Sotheby's, New York City, 2008, sale 8452, lot 66, private collection 1980, France
Literature: P. Amiet, Glyptique Mésopotamienne, n° 163, and Au Pays de Baal, n° 80 (Aleppo Museum, G47) CMP, pl. XLVI n° 461/470, CNRS Paris 1980

Carved calcite stamp seal in the form of a vulture devouring a hare, the beak grooved and the eye drilled, the long ears and one eye of the hare indicated. Five animals are bow-drilled on the base and there is a vertical piercing for suspension. This seal may have served as both an amulet and a stamp seal.
GALERIE EBERWEIN at BRAFA Art Fair 2022 - m. +33 (0)6 72 90 40 70 - www.egypt-art.com