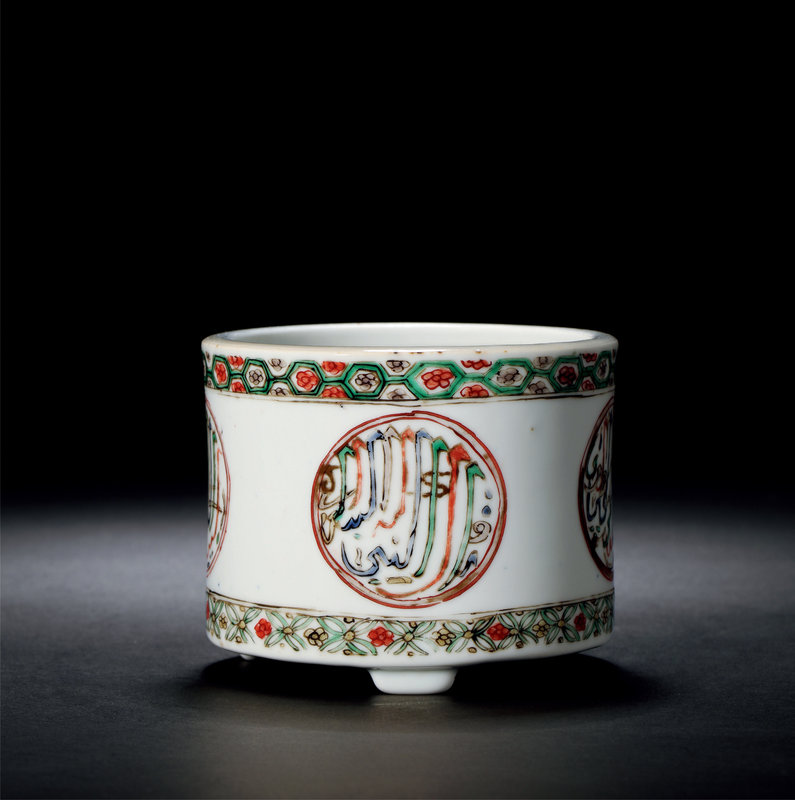 Lot 3321. A Gilt-Decorated Wucai Cylindrical Censer With Arabic Inscriptions, Qing Dynasty, Kangxi Period (1662-1722). D 12.6cm. Sold for HKD HKD 240,000 (Estimate HKD 200,000 - 300,000). © Poly Auction Hong Kong Limited 2022
Provenance: 1. Galerie Longville, Paris, France, no. 9008 (according to the label)
2. Collection of Mr. Jean-Louis Vergne, Châtel, France, 1984
3. Collection of the Duchamp family, Paris, France.
Note: The furnace is of cylindrical form with a straight mouth and a slightly tapering body, supported on three lower legs. The interior and exterior are covered with white glaze, painted in five colours on a white ground, and the outer wall is decorated with a band of brocade on each side of the mouth and near the foot, with four openings on the body painted in Arabic. The incense burner is well preserved and of dignified form, simple and tranquil, elegant but not vulgar.
The porcelain decorated with Arabic script dates from the Mongolian and Yuan dynasties, and the Ming dynasty's Zhengde emperor was a believer in Islam, and the ruler's recognition of the religion allowed Islamic culture to flourish in the Central Plains. Many of the Arabic incense burners of the Kangxi dynasty are similar in form to the present one, being cylindrical in shape, with a white ground set against blue and white or colour, and the outer wall open with an Arabic design. This incense burner is of a distinctive shape and differs from those with a bulging belly and ears, as can be seen in an example from the Palace Museum Collection, in The Complete Collection of Cultural Treasures of the Palace Museum. Glazed Red in Blue and White (in Chinese), Hong Kong, 2009, p. 60, plate 55.
According to the label on the base of the bottle, this example must have come from the collection of Madame Longville (1861-1958). Mrs. Longville was one of the very few antique dealers in Paris in the late nineteenth and early twentieth centuries who dealt mainly in Chinese works of art, having established a Chinese antique shop under her name.
Translated with www.DeepL.com/Translator (free version)
Poly Auction Hong Kong. The Duchange Family Collection of Important Chinese Art II, Hong Kong, 2 December 2021