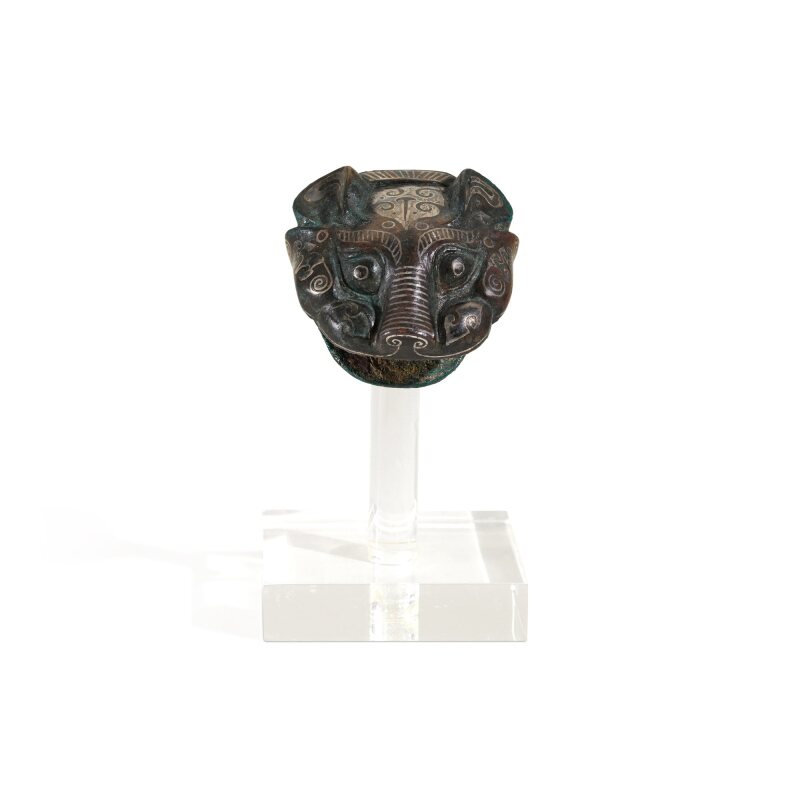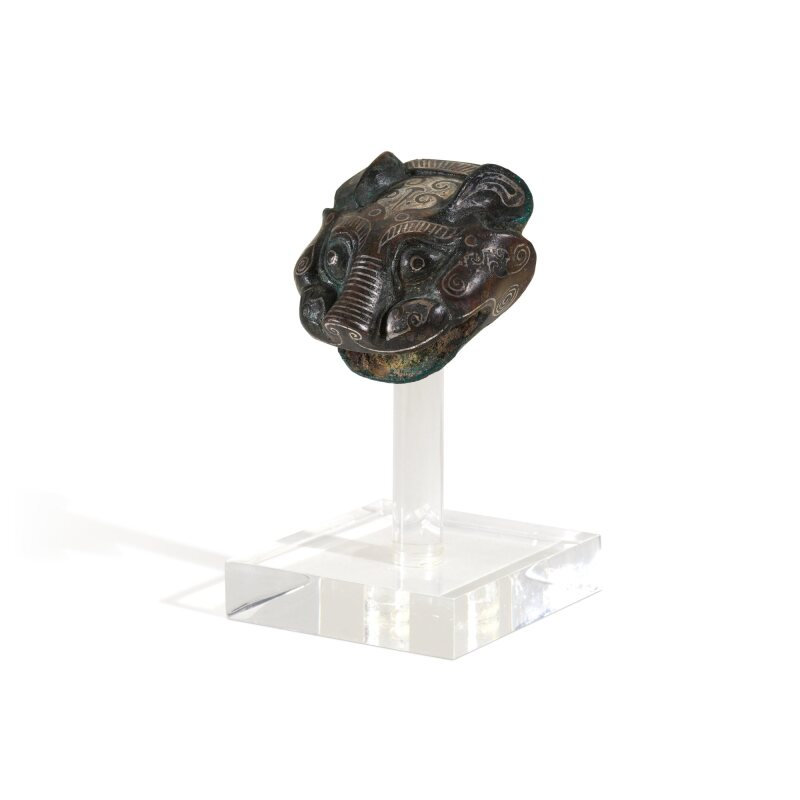 The Personal Collection of the late Sir Joseph Hotung. Lot 101. A silver-inlaid bronze 'tiger head' ornament, Eastern Zhou dynasty, Warring States period (475-221 BC); 4.8 by 4.7 by h. 2.5 cm. Lot sold: 302,400 HKD (Estimate: 300,000 - 500,000 HKD). © Sotheby's 2022
well modelled in the form of a feline head with fine lines of silver inlay defining the details, the broad snout with a wide open mouth leading to a hollow interior and open at the back, the pair of almond-shaped eyes surmounted by bushy brows and large rounded ears.
Provenance: Eskenazi Ltd, London, 15th August 1988.
Literature: Jessica Rawson and Emma C. Bunker, Ancient Chinese and Ordos Bronzes, Hong Kong, 1990, cat. no. 104.
Exhibited: Ancient Chinese and Ordos Bronzes, Oriental Ceramic Society of Hong Kong, Hong Kong Museum of Art, Hong Kong, 1990.
Note: Bronze animal head-form fittings of this type were probably used as chariot ornaments, as evidenced by two similar parcel-gilt bronze examples discovered inside the carriage remnants of a chariot from the tomb of the Prince of Qi of the Western Han dynasty in Linzi, Shandong province, published in Zibo Museum, 'Xihan Qiwangmu suizangqiwukeng [The Funerary Pits round the Princely Tomb of Qi Kingdom of the Western Han Dynasty]', Kaogu xuebao/Acta Archaeologica Sinica, vol. 2, Beijing, 1985, fig. 23-3. Thomas Lawton, on the other hand, suggested that it could have been the top part of a tripod stand; see Chinese Art of the Warring States Period, Freer Gallery of Art, Washington DC, 1983, cat. no. 27.
For other ornaments of the same type, see an example inscribed to the underside with two characters reading zuozheng, in the Museum of East Asian Art, Cologne, included in the exhibition Unearthing China's Past, Museum of Fine Arts, Boston, 1973, cat. no. 16; another exhibited in Chinese Archaic Bronzes, Sculpture and Works of Art, J.J. Lally & Co., New York, 1992, cat. no. 31; and an undecorated example, attributed to the Han dynasty, in the Metropolitan Museum of Art, New York, accession no. 18.43.1.
Sotheby's. HOTUNG The Personal Collection of the late Sir Joseph Hotung: Part 1, Hong Kong, 9 October 2022