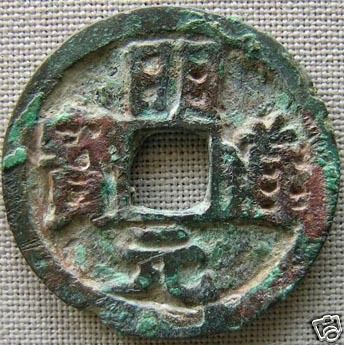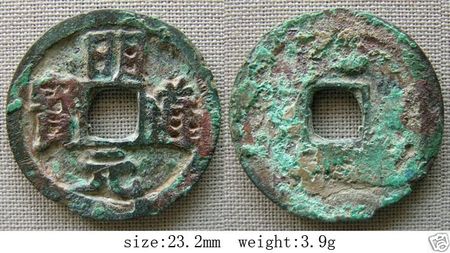 VietNam, Emperor Ly Thai Tong, Minh Dao Nguyen Bao XF (1042-1043AD)
35 USD @ lindascoin
Note: About Vietnamese Minh Dao Ngyuen Bao by T.D.Luc in December 06, 1998
Minh Dao (1042-1044) was the fourth in six reign titles of Emperor Ly Thai Tong (1028-1054). When Emperor Ly Thai To died in 1028, the princes started fighting against the crown prince Ly Phat Ma. With the assistance of his loyal mandarins, Ly Phat Ma came out victorious and became Emperor Ly Thai Tong with the first reign title Thien Thanh. Ly was the good-warrior King. He often lead the army to repress several revolts of barbarian Nung tribes and to subdue the disturbances of neighboring Champa.
The King casted Minh Dao coins several times. The Reference Book of the Institutions of Succesive Dynasties recited that 'in the first year of reign title Minh Dao of Emperor Thai Ton, Ly dynasty, [emperor] casted Minh Dao coin. In the second year, [he] casted Minh Dao coin again to reward his mandarins'.
Coin had the clockwise inscription, its diameter was 23 - 23.5 mm and in copper. Only Minh Dao nguyen bao (Chinese yuan pao) coin were found, but not Minh Dao thong bao ( tung pao).
Emperor Sung Jen Tsung of the Sung dynasty also casted Minh Dao nguyen bao (Ming Dao Yuan Pao), but there were differences between Viet coin and Chinese coin. The Viet's Minh Dao coin always had orthodox script, not seal script. It also had the 2 strokes of the root Jen of the character Nguyen separated, not close together as the Sung's coin. The diameter of Sung Jen Tsung's coin was larger.