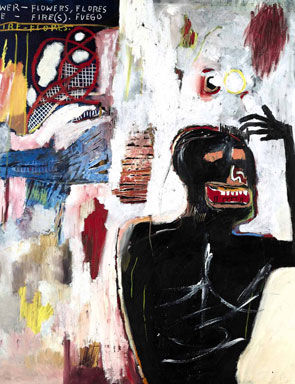 Fuego Flores in acrylic and oilstick on canvas by Jean-Michel Basquiat (1960-1988). Estimate £800,000-1,200,000. Photo: Sotheby's.
LONDON.- On Friday, October 16, 2009, Sotheby's London will present its October Contemporary Art Auction, which will include for the first time a section of Arab and Iranian Art. The 177 lot sale will comprise works, in a range of media, by leading Post-War and Contemporary artists, such as Jean-Michel Basquiat, Anish Kapoor, Andy Warhol, Chris Ofili, Damien Hirst, Gerhard Richter, Frank Auerbach, Antony Gormley, Farhad Moshiri and Yan Pei-Ming. The sale is estimated to realize in excess of £9 million.

Commenting on this year's Contemporary Art Sale to coincide with Frieze Week, Isabelle Paagman, Director and Specialist in Contemporary Art and Alex Branczik, Deputy Director and Specialist in Contemporary Art, said: "With the forthcoming sale, our aim was to assemble an auction that would complement the London Frieze Fair and include important Evening and Day Sale quality works at attractive estimates by established Post-War and Contemporary names as well as cutting edge artists. As with the February and June auctions in London and May in New York, we have been extremely selective and have focused on fresh to the market property with outstanding provenance, which would appeal to our clients in the current market."

Highlighting the forthcoming sale is the masterpiece Afro Apparition by Chris Ofili (b.1968) – who will be the subject of a major survey exhibition of his work early next year at Tate Britain – which is this Contemporary Art Auction's catalogue cover lot. Signed, titled and dated 2002-2003 on the stretcher, the work is in acrylic, oil, polyester resin, glitter, map pins and elephant dung in linen with two elephant dung supports and measures 275 by 213.5 by 17cm. This piece is the most important work by the artist ever to appear at auction and is one of a suite of works exhibited as part of 'Within Reach' for the 2003 Venice Biennale. Afro Apparition is a stunning example of Ofili's explorations of the interplay between cultural stereotyping and identity, aesthetic beauty and materials.

Just as Ofili's work champions the supremacy of pure aesthetics, it is likewise replete with political and cultural references. The elaborate patterning and restricted palette of Afro Apparition recall an array of sources, revealing Ofili's complex layering of historical and contemporary associations. Its composition is striking for its artfully reductive color scheme of red, green and black; a scheme extended to each work he exhibited at the Venice Biennale, as well as to the interior walls of the British pavilion. The limited palette derives from Marcus Garvey's Pan African flag – the flag of African unity – where red symbolizes the blood uniting all people of African ancestry, black represents the skin, and green signifies the abundant natural wealth of Africa. In appropriating Garvey's flag, long held as an emblem of Black pride, Ofili consciously references both the united black nationalist movement of the 1960s and the iconic work African-American Flag (1990) by David Hammons, whilst simultaneously empowering as individuals the two central figures embracing in the reflection of its colors. The work is estimated at £280,000-350,000.

A major highlight of the upcoming auction is Untitled by Anish Kapoor (b. 1954), a remarkable polished stainless steel work which measures 250 cm by 250 cm by 60 cm – its sale coincides with the solo exhibition of the artist's work, Anish Kapoor, at Royal Academy of Arts. Executed in 1997, Untitled manifests all the pioneering ingenuity in material and spatial possibilities that characterize the very best output of this world-renowned sculptor. It dates from Anish Kapoor's breakthrough using this medium of hyper-reflective polished steel and was created in a decade that witnessed Kapoor winning the Premio Duemilia Prize for his British Pavilion at the Venice Biennale (1990); winning the Turner Prize (1991); staging a major retrospective at the Hayward Gallery (1998); and becoming a Royal Academician (1999), Untitled is central to the technical and artistic advancement that later led to such highly lauded monumental projects as Cloud Gate of 2004 for Chicago's Millennium Park, and Sky Mirror of 2006 at New York's Rockefeller Center. It is also historically important as an early wall-mounted sculpture, a format adopted to transform the monolithic into the delicate. This work, which was exhibited at the Third Shanghai Biennale, 2000-2001, is estimated at £600,000-800,000.

A further important highlight is Fuego Flores in acrylic and oil stick on canvas by Jean-Michel Basquiat (1960-1988), which has remained off the market for over 20 years and was last exhibited publicly in the 1984 exhibition Jean- Michel Basquiat at the Gallery V in Stockholm. Signed, titled and dated 1983, this sensational canvas was executed at the very height of Basquiat's brief and brilliant artistic existence. Created in just his 26th year and perfectly exhibiting his already legendary repertoire of loaded iconography, painterly immediacy and stunning coloristic expressivity, it is estimated at £800,000-1,200,000.

Highlighting the works in the auction by Damien Hirst (b. 1965) is Retribution, which he produced in 2006. Executed on a monumental scale this butterflies and household gloss on canvas work measures 268 cm in diameter (including the frame). In elegant hues of primrose yellow, powder blue and white, Retribution is a uniquely powerful work from the artist's celebrated series of butterfly grid paintings. Set into a painted film of white gloss, opalescent hues of the butterflies' gossamer wings produce the effect of a Gothic stained-glass rose window. With this work Hirst confronts the central theme of retribution, suggesting that the butterfly's finest quality - its transcendental aesthetic splendor - is also the source of its own demise, as its unrivaled beauty can only be preserved through the artistic process that follows its death. For Hirst the butterfly holds considerable iconographic power and meaning, and in the butterfly paintings, as is the case with Hirst's finest work, the underlying concept is often complex.

The appearance of Retribution changes when viewed from different distances and perspectives. From afar, the individual wings resemble delicately colored tiles in a mosaic, while up close, the individual specimens – some large some small, some with beautiful patterning, others chosen for their calming pearlescence – become discernible. Enshrined in household gloss the butterflies seem fragile and painfully mortal. For Hirst, this moment of realization contains the oxymoronic beauty of horror, and horror of beauty. In a complex echo of the cyclical nature of life on earth, the caterpillar dies in its chrysalis, and is reborn as a butterfly - this delicate creature dies, but in doing so gives birth to a beautiful object, the work of art. The monochrome butterfly canvases were first exhibited in his In and Out of Love exhibition of 1991 at the Woodstock Gallery in London and this example is estimated at £450,000-650,000.

Another important piece in the sale by Damien Hirst is his Two Skulls. In this 2006 oil on canvas Hirst mingles the horrific with the comic and there is an artful tension between the futility of human life and the inevitability of death. Posed as if two companions, their physical disparities suggest gender difference: the left skull, with its ragged teeth and attenuated jaw, appears masculine, the right skull – smaller, and more neatly proportioned – seems feminine. Their arrangement suggests intimacy and companionship – the longed for state of eternal union after which all humans seem fated to strive. Though the skulls of the lovers lie side by side in a final conjugal grin, they are ultimately reduced to inanimate objects, empty vessels now bereft of the human spirit they once contained. The inscription written by the artist on the reverse of the canvas 'Death, Shmeth!' suggests that Hirst is himself prepared to laugh death in the face. In the simple act of creation, he has produced a work of art destined to stand the test of time long after his own demise. In so doing, he simultaneously celebrates the unavoidable gaze of death, whilst himself averting it. Two Skulls is estimated at £220,000-280,000.

Abstraktes Bild by Gerhad Richter (b. 1932) is a further major highlight of the auction. Executed in 1990, the work is a complex interplay of ambiguity and color. With its lyrical and reflective qualities resonating both on the surface and deep within the layers of paint, Richter epitomizes his explorations into Abstraction and seems to both reveal and conceal. Richter initially engaged in Abstract Painting in 1976, thus meaning that the present work draws on nearly two decades of various technical and abstract investigations. To produce these paintings Richter begins by placing a number of white primed canvases around the walls of his studio, eventually working on several of them simultaneously and re-working them until they are completely harmonized. Tracts of color are dragged across the canvas using a squeegee, so that the various strains of malleable, semi-liquid pigment suspended in oil are fused together and smudged first into the canvas, and then layered on top of each other as the paint strata accumulate to bring color and textural juxtapositions. Richter's technical aptitude has led to his reputation as one of the outstanding painters of our era and Abstraktes Bild, which lays testament to his relentless technical explorations in the field of abstract art and to the painterly and intellectual elasticity unique in his work, is estimated at £500,000-700,000.

Highlighting the works of Chinese contemporary art in the auction is the 2009 oil on canvas Mao by Yan Pei-Ming (b. 1960), which is estimated at £200,000-300,000. Executed on a monumental scale (the work measures 200 by 235cm) using broad strokes of bright crimson paint the work is a captivating depiction of the Chinese leader Chairman Mao. Painted with a minimum of brushstrokes, Ming's portraits are built up in blunt, muscular gestures blurring the surface at close range, yet creating a clear and evocative image when viewed from a distance. In the present work, Mao appears to be laughing - the 'Great Leader' fixates on someone or something outside the picture space. The moment captured is both ambiguous and unnerving - the deep, rich, crimson pigment creating a compelling tension between the red flag of Communism and its subtext of violent bloodshed.

A further sale highlight is the widely exhibited acrylic and silkscreen ink on canvas Joseph Beuys which was produced by Andy Warhol (1928-1987) in 1980. Joseph Beuys and Andy Warhol met for the first time at Hans Mayer's gallery in Düsseldorf in 1979 and was an encounter observed as the meeting of two revolutionary artistic minds. However, it was during Beuys' spectacular exhibition at the Guggenheim in New York that November that the idea for this work was initiated. Heiner Bastian, the renowned critic and sponsor of both Warhol and Beuys' artistic eminence, persuaded Warhol to invite Beuys to the Factory, and, over lunch, suggested that Warhol should paint Beuys' portrait. In keeping with his then current practice, Warhol took a sequence of Polaroid photographs of the German artist, and the present work results from the distillation of color and contour of one of those images. The bronze metallic ground punctuated with vivid pink and piercing blue demarcates the unmistakable features of an artist who spent over 30 years exploring and redefining the very boundaries of art. Warhol, the architect of Pop and subsequent catalyst of a new cultural age, and Beuys, the poetic radical who revolutionized the landscape of the performance and the concept in art, are here sublimely conflated in an epic tribute to both their talents. It is estimated at £200,000-300,000.

The forthcoming auction will also feature a section dedicated to Arab and Iranian Art, which will include 46 lots. Spearheading the section will be Cowboy and Indian, in acrylic and glitter on canvas, in two parts, by Farhad Moshiri (b. 1963), who is at the very forefront of Contemporary Iranian Art. In the present work, Moshiri has masterfully intertwined artistic innovation with a subtle yet subversive sociopolitical commentary to create one of the most exciting and varied outputs of recent times. The Cowboy and Indian figures, mainstay figureheads of North American culture, are apparently depicted in sugary confection as metaphor for both homogenizing mass culture and in reference to the well-documented lavish culinary excesses during the reign of the last Shah of Iran. Thus through its media alone Moshiri's work implicates and interrogates layered socio-cultural themes, principally the impact of the dissemination of Western culture throughout other parts of the world, specifically the Middle East. Rooted in a Pop dialect founded by the likes of Andy Warhol, Tom Wesselmann and Robert Rauschenberg, Moshiri's mode of expression also similarly takes up themes of contemporary consumerist and branding culture. The work is expected to realize £150,000-200,000.

Another important work in this section is Palastinian artist Mona Hatoum's extraordinary and monumental Untitled (Baalbeck Birdcage) of 1999 in wood and galvanized steel. It stands as an awe-inspiring testament to the artist's brilliant manipulation of scale and pioneering sculptural invention. The inspiration behind this work was a domestic birdcage that Hatoum encountered in the city of Baalbeck during a journey in Lebanon in 1996. Metaphorical associations of imprisonment and acute claustrophobia confront the viewer and are immediately compelling, and Hatoum even used the dimensions of cells of the infamous prison Alcatraz to fashion her phenomenally oversized sculpture. Hatoum has reinterpreted the original birdcage by magnifying its scale ten times. Born in Beirut in 1952, Hatoum's life experience has thus far been one of double exile: first as part of a Palestinian family in Lebanon, and subsequently manifest as her own move to England during Lebanon's Civil War of the 1970s. Although her work is frequently interpreted within this biographical context, with special attention drawn to allied themes such as displacement, alienation, and exile, she herself has always avoided being overtly autobiographical or didactic in her work. Indeed, the present work brilliantly encapsulates how she brings together personal, political and conceptual strands in her art. It is estimated at £100,000-150,000.

Representing the younger, cutting edge component of the sale is Copper Sulphate Chartres & Copper Sulphate Notre-Dame by Roger Hiorns (b. 1975). Hiorns is among four artists nominated for the 2009 Turner Prize and is known for transforming a condemned south London flat by enshrouding it with iridescent copper sulphate crystals. He is an artist of alchemy and the uncontrollable, using eclectic materials including detergent, disinfectant, perfume and other chemical solutions, to crystallize and transform the readymade, used as an explicit point of departure. Hiorns grew crystals on a cardboard architectural maquette, testing the object's status and significance, to create this work which is estimated at £6,000-8,000.
Highlighting the works in the auction by Damien Hirst (b. 1965) is Retribution, which he produced in 2006. Estimate: £450,000-650,000. Photo: Sotheby's