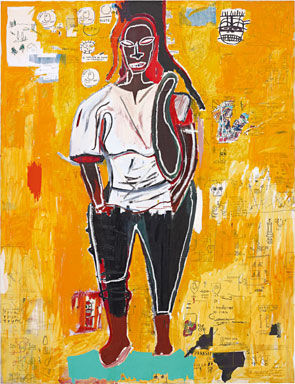 Jean-Michel Basquiat, Big Joy, 1984. Acrylic, oilstick and Xerox collage on canvas, 218.5 x 172.5 cm (86 x 67 7/8 in). Signed, titled and dated '"BIG.JOY" Jean-Michel Basquiat SEPT: 1984' on the reverse. Estimate: £2,500,000 - 3,500,000. Photo Phillips de Pury & Co
LONDON.- Phillips de Pury & Company announced highlights from the upcoming London Contemporary Art auctions, featuring 209 lots with a combined pre-sale low estimate of £19,296,000 / $31,318,771 and a pre-sale high estimate of £28,255,000/ $45,862,727.

"We are very pleased to present our October Evening sale which is headlined by Jean-Michel Basquiat's 'Big Joy' at an estimate of 2.5 - 3.5 million GBP and by Gerhard Richter's large scale 'Abstraktes Bild' from 1977 also at 2.5 - 3.5 million GBP. This high quality and diversely represented sale additionally includes major works by Andy Warhol, Andreas Gursky, Sean Scully, Anselm Kiefer and Damien Hirst. We look forward to commencing the week of Frieze auctions with this stellar sale." Peter Sumner, Head of Contemporary Art Evening Sale, London.

"This October we are pleased to present a day sale which covers a wide swath of the international post war and contemporary art world. The auction on the 11th is an outstanding survey of excellent works by both blue chip and emerging art world stars. Highlights from the sale include works by Jean-Michel Basquiat, Yayoi Kusama, Alexander Calder, Oscar Tuazon, Sterling Ruby and Dan Colen." George O' Dell, Head of Contemporary Art Day Sale, London.

CONTEMPORARY ART EVENING SALE will feature 37 lots with a low estimate of £15,080,000 / $24,463,765 and a high estimate of £22,260,000 / $36,102,513. Highlights of the Contemporary Evening auction include:

JEAN-MICHEL BASQUIAT, Big Joy, 1984, estimated at £2,500,000–3,500,000 / $3,970,000–5,560,000. Big joy, executed in 1984, shows Jean-Michel Basquiat at the pinnacle of his artistic career. Big Joy expounds upon the most important themes in the artist's oeuvre, issues which underline his artistic raison d'etre: race and identity. The work was given pride of place in the seminal exhibition Jean-Michel Basquiat at Mary Boone Michael Werner Gallery, New York, in 1985. The work was purchased from the exhibition and has remained in the same private collection since.

Basquiat was the first black artist to break into the white dominated art world and his work reflects the struggles and hardships of a deprived African-American in the face of ostensible dominance. As a result, Basquiat continually questioned his identity and place in the world, living a life of contradictions and contrasts. Big Joy, as with much of Basquiat's work, concentrates on the human figure. The focal point is the immense and overwhelming central figure of a black lady – Joy. This figure is aesthetically and subjectively distinct in comparison to many of Basquiat's earlier paintings. The face itself is characteristically crude; a primitive mask-like rendering with jewel eyes that bore into the viewer, irrelevant of the angle they approach the painting. Further, the gritted grid-like mouth offers a disquieting glimpse into the anxious mind of the young artist.

Gerhard Richter, Abstraktes Bild, 1977. Oil on canvas, 200 x 300 cm (78 3/4 x 118 1/8 in). Signed and dated 'Richter 1977' on the reverse. Estimate: £2,500,000 - 3,500,000 / $3,970,000–5,560,000. Photo Phillips de Pury & Co
Abstraktes Bild, belongs to a body of work by Gerhard Richter known as Soft Abstracts in which the artist explores the idea of a 'blown-up', the enlarged, zoomed-in image that is familiar from examining a painting up close or inspecting the surface through a magnifying glass. The artist projected enlarged photographs of variously coloured brushstrokes and copied the images onto the canvases creating abstract images as a result.
In Abstraktes Bild, Richter uses pastel blues and yellows to create soft geometrical shapes that flow in and out of each other resulting in a fluid composition of immense atmospheric quality, half way between a landscape painting and an abstraction. The present lot evokes Richter's cloud and seascape paintings from the late 1960s and early 1970, yet it still remains highly abstract. It is by processes demonstrated in this work that Richter has consistently challenged traditional approaches to painting and that have made him one of the most important painters of the past 50 years.
ANDY WARHOL and JEAN-MICHEL BASQUIAT, GE Short Line Reading, circa 1984–85, estimated at £1,200,000–1,800,000 /$1,910,000–2,860,000. GE Short Line & Reading, executed in 1984–85, is a superb example of how two artists of contrasting social backgrounds and generations can work together successfully. GE Short Line & Reading combines Warhol's mechanically reproducible flat images, appropriated from mass media, with Basquiat's handpainted physicality and purposeful primitivism. Warhol, inspired by Basquiat's energy, returned to his own beginnings as a painter, and in turn Basquiat began to sample his earlier visual collages by way of the silkscreen technique introduced by Warhol.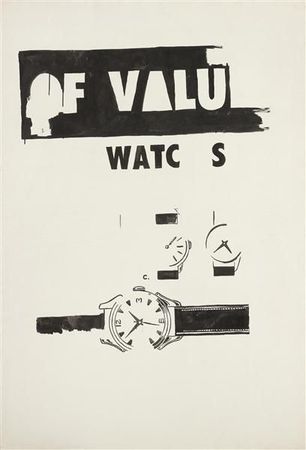 Andy Warhol, Watches, 1961 water-based paint on cotton duck; 180.3 x 122.6 cm (70 7/8 x 48 1/4 in). Estimate: £1,000,000 - 2,000,000 / $1,590,000–3,180,000. Photo Phillips de Pury & Co
Warhol used an opaque projector to enlarge the Watches advertisement clipping, published just once in the Sunday Daily News on 26 March 1961, onto the canvas. Working freehand, he reproduced the projection on the canvas without the help of a pencil under drawing. A fragmented part of the advertisement's general heading is placed on the top of the painting, with the words "OF VALUE", as well as the incomplete word "WATCHES", which appeared over the right-hand side of a two-page spread. Compared with other works of the series, Watches stands out for its clean layout and minimal graphic intervention. Watches marked a time of great significance in Warhol's working methods. This unique work was made shortly before Warhol started using his trademark silkscreens. The strong pictorial emphasis of both Watches and the rest of the Newspaper Advertisements series, prefigure the graphic sensibility of the silkscreen technique that would eventually lift images of consumer products from the trivial to the exceptional and beautiful.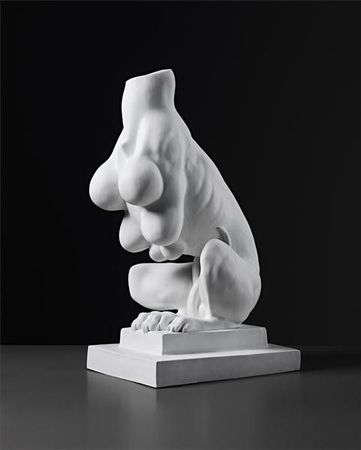 Louise Bourgeois, Nature Study, 1996, cast 2004; biscuit porcelain, 73 x 36 x 43 cm (28 3/4 x 14 1/8 x 16 7/8 in). Estimate: £600,000 - 800,000 / $953,000–1,270,000. Photo Phillips de Pury & Co
Nature Study 2004 is a challenging work by the internationally revered artist Louise Bourgeois (1911–2010). Throughout her long and influential career, Bourgeois was known for her transformations of her own intensely emotional psychological states into extraordinary physical forms. Her artistic rendering of the human, acts as a catalyst capable of evoking powerful emotion. Simultaneously vehicles of sensation and autonomous flesh, her sculptures radiate energy within their three-dimensional space. They astutely suggest an enigmatic, poignant awareness of the self. The artist's sculptures sit on a fluctuating boundary between personal psychological exploration and the universally symbolic language of the body. They are objects in turmoil, deeply internal and yet inescapably external. The present lot demonstrates one of Bourgeois's most highly acclaimed sculptural forms. Nature Study is exquisitely finished; realised at the culmination of the artist's career, it represents a pivotal example of her style. Examples of the work have been exhibited in major public collections, for instance the Whitney Museum of American Art. Despite the multiple variations in form, material and scale that this sculpture has undertaken, in each work, Bourgeois consistently suggested that this sensuous, provocative sculpture was fundamentally a portrait of herself.
ROBERT INDIANA, LOVE (Red faces Blue sides), 1966–2000, estimated at £600,000–800,000 / $953,000–1,270,000. LOVE is a pivotal sculpture by the internationally acclaimed artist Robert Indiana and is the most potent of all Indiana's imagery. Its bold aesthetic and direct message has achieved global appeal. LOVE was first created as a painting to be used on a Museum of Modern Art Christmas card in 1964, and since then, its distinguished design and immediate message has come to symbolize the ideals of an era.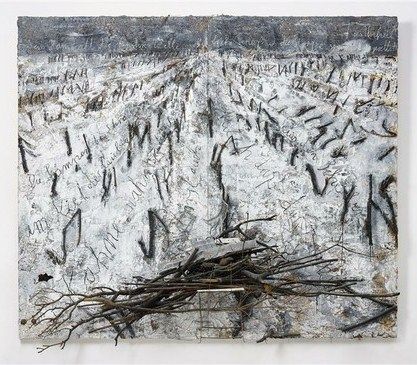 Anselm Kiefer, Dein Haus ritt die finstere Welle, 2006; oil, emulsion, acrylic, charcoal, lead boat, branches, chair and plaster on canvas, 291 x 331 x 81 cm (114 1/2 x 130 3/8 x 32 in). Estimate: £500,000 - 700,000 / $794,000–1,110,000. Photo Phillips de Pury & Co
Dein Haus ritt die finstere Welle (Your House Rode the Dark Wave), is part of a large body of work dedicated to the Jewish poet Paul Celan (1920–1970). Celan's poetry, inextricably linked with the memory of the Holocaust, has influenced Kiefer's work for more than twenty-five years. The present lot, executed in 2006, is based on a series of photographs taken by Kiefer of Salzburg's hinterland. Looking more like battlegrounds than harvested fields, the scenes and their perspectives became a leitmotif of this series. The content of the work alludes to an early poem of Celan titled 'The Only Light'. The poem references three historical periods: Genesis 7–8 with the biblical story of the Flood, the departure of Jews that evaded Nazi concentration camps on overcrowded boats to Palestine, and third, a reference to Celan's series Gegenlicht. By adding found materials to the painted surface of his immense tableaux, Kiefer invents a compelling third space between painting and sculpture. The thick paint evokes the texture of snow combined with the powerful presence of the lead boat and the branches placed on a wooden chair.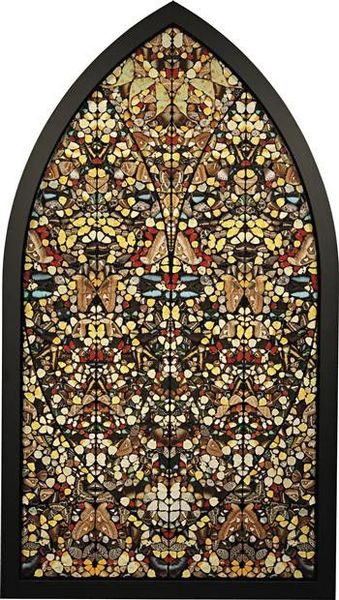 Damien Hirst, Sad Steps – Life Fulfilled, 2006 butterflies and household gloss on canvas 227.6 × 121.9 cm (89 5/8 × 47 7/8 in) Signed, titled and dated 'Damien Hirst "Life Fulfilled" 2006' on the reverse. Estimate: £500,000 - 700,000 / $794,000–1,110,000. Photo Phillips de Pury & Co

The present lot consists of thousands of meticulously organised butterfly wings, arranged in vibrant layers. The viewer, as the artist no doubt intends, is seduced by the splendour and symbolic power of the painting. Yet the alarming nature of the work's construction, thousands of dead butterflies glued to the surface, undermines the scale and beauty of the piece. Hirst's insects are trapped forever in their geometric structure, simultaneously rendering both the cruelty and beauty of the natural world.
SEAN SCULLY, Homo Duplex, 1993, estimated at £500,000–700,000 / $794,000–1,110,000. The Irish born painter Sean Scully has come to international prominence as one of the most admired artists working in the abstract tradition today. Using the plainest of motifs – the stripe – Scully has developed and refined his compositions over the years. Homo Duplex from 1993 marks the period in the early 90s when Scully augmented his trademark stripes with a mode of compositional patterning more reminiscent of a checkerboard. Considering his own heritage, Scully has stated that Ireland has moved towards a more 'chequered' society: "I remember growing up in Ireland and everything being chequered, even the fields and the people." This statement reflects how highly personal his paintings are.
ANDREAS GURSKY, Rimini, 2003, estimated at £400,000–600,000 / $635,000–953,000. Andreas Gursky is one of the world's most significant artists working in the photographic medium. He has helped to elevate photography to reach its rightful place in the word of contemporary art. Rimini shows the Italian shoreline from a very high vantage point, typically for Gursky who photographs from a bird's-eye view. The tension between micro and macro that is so characteristic of Gursky's body of work is evident in the present lot.

Gursky takes the natural environment of the beach but alters it, making it much organised, repetitive, with deepened colours in order to highlight the sublime in the image. Gursky experiments with photography through his constant digital manipulation, so that the viewer is left puzzled questioning what has been changed with the help of technology and what has been left untouched, still representing the reality. In Rimini, one wonders if the artist perfectly situated the umbrellas along the shore, and deliberately arranged them by colour, in order to create the artificial infinity at the grand scale in his constant strive for the sublime.
CONTEMPORARY ART DAY SALE will feature 172 lots with a low estimate of £4,216,000 / $6,837,887 and a high estimate of £5,995,000 / $9,724,922. Highlights of the Contemporary Day auction include:
Miquel Barceló, À Livorno, 2007; mixed media on canvas, 65 x 82 cm (25 5/8 x 32 1/4 in). Signed and dated 'Barceló 07' on the reverse. Estimate: £90,000–120,000 / $143,000–191,000. Photo Phillips de Pury & Co
Throughout his oeuvre, Miquel Barceló has employed the materials that allow him to create the richly textured, expressive canvases highly evocative of the surface of the earth. À Livorno, from 2007, is a beautiful example of the artist's gift to produce work that is abstract, yet at the same time highly referential. À Livorno is painted in the traditional technique of the artist which remains a key aspect of Barceló's practice. He has not succumbed to the new media, but instead prefers to explore and further develop more conventional materials from the earth itself. The title À Livorno indicates the place in Italy that inspired the artist and in this painting the sea port of Livorno is beautifully depicted by the pebbles set against the white and yellow background evoking the sunlit landscape and sea.
CERITH WYN EVANS, Once a Noun, Now a Verb, 2005, estimated at £70,000–90,000 / $111,000–143,000. The bulbs of the chandelier work Once a Noun, Now a Verb from 2005 blink out words and sentences in Morse code, and the resulting cryptic messages are transcribed onto a nearby monitor. This particular work is the largest and most recent of Wyn Evans's 'Chandelier' series and it has appeared in exhibitions around the world.

Additional highlights include: ALEXANDER CALDER, Untitled, circa 1954, estimated at £100,000–150,000 / $159,000–238,000. This is the first major work by Calder to come up for sale at auction; WILLIAM KENTRIDGE, Learning the Flute, 2003, estimated at £100,000–150,000 / $159,000–238,000; YAYOI KUSAMA, Infinity Nets LNXA, 2011, estimated at £100,000–150,000 / $159,000–238,000; ADAM McEWEN, Bomber Harris, 2008, estimated at £60,000–80,000 / $95,300–127,000; TAUBA AUERBACH, I doubt It/ But I do It (Anagram XII), 2008, estimated at £30,000–50,000 / $47,600–79,400; OSCAR TUAZON, Wall, 2009, estimated at £20,000–30,000 / $31,800–47,600;STERLING RUBY, Spatial Grid / Pelican Bay, 2010, estimated at £15,000–20,000 / $23,800–31,800; DAN COLEN, I bought a headache, 2011, estimated at £50,000-70,000 / $79,400–111,000.