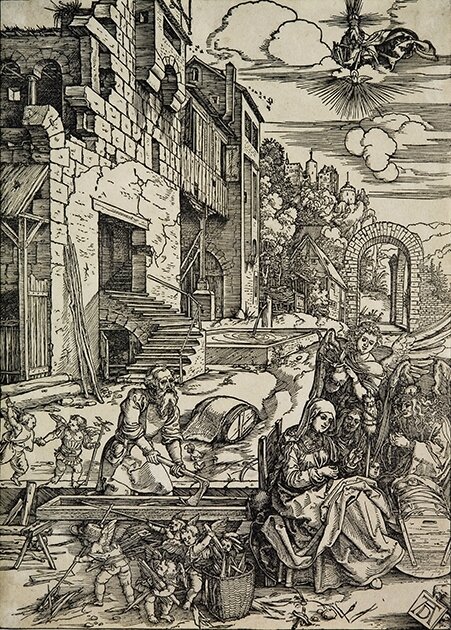 Albrecht Dürer, Repose on the Flight into Egypt, c.1504, Pallant House Gallery, Chichester (Hussey Bequest, Chichester District Council, 1985), © Pallant House Gallery, Chichester, UK.
CHICHESTER.- A new exhibition at Pallant House Gallery showcases highlights from the Gallery's acclaimed print collection to trace the history of the woodcut, from the Northern Renaissance and the Japanese tradition of ukiyo-e prints to contemporary artists working today. The exhibition includes works by artists such as Albrecht Dürer, Utagawa Hiroshiga, Edward Wadsworth, Ben Nicholson and contemporary artists including Rebecca Salter and Emma Stibbons.

Woodcut is a relief printing technique that first emerged in Japan in the 8th century. Cruder versions of woodcuts began to appear in Europe around the 13th century and developed considerably with the advent of mass-production of paper a century later. The western tradition of the woodcut is often said to have culminated in the late 15th century with the work of Albrecht Dürer who achieved stunning details in his woodblock designs.

It is unlikely that Dürer cut any woodblocks himself but having trained in Michael Wolgemut's Nuremberg studio (then the centre of German publishing) he gained a great understanding of the technique's potential and how to work with the master block cutters. The image 'Repose on the Flight into Egypt' (c. 1504), featured in the exhibition, is one of his series of woodcuts illustrating The Life of the Virgin. In spite of the traditional subject matter, his treatment of the theme was revolutionary in approach, size, and subtlety of technique. Dürer's interest in scientific theories of perspective can also be seen in the elaborate architectural forms in the background.

By the end of the 16th century, the woodcut began to fall out of favour in Europe due to new technological printing processes that favoured engravings. In Japan however, the woodcut printing technique known as mokuhanga continued to develop. Best known for its use in the ukiyo-e (loosely translated as 'pictures of a floating world') artistic genre, mokuhanga used water-based inks, which provide a wider range of vivid colours, glazes and transparency than the oil-based inks often used in western woodcuts. The prints created using these inks demonstrated extraordinary technical skill. An example of this can be seen in Utagawa Hiroshige's 'Travellers surprised by sudden rain (Shono haku-u)' (1833-34), part of his most famous series 'The Fifty-Three Stations of the Tokaido Road' (Tokaido gojusan tsugi no uchi) (1834). The print demonstrates Hiroshige's sensitive treatment of light and colour, particularly the effects of falling rain.

Both European and Japanese woodcut traditions were initially reliant on a collaborative system that included artists and designers as well as carvers and printers who often went unacknowledged. By the early 20th century, both were struggling with competition from mechanical processes such as lithography and photography.

In Japan one response to this threat was the movement Sosaku Hanga which stressed the artist as the sole creator as opposed to the traditional collaborative system of artist, carver, printer and publisher. Contemporary Japanese artist Nana Shiomi's work is rooted in this tradition as she carves and prints her work entirely herself.

British artist Rebecca Salter also studied traditional techniques in printmaking in Japan, but at Kyoto City University of Arts. Historically, woodcuts produced in Kyoto have had a more painterly quality than that of Tokyo. This trait can be seen in her works 'Celest 1' and 'Celest 2' which were produced in collaboration with the Sato Woodblock Workshop in Kyoto. Salter presented the workers there with two watercolours painted on muslin and asked them to interpret them as a woodcut. The finished prints are a tour de force of the kind of painterly printmaking Kyoto is known for.

Early 20th century western artists too began to re-evaluate the woodcut. Artists associated with vorticism and abstractism including Edward Wadsworth, Ben Nicholson and John Buckland-Wright used this traditional printing technique to create radical new artworks. The composition of Ben Nicholson's '5 Circles' (1934) has been suggested to loosely represent a tabletop still life, but Nicholson's playful evocation of projection and recession using the woodcut technique also parallels his experiments with abstract reliefs dating from the same period.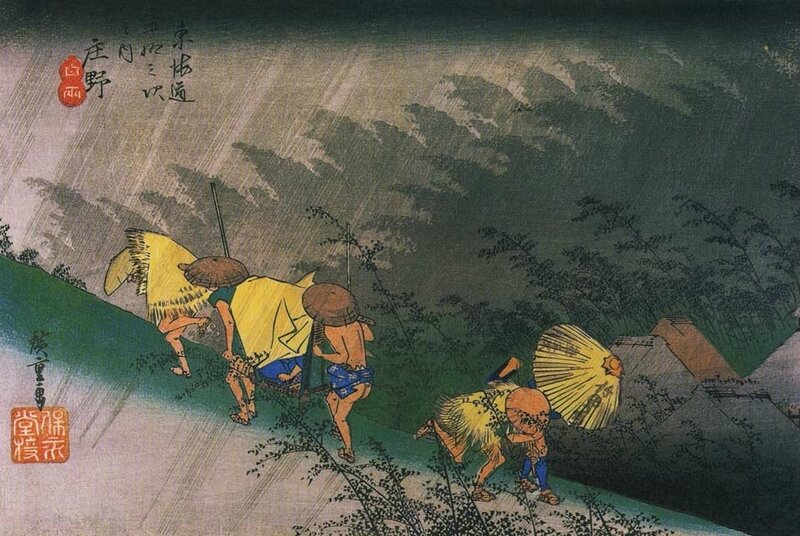 Utagawa Hiroshige, Travellers surprised by sudden rain (Shono hakuu), 1833-4, Woodcut on paper, Pallant House Gallery, Chichester (Hussey Bequest, Chichester District Council, 1985), © Pallant House Gallery, Chichester, UK.