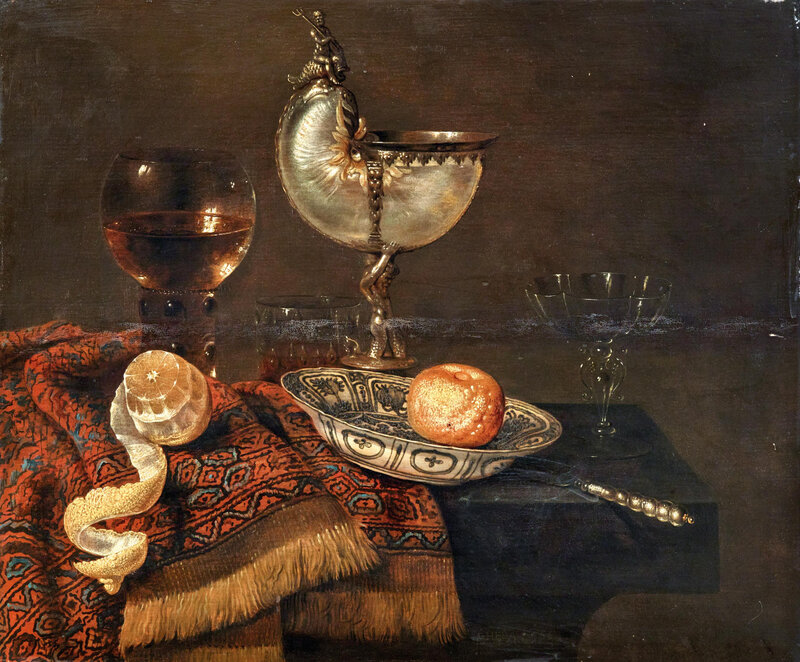 Lot 379. Willem Claesz. Heda (Haarlem 1594–1680) A clementine in a porcelain bowl, a nautilus cup, a roemer, two glasses, a knife, a peeled lemon on an ornamental carpet on a table, signed and dated: HEDA. F.166., oil on panel, 51 x 64 cm, framed. Estimate: EUR 40,000 - EUR 60,000 (USD 45,000 - USD 68,000 ). Realized price EUR 62,800 (USD 70,000 ). © Dorotheum
Provenance: sale, Sotheby's, Monaco, 15 June 1990, lot 257 (as Gerrit Willemsz. Heda, sold for $ 107,180);
where acquired by the present owner

Note: We are grateful to Fred Meijer for suggesting the attribution of the present painting on the basis of a high resolution digital photograph.

In the present painting, the rumpled Persian rug provides an unstable surface for the precious porcelain plate which is set off balance by the clementine it contains; the background is activated by the sparkling brilliance of various vessels.

This painting belongs to the full maturity of Willem Claesz Heda who by the 1650s had abandoned the 'monochrome banquets' typical of his early work, instead dedicating himself to compositions containing more sumptuous objects. Indeed, in the present painting there is a nautilus shell chalice. The nautilus is supported by a triton serving as a base, while above there is a figure of Poseidon riding a dolphin and holding a trident. The same type of chalice and composition can in a painting by Heda dated 1649 and conserved in the Staatliches Museum, Schwerin (inv. no. 68) and another similar still life offered at Sotheby's, Amsterdam (11 November 2008, lot 43).

Objects from nature, such as large shells, belonged to that taste defined and typified by the German seventeenth century collecting habits typified by the concept of a Wunderkammer. A splendid nautilus chalice in silver gilt of the kind represented here is in the Pinacoteca Ambrosiana, Milan. The maker's mark on the base of this particular example points to the goldsmith Christoph Lenker who was active in Augsburg during the years straddling the sixteenth and the seventeenth centuries.